For alumnus David John Fernandez ('20), being a racial minority on campus was unnerving. Walking across campus, Fernandez noticed that most students passing by don't look like him. His darker skin easily stood out in a crowd of JMU students, but even more so sitting in his kinesiology classes. 
"I mostly noticed [the lack of diversity] in my major because class size is getting smaller," Fernandez, a kinesiology major, said. "So, it just kind of became more evident and clear to me that, like, I'm kind of an outsider."
Fernandez hailed from Virginia Beach, and attended a performing arts academy called Salem High School, which he said was "extremely diverse." In fact, it's in the top 10% of the most diverse public schools in Virginia. Coming from a place of high diversity, entering JMU became a culture shock. 
Sometimes, Fernandez was the only person of color in his class, which feels alienating, lonely.
"I'm also a gay male, so that's sometimes a very awkward bridge to cross if it ever comes up," Fernandez said. "But other than that … it's just feeling like I'm one of the very few people with more melanin in their skin than pretty much anyone else in my major."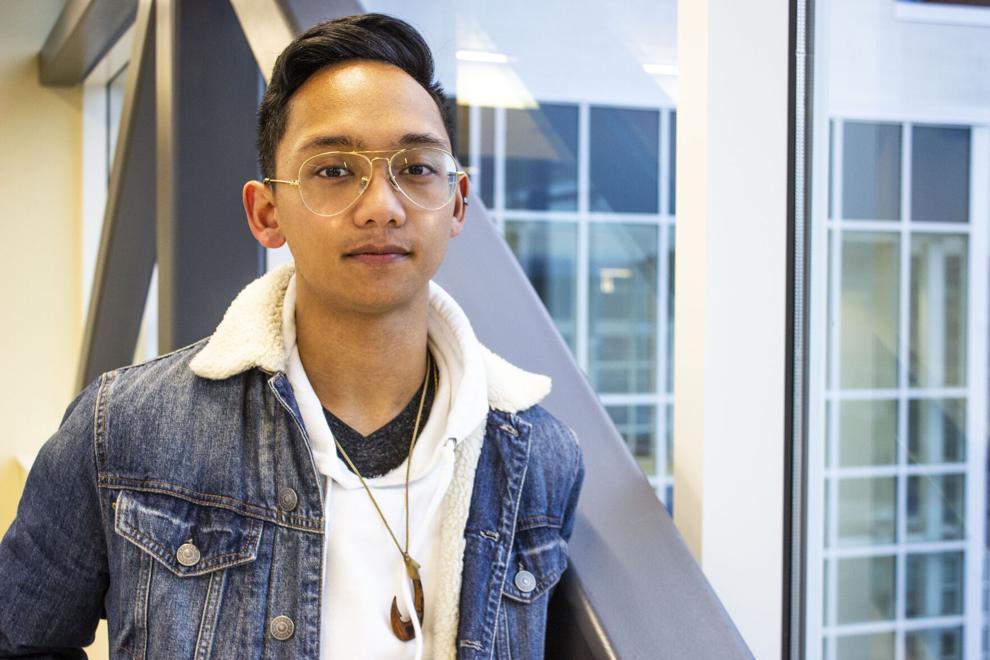 Fernandez said he feels more welcome and comfortable outside the JMU bubble — in Harrisonburg itself — especially since the city is home to immigrants from more than 60 countries. He enjoys interacting with townies and engaging with a more racially diverse community than on campus.
"Definitely anywhere else I'll feel awkward," Fernandez said. "Like, do I look like a gay man? Or is it because I'm darker than you?"
The JMU culture shock made Fernandez yearn for his hometown his freshman year. Despite these feelings, he said he's especially thankful for his roommate, senior media arts and design major Jonah Howells, and being a member of the Marching Royal Dukes as he settled into college life. His peers were supportive of Fernandez's sexuality, and Fernandez said Howells was his "hype man" that year.
"I always listened to what he had to say," Howells said. "There were a lot of nights with us sitting down and just hashing it out. I think the dating scene for him was very hard … he had high standards. I think of him trying to find a partner at JMU was especially difficult for him."
Eventually, Fernandez started a relationship with someone closer to home. In the spring of 2020, his boyfriend, RJ Hendricks, moved in with him in Harrisonburg. Hendricks is a Black gay man from Hampton, and ultimately, Fernandez was nervous for him. He didn't want his boyfriend to go through the same culture shock he did. 
But Hendricks, having lived in places like New Mexico and Europe, didn't feel it. Instead, Harrisonburg felt more familiar, and he likes to look at it without being afraid of judgment. 
"There are definitely fears of discrimination or, of course, worst-case scenario, violence," Hendricks said. "I don't really try to focus my fear on that. I believe what you focus on becomes your reality."
Hendricks hopes to bring Fernandez peace with his identity in a place like JMU, where he feels like an outcast. 
"What I would try to convey to him is that you don't have to be a central point in your 'culture,'" Hendricks said. "I think what's best to do is to focus on you as an individual, because for me, at the end of the day, it's not necessarily about the person and their race, their ethnicity, their sexuality and things like that. It's about you as an individual."
Fernandez said he wishes that JMU would advertise cultural clubs and organizations such as Filipino Americans at Madison (FAM) and Black Student Alliance (BSA) more often. He also didn't know about the Center for Global Engagement coming in.
"All of [those cultural organizations] are really student initiatives and I don't see a lot of JMU behind them," Fernandez said. "JMU can only spread itself out so much, but  culture clubs and things, they're very important."
For now, Fernandez said he and other minorities must accept JMU for what it is. 
"For a lot of [minorities], we've gotten to this point where it's like, well that's just JMU, you know?" Fernandez said. "It's just kind of been a numbing feeling, like, my university isn't diverse and it's unfortunate, and I really don't know what I can do about it."
Kailey Cheng is a senior media arts and design and writing, rhetoric and technical communication double major. Contact Kailey at chengks@dukes.jmu.edu.