When Director of Athletics Jeff Bourne guided JMU's jump to the Football Bowl Subdivision (FBS), he said Oct. 10 he "knew what the rules of the game were when we joined." 
Those rules said JMU couldn't play in a bowl game right away amid its reclassification to the FBS — no exceptions for turning in an 8-3 record pitted against a 10-team FBS slate, nor for being the first team since Marshall in 1997 to face a full FBS schedule in its first transition year. 
The Breeze reached out to 26 athletic directors and conference commissioners from across the country and found divided opinions on the NCAA's transition rule that is barring JMU football from competing in a bowl game this season. 
The JMU conundrum: 'Times have changed'
JMU announced its move to the FBS' Sun Belt Conference in November 2021 during its 41st season in the Football Championship Subdivision (FCS), a lower division of football but still Division I, where the Dukes snagged two national titles. 
Reclassifying programs don't always hit it out of the park immediately. Of the 11 programs that have jumped to the FBS since 2012, excluding JMU, they're a combined 51-81 in their first full-FBS schedule seasons. So despite JMU's FCS dominance and athletic department flush with $58.2 million in revenue in 2019-20 — then already higher than all other Sun Belt programs — the Dukes were picked to finish sixth of seven teams in the vaunted Sun Belt Conference East Division in July. 
But then the Dukes started winning. By mid-October, they were 5-0 and No. 25 in the country. Inklings of a sticky scenario started bubbling: What if JMU kept its pace until late November, but it can't play in the Cotton Bowl — designated for the top non-Power 5 team — let alone its own conference championship game? 
Bourne confirmed Oct. 10 that because of JMU's bowl ineligibility, the Sun Belt told him the Dukes couldn't represent the east in the conference title game because the conference didn't want its champion to be ineligible for a bowl game. 
JMU brass made its stance clear: Head coach Curt Cignetti called the FBS transition rule "antiquated" after the Dukes' 4-0 start. One year after the CAA banned all non-football JMU programs from its postseason tournaments and not too far removed from shortened COVID-19 seasons, Bourne took it a step further when JMU hit 5-0. 
"I'm all about creating opportunity for the young men in this program, and if that opportunity is there, I would just hate to see it taken away," Bourne said. "I understand history. I understand everybody that's been through this before us, saying, 'Well, they have to live by the same rules we did.' But … times have changed." Bourne alluded to the evolution of the transfer portal and NIL, which weren't in place when other schools had transitioned to the FBS. 
The New Year's Six pipedream faded after a midseason rough patch, but JMU went into its season finale versus Coastal Carolina with the chance to finish at identical 6-2 conference records and, in a non-transition year, be the Sun Belt east champions. JMU shellacked the Chanticleers, who were without Sun Belt Player of the Year Grayson McCall, 47-7, and the Dukes proclaimed themselves "Kings of the East." 
But in lieu of another challenge for the "kings," Barstool Sports threw JMU players a pizza party. 
For Ted Gumbart, the commissioner of the FCS' ASUN Conference, JMU's bowl ineligibility didn't sit right. The ASUN recently proposed to shorten the NCAA's four-year transition period from Division II to I to allow programs to compete for a conference's NCAA tournament automatic qualifying bid after two years. 
"If we're really, truly focused on the student opportunity, it shouldn't just be for big-time football players to play in their expanded playoffs," Gumbart said. "It should be for every student-athlete. And if you earn your way in, you should be able to play — that simple."
To qualify for a bowl game, the 2022-23 NCAA Division I Manual defines a "deserving team" in bylaw 18.7.2.1 as "one that has won a number of games against Football Bowl Subdivision opponents that is equal to or greater than the number of its overall losses." One FCS win can count toward the total. JMU won five more games than it lost.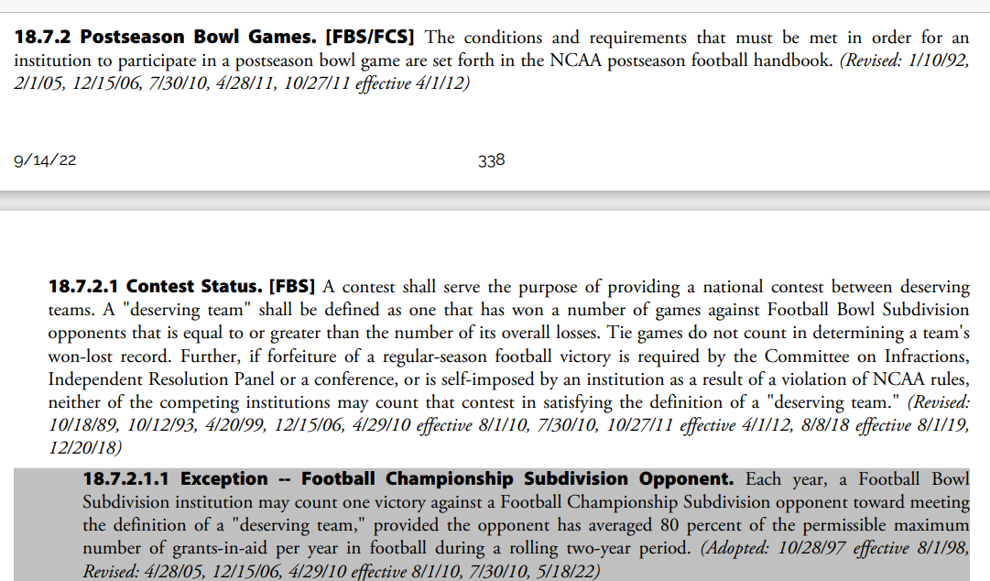 But as it stands, there's a two-year reclassification period outlined in bylaw 20.6.2.1.4 with tasks for transitioning teams to complete — an orientation session on FBS requirements, two annual reports, a compliance review session and more — before they gain the full FBS status needed to compete in a bowl: an extra game at the end of the season that brings a university national exposure, money and extra practices to develop young players.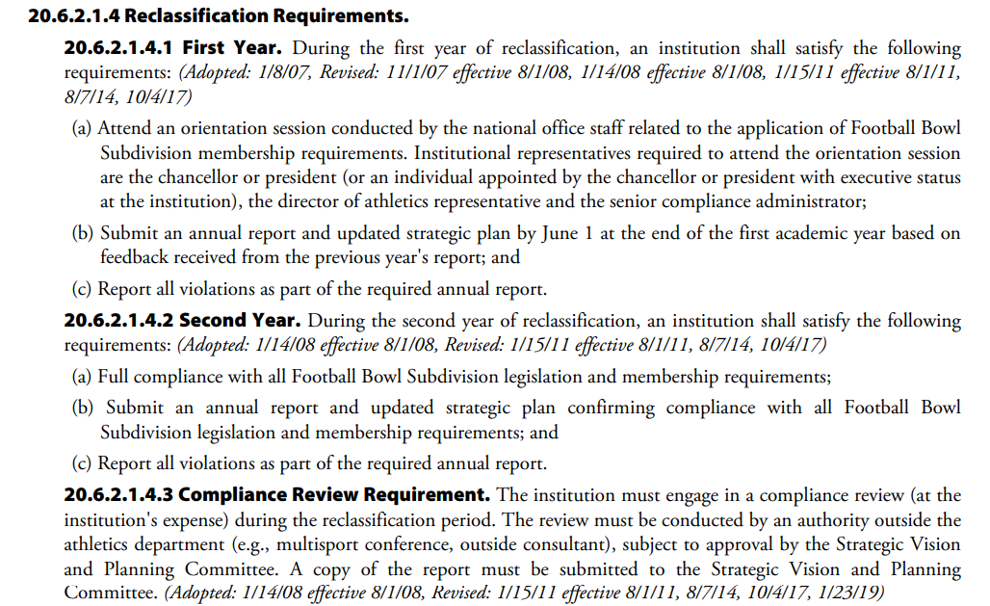 Some higher-ups in college athletics think the transition rule is rightfully in place to ensure the readiness of teams and ease them into the heightened competition. But others, Gumbart included, think the rule is both unfair and outdated. Some specified JMU's case, which accelerated its move to the Sun Belt one year ahead of schedule to officially join July 1, 2022, as a school more than ready for the jump and therefore deserving of an exception to the rule.  
Thoughts on the rule from near and afar
Twelve Sun Belt athletic directors were contacted by The Breeze about JMU's postseason ineligibility. Multiple avoided commenting directly on ineligibility but congratulated the Dukes on a successful first year in the Sun Belt via emailed statements to The Breeze, including Appalachian State's Doug Gillin and Georgia State's Charlie Cobb, who was also the athletic director at App State amid its 2013-14 FBS transition before Gillin assumed the job. 
Texas State Athletics declined to comment for this story. Old Dominion, South Alabama, Louisiana and Arkansas State athletics didn't respond to multiple requests from The Breeze for a comment or interview. Email exchanges with Troy and Southern Miss athletics didn't result in a comment or interview. 
In an email to The Breeze on Dec. 19, Kevin Warner, JMU assistant athletic director for communications, said JMU Athletics wouldn't further comment on the story: "The department is focused on its waiver submission process, which will be submitted in the spring." 
JMU is trying to reach full FBS status to play in a bowl game in 2023 through a waiver, which, adopted April 25, 2018, and outlined in bylaw 20.6.2.1.5, says, the Council, which in JMU's case is made up of Sun Belt athletics directors, athletics administrators, senior women administrators, faculty athletics representatives and student-athletes, "serve, by a two-thirds majority of its members present and voting, may grant waivers of the requirements for reclassification from the Football Championship Subdivision to the Football Bowl Subdivision."
One of two Sun Belt programs that commented directly on JMU's bowl ineligibility was ULM. In an emailed statement to The Breeze on Dec. 13, John Lewandowski, ULM senior associate athletics director of communications and marketing, called JMU's ineligibility during its transition a "commonsense rule" due to scheduling complexities — namely, the difficulty of getting out of future-game contracts signed five to 10 years in advance. He also said it should be noted JMU had the "benefit" of an 11-game schedule with two bye weeks. 
"ULM supports the current framework for programs making the transition to the NCAA Football Bowl Subdivision," Lewandowski said. "The intent of the rule isn't to penalize a team making the transition to the NCAA FBS level, but it's necessary to ensure that programs are playing like schedules. Can you image a program that can't get out of existing contracts playing multiple NCAA Football Championship Subdivision opponents but being considered eligible for postseason bowl participation?" [sic]

In an interview with The Breeze on Dec. 23, Matt Hogue, Coastal Carolina's vice president for intercollegiate athletics and university recreation, agreed that scheduling is difficult for transitioning programs. He said most schools already made their schedules during the Chanticleers first FBS-transition year in 2016, and some once-conference peers from the Big South didn't keep Coastal Carolina on their schedule once it transitioned.
But Hogue said there should still be a "modification" to transition rules to allow a team as ready as JMU to be eligible for a bowl game in its first year, and imminent logistical issues, like scheduling, shouldn't overshadow that fact. 
"Student-athletes, particularly in the game of football, don't get a lot of chances to actually play games," Hogue said. "You get 11 or 12 opportunities, you go to a bowl game, maybe 13 in a given season, and that's a perishable amount of opportunities to compete throughout your career. And to deny those opportunities, I think is really at the heart of what we're discussing."
Georgia Southern Athletics said in a Dec. 13 email to The Breeze that its Director of Athletics Jered Benko is referring all comments regarding JMU's bowl ineligibility to the Sun Belt.
Sun Belt Commissioner Keith Gill couldn't field an interview before this story's publication deadline because of bowl game travel, a Sun Belt spokesperson said, but Gill provided a statement to The Breeze on Dec. 16: 
"The FBS transition rules exists—and continues to make sense for most transitioning institutions—because it helps to ensure that schools take the time to prepare their student-athlete health and safety support, budgets, facilities and on-field competitiveness to make the jump to FBS," Gill said. "There is no doubt that James Madison is ready for FBS and should have an abbreviated transition period." 
The Mid-American Conference (MAC) and the American Athletic Conference (AAC), which are non-autonomous FBS conferences like the Sun Belt, declined to comment for this story. Conference USA, which is adding Jacksonville State and Sam Houston from the FCS on July 1, 2023, didn't respond to multiple requests for a comment. 
The Mountain West Conference, another non-autonomous FBS conference, sent a statement to The Breeze via email from commissioner Craig Thompson on Dec. 16 in support of the status quo for FBS-transitioning teams: 
"Since 2000, 20 institutions have moved from the FCS classification to the FBS subdivision, and I fully support a waiting or transition period," Thompson said. "The additional costs and commitments that are required to make the change prove an institution's desire to compete at that level." 
The Breeze also reached out to the Western Athletic Conference (WAC), Sam Houston's soon-to-be former conference, about bowl ineligibility for FBS-transitioning teams. A conference spokesperson said in an email Dec. 19 the WAC is currently "holding off on football-related interviews" but encouraged The Breeze to reach back out after its deadline. 
Jacksonville State, because of its own transition to the FBS, declined to comment on JMU's postseason ineligibility, an athletics spokesman said in an email to The Breeze. Email exchanges with a Sam Houston Athletics spokesman didn't result in an interview with Athletic Director Bobby Williams before the deadline. 
CAA Commissioner Joe D'Antonio said he didn't think it was appropriate to comment on JMU's bowl ineligibility. The Dukes competed in the CAA for 14 years before accepting an invitation to the Sun Belt in November 2021.
"We're not part of an FBS conference, so I wouldn't have a thought," D'Antonio said. "This is not something that impacts us or that we're involved with." 
Other commissioners support immediate bowl eligibility for JMU and other transitioning teams. Gumbart said in an interview with The Breeze on Dec. 22 that teams used to have to sit out of postseason play during transitions because of rules on compliance and questions of academic eligibility — teams could complete those certifications on their own campuses and enter Division I as an independent. 
But as of Aug. 1, 2011, transitioning teams have to be invited by a conference to move up, per bylaw 20.6.2.1.1: "Before a Football Championship Subdivision institution may apply for reclassification to the Football Bowl Subdivision, the institution must receive a bona fide invitation for membership from a Football Bowl Subdivision conference or a conference that previously met the definition of a Football Bowl Subdivision conference." 

Because of this, Gumbart said compliance questions are answered because a conference isn't going to admit a team that isn't following all NCAA rules — like progress-toward-degree requirements and transfer eligibility, which, Gumbart said, are now the same for all NCAA student-athletes — as it wouldn't be fair to the other league members. 
"It's strictly a rule, and the rationale no longer applies," Gumbart said. "So I'm 100% in favor of changing the rule."
A Virginia Tech Athletics spokesman said Hokies' Director of Athletics Whit Babcock — a former JMU baseball player (1989-92) and Harrisonburg native — was traveling and unavailable to field an interview with The Breeze regarding the Dukes' predicament. 
Another in-state peer of JMU and former FCS program, Liberty, sent a statement to The Breeze via email Dec. 15. Liberty Director of Athletics Ian McCaw said JMU should enjoy sustained FBS success as "best resourced program" in the Sun Belt but abides by its bowl ineligibility, as Liberty experienced in its FBS transition from the Big South Conference in 2017-18: 
"Similar to Liberty's FCS to FBS transition, the opportunity to compete in a bowl game is not afforded during this window," McCaw said. "Hopefully JMU can enjoy a similar trajectory of success as Liberty and reach bowl games in each of their first four years following the transition." 

Coastal Carolina's Hogue proposed that, while there's some "reasonable rationale" to the transition rule so programs don't take the decision to move up lightly, a better approach might be to not make the rule one-size-fits-all, should a future team enter the FBS as prepared as JMU was. 
"When you look at the situation with JMU, no one in their right mind would disagree that they weren't already immediately ready," Hogue said. "So maybe you give them some breaks, or perhaps a more, you know, relaxed transition, maybe access to bowl games, what have you, then perhaps a school that maybe isn't quite ready."
While both Hogue and Gumbart agree JMU should be eligible for a bowl game, they have differing levels of optimism on the transition rule changing. Hogue said there'll have to be a "groundswell of support" for the rule to get on the legislative calendar and be proposed for voting, and since FBS transitions affect a minute number of programs each year, he doesn't see it gaining much traction. 
But Gumbart remains optimistic for transitioning teams down the pipeline. He said commissioners meet a couple times throughout the year in three different subgroups — FBS, FCS and non-football, basketball-centric conference commissioners. There are also meetings with all 32 Division I conference commissioners twice a year, Gumbart said, and, "yes, I think we do have the influence if we get enough momentum to request that we put in a proposal to change and see if we can push it through."
"If we talk to colleagues and we get five or six that are in favor, which I think I could count right now, then we'll bring it up, and say, 'Hey, don't you think we should change this stuff?'" Gumbart said. "I'm confident that my colleagues and I will look at it with reason and focus on the student-athlete. I mean, we're giving them increased benefits in health and fitness and holistic wellness, why can't we let them play? That's why they're on the team."
CORRECTION (12/29/2022 4:31 p.m.): A previous version of the article said the one FCS-win exception for a "deserving" bowl game-qualifying team is new this year. That bylaw, 18.7.2.1.1, has been in effect since 1998 but its latest revision has been effective as of May, 18, 2022. The article has been updated to indicate the FCS-win exception isn't new.