A few weeks ago, JMU lacrosse redshirt junior goalkeeper Molly Dougherty and assistant coach Haley Warden were invited to try out for Team USA in the 2021 World Lacrosse Women's World Championship. They were two of 50 athletes invited to the tryout, and JMU was only one of 10 schools to send multiple players to the tryout.
"It's an honor being in the top list with some of the best players in the world," Warden said. "I am really amped to get back onto the field in December."
Both Warden and Dougherty didn't know the invitation was coming. Dougherty stated that the opportunity to compete with the national team is something she's always dreamed of.
"It was a really nice surprise and shock," Dougherty said. "I get the opportunity to play with some of the girls I always watched on TV and looked up to when I was younger. I think it'll be a really great growing experience."
While with the Dukes, both have been named team captain and been on the All-American squad. Warden holds the JMU record for career draw controls and caused turnovers and won the Player of the Year award in 2017 and the Defensive Player of the Year award in 2018.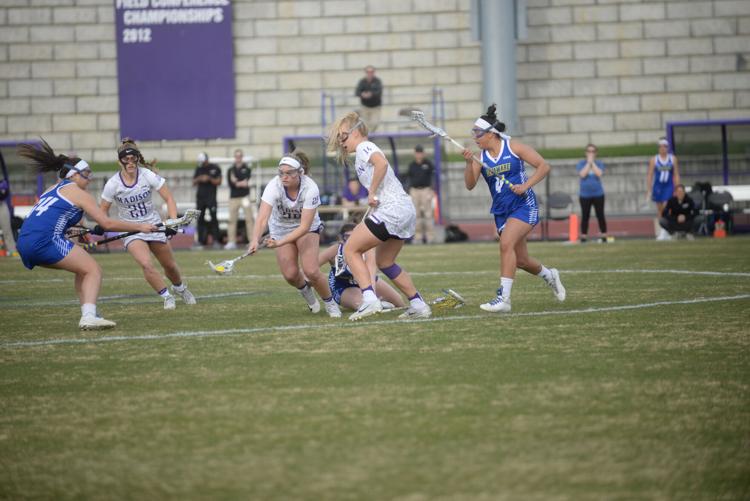 Dougherty nabbed a First Team All-CAA selection her redshirt freshman and redshirt sophomore seasons, and she was leading the CAA in goals against average and save percentage last season when COVID-19 ended the season early. She ranks in the top 10 in JMU history in career goals against average, saves and save percentage.
In addition, Warden and Dougherty were key parts of the 2018 team that won the national championship. In the semifinals and finals, Warden scored nine goals, and Dougherty had a perfect 14-0 record that season.
"I think that because USA has a championship culture and because of my senior year and JMU, we have a championship culture as well," Warden said. "I think that definitely translates into pressure situations that we could potentially see down the road. And I think being able to compete at such a high stage can help with those situations and will help when attacking this tryout."
These tryouts won't be the first time they've played with Team USA. Warden trained with the national team during the summer 2019 training camp, and Dougherty competed with the team at the 2018 IWLCA Presidents Cup and the 2019 Spring Premiere.
"Team USA definitely helped me increase my knowledge of the game," Dougherty said. "They also provide really great experiences and demonstrate the next level that's out there in our sport. It allows me to bring back new knowledge, new drills and new experiences to my teammates and the program here at JMU."
Their experience as national champions and star players impacts the team. Head coach Shelley Klaes said that their elite performances get younger players interested in the program and fuels their desire to win.
"I think it builds confidence," Klaes said. "They show that we as coaches know how to seek talent, and JMU knows how to attract talent. And we've been there, we've done it, and we can do it again."
On the field, Dougherty's energetic and motivated. Redshirt senior defender Emma Johnson said that Dougherty's an emotional and vocal leader that pushes everyone to become better.
"She to me is just one of those players that is so energetic and a motivator that she pushes me to be the best player I can be every single day, sometimes without her even knowing," Johnson said. "She is one of the most improved players I have seen in my past five years here simply due to the fact that she works hard and wants to be the best and is so driven to make herself better."
As an assistant coach, Warden is the offensive coordinator and is in charge of managing draw controls. In addition, Klaes said that Warden's recent experience as a player helps the coaches connect with the players, improving trust on the team.
"They really trust and value her insight, so they go to her all the time," Klaes said. "She's connected with them, she already has relationships, and when there's that trust, they're willing to be honest. And when we can get the athletes to be honest, we can get more feedback, and that helps us be able to do our jobs."
Warden stated that the tryouts will impact her as a coach. She added that there'll be valuable experiences that she can bring back to the Dukes.
"It will definitely give me some more drills that we can try and work with our girls," Warden said. "I will also have higher expectations to push our athletes to train at a higher intensity like the USA tryouts are done."
Dougherty said that the tryouts will influence the way she plays in the upcoming season. She added that she hopes it adds new focus and motivation not just for her but for the whole team.
"Hopefully I can bring back some new skills and ideas," Dougherty said. "I hope to grow our game the best way we can and be the best JMU program that we can be."
Contact Joshua Gingrich at gingrihj@dukes.jmu.edu. For more coverage, follow the sports desk on Twitter @TheBreezeSports.