In August 2018, Cooper Trueblood was preparing for his first day of kindergarten.
But then, his legs started to hurt, and he was asking to be carried up the stairs. His sister, Evyn, had only been born three-and-a-half weeks earlier, so Cooper's parents and JMU alumni, Kristy and Jason, assumed he wanted attention.
When the five-year-old went to the doctor for his wellness check, the Truebloods were told everything was fine. But Kristy had a feeling that it wasn't.
A trip to the park three days later confirmed Kristy's suspicions. Cooper couldn't run.
"I called the doctor, and I said, 'You know, I'm not gonna try to tell you how to do your job, but there's something wrong with my kid, and I want a blood panel pulled on them,'" Kristy said. "They pulled a blood panel, and we were at Hopkins being diagnosed that day."
Suddenly, a newborn wasn't the only adjustment for the family. At 1 a.m. in the hospital room, as Kristy was trying to feed Evyn, the nurses delivered the news — Cooper had acute lymphoblastic leukemia.
Next came a 30-day, steroid-heavy regime with chemotherapy to fight the disease. His parents couldn't put a number on how many rounds of chemo Cooper endured during that first month, but through it all, they said he showed maturity. 
"He's definitely a normal, happy six-year-old now in terms of when he's at home," Jason said. "He loves Legos, he loves playing outside, he loves swimming … but when you put him in that framework … he just knows that he's got a day in front of him and he's got to get through it."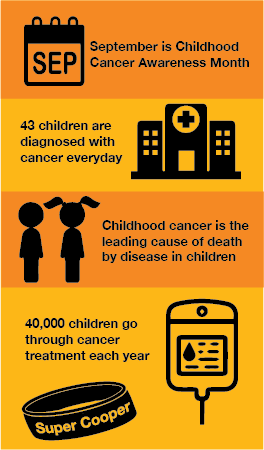 During Cooper's treatments, the Truebloods didn't look too far ahead. Their plan revolved around getting through the next visit with the doctors or the next operation. As the process progressed, they took the schedule one day at a time, counting down the days to the end of each part of his treatment. Throughout it all, Cooper was the one helping his parents.
"You honestly rely on the strength of your kid," Kristy said. "The kids carry the parents through those situations."
Prior to Cooper's diagnosis, the Trueblood family had plans to make the trip from Maryland to Harrisonburg for a JMU football game, but Cooper's diagnosis held them back because it was dangerous to have him around so many people. With Kristy ('08) and Jason ('07) being JMU alumni, Cooper's love for JMU football started early because of it. 
Unable to be at Bridgeforth, Kristy decided to take a chance. She reached out to former JMU football head coach Mike Houston, asking if he'd have the team sign a shirt she sent him. Houston took it one step further. 
Soon after, Cooper received a package in the mail. Its contents ranged from a poster and mini helmet signed by the entire team to videos of the players rooting for Cooper. 
Kristy's mom — who lives in nearby Waynesboro — wanted to return the favor.
"My mom made like 350 brownies and sent them to the team," Kristy said. "We sent the whole team 'Super Cooper' bracelets — like the LIVESTRONG bracelets — and the team kind of wore them through the year." 
Redshirt senior linebacker Dimitri Holloway was one of the many JMU football players who reached out to the Truebloods to check on Cooper. Holloway says he still wears his "Super Cooper" bracelet every day.
"Little things like that, it's a motivation for me, just knowing that everybody can't always do the things that you come out here and [do]," Holloway said. "It's just one thing I put in the back of my mind: I'm playing for Super Hero Cooper."
Kristy and Jason showed pictures of all the gifts Cooper received from the Dukes to his oncologist. When they said Cooper had to miss a game, his oncologist responded with a simple "take him." 
Kristy and Jason followed the doctor's orders.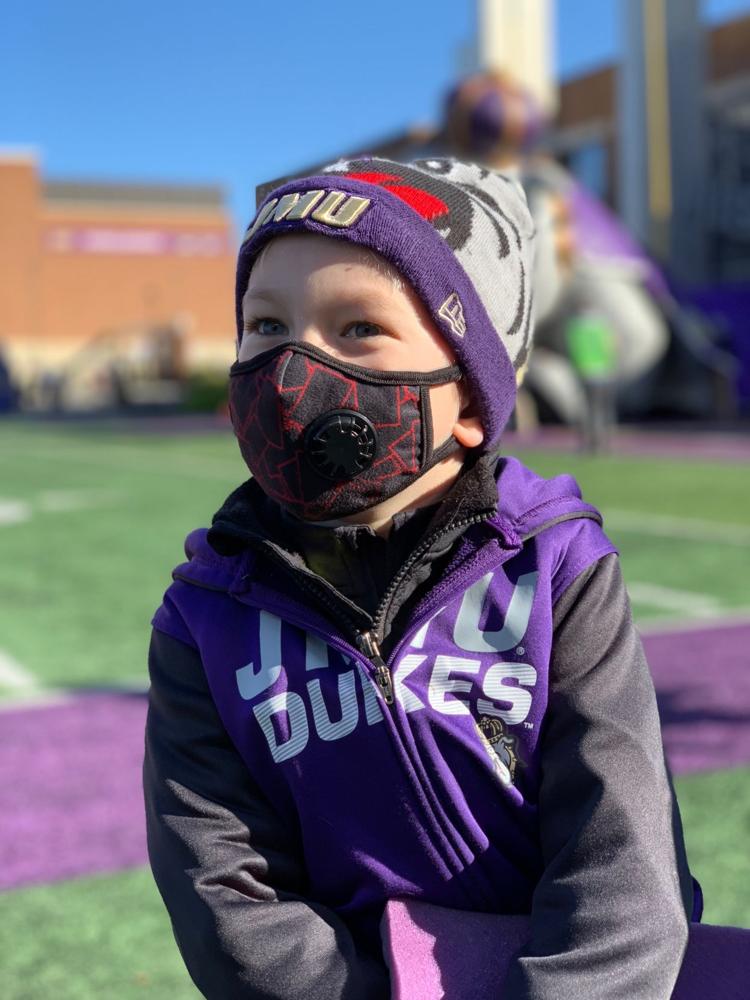 After making sure Cooper was in a good place to travel to Harrisonburg and that there'd be a helicopter on standby if he needed to be transported to Johns Hopkins, Jason and Kristy got their family in the car and made the trip to JMU for its game against Rhode Island last November.
"It was kind of at the right point in his treatment, too," Jason said. "They were not super concerned about him … His treatments were a little bit more spread out … he was kind of in this point where it was okay for him to go."
At the game, Houston gave Cooper a game-worn jersey — No. 5 to match his age. The jersey was formerly JMU standout Raven Greene's, who had worn it the year prior during his senior season.
It was here that Cooper's love for Greene started.
Greene, who now plays for the Green Bay Packers, heard about Cooper's story and wanted to make sure he had some updated gear to wear, too. The NFL safety sent a care package to Cooper containing his Packers jersey, a mini helmet and the infamous Green Bay Packers' cheesehead. The gifts, his parents said, made him "a Packers fan for life."
Not long after Cooper received the gifts, he lost his hair. Kristy recalled  Cooper telling her he was having a hard time and wanted to feel strong.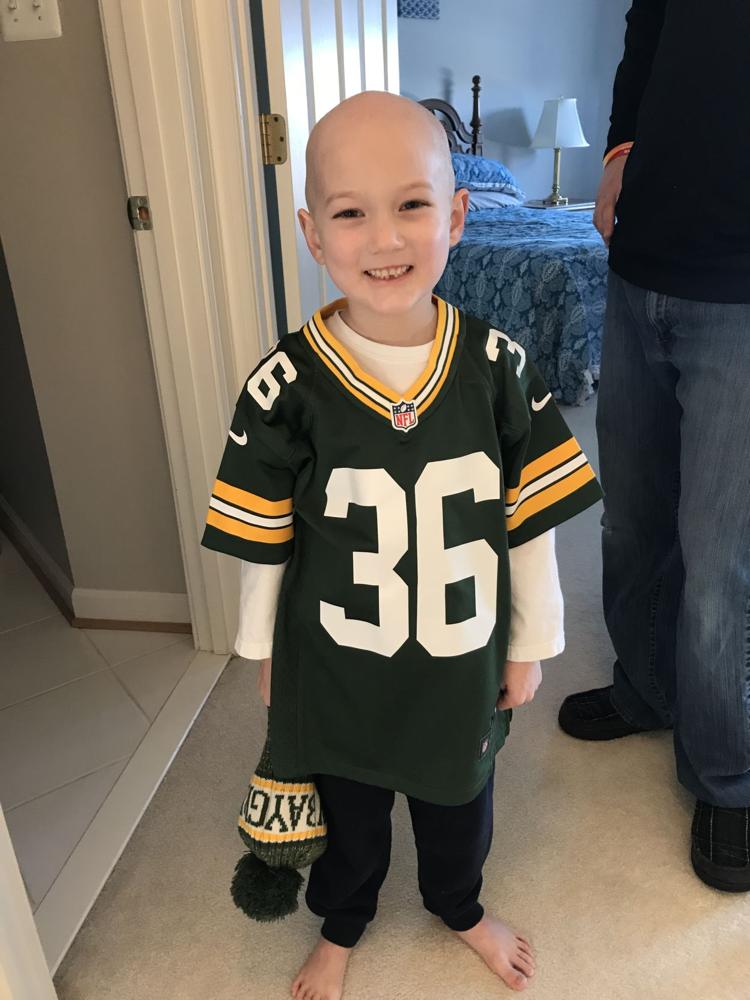 Cooper picked a shirt that made him feel just that way — his No. 36 Raven Greene jersey.
During Cooper's treatment, his family was selective when it came to what friends could come over and often needed to make sure whoever came had a flu shot. One friend who was allowed to visit was his best friend Sebastian, who's originally from Wisconsin. 
When Sebastian arrived at Cooper's house, Cooper was eager to show him all of his new Green Bay Packers gear. Unbeknownst to Sebastian, Cooper's favorite player wasn't star quarterback Aaron Rodgers.
"His friend Sebastian says, 'Oh, you really like Aaron Rodgers?'" Kristy recalled. "And Cooper says, 'I don't know who this Aaron Rodgers guy is ... I like Raven Greene.'"
At 24 years old and only a second-year pro, it isn't often Greene gets put ahead of players like Rodgers who have a Super Bowl, two league MVPs and seven Pro Bowl selections to their name. But, to Cooper, Greene is the star. 
"The smile was on my face the entire time," Greene said, referring to that story. "I couldn't hold it back. I couldn't stop looking at him, and just, I mean, realizing how much he admired me, it really meant the world, and I'm glad that I got a friend in him."
The two friends met in person last month when Greene was in Baltimore with the Packers for a preseason meeting with the Ravens. The Trueblood family let Greene know they were going to try and get Cooper to M&T Bank Stadium for the contest.
It was the night before the Packers' game when the duo came face-to-face for the first time. The Truebloods, along with Greene and his dad, who was in town to watch his son play, gathered at a local restaurant for dinner.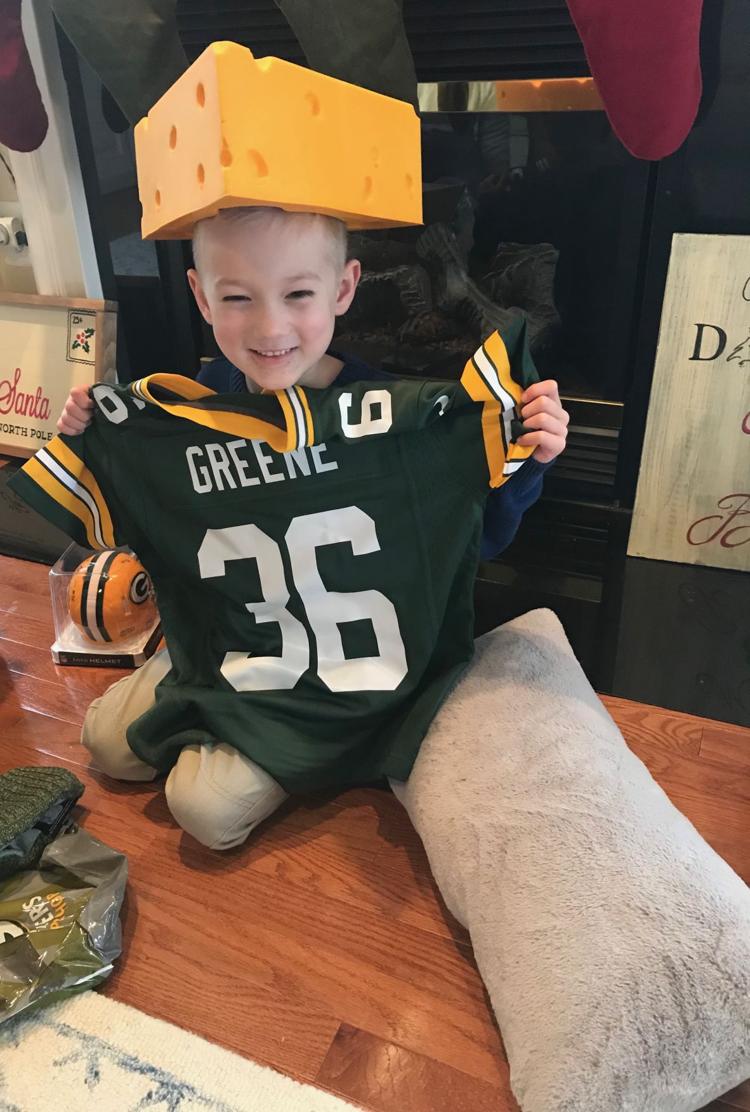 With his Packers jersey on his back and his JMU No. 5 jersey ready for a signature from its previous owner, Cooper arrived at dinner with gifts of his own for his NFL friend — a homemade version of the Superman logo that featured an "R" in the center for Raven, along with "cookies for the Packers."
"I can't even figure how many cookies it was in this huge Tupperware container," Greene said. "[He had] a picture that he had handcrafted himself … Super Raven, and it was all the Packers colors. I mean, it just really all hit me like a ton of bricks."
The group hung out for two hours. Cooper asked questions ranging from who Greene's best friend on the Packers was to where he liked to play the most. To Kristy and Jason, the interactions between the pair didn't seem like a six-year-old meeting an NFL player for the first time. 
Even with a game the next day, Greene didn't rush the visit, only leaving when he had to get back to the team hotel for that night's meetings. 
"He was just asking him all of these normal six-year-old questions that you just wouldn't think to ask somebody like that," Jason said. "Raven was the same way. I mean, he just showed up and gave Cooper a hug … Like, Raven [is] in there coloring with Cooper on his little menu while they're just kind of having an old conversation like two old friends would."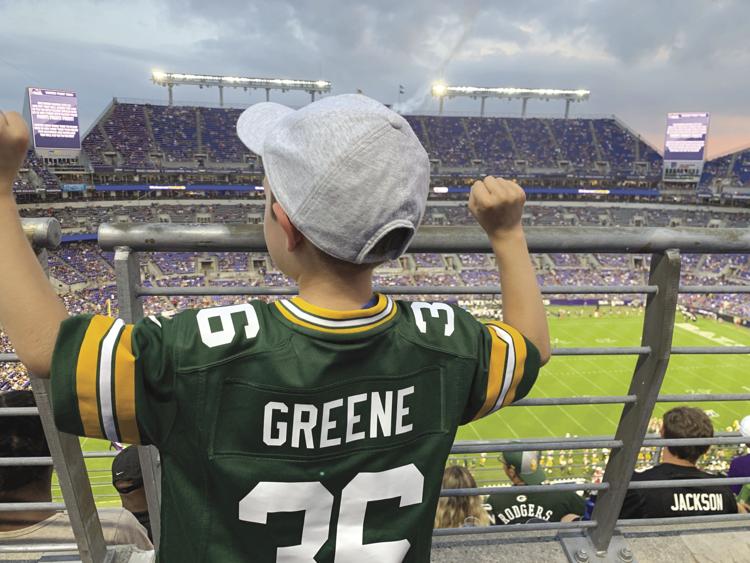 As JMU alumni, what Greene did for Kristy and Jason's  son over the past several months doesn't surprise them. Since sharing their story on the JMU Nation Facebook page following JMU's loss to Elon last season, there's been an army behind the Trueblood family. 
Not long after the initial post, people from across the JMU community reached out to the family. The mom of a current student in "Love Your Melon" contacted Kristy and Jason, and when Cooper made it to the game last season, there was a care package filled with beanies waiting for him. 
"Dukes take care of each other," Kristy said. "It's such a good community."
It's been more than a month since the meeting. Cooper is now in first grade and got to experience his true first day of school at the end of August after not getting to go on his first day of kindergarten last year. Greene just finished Week 2 of his season and is currently on injured reserve.
But even with separate schedules and over 800 miles between the two, their friendship is still strong.
Greene called Cooper last week to talk about how his first week of school went and check up on how he was doing. As for Cooper, he's at a stage in his treatment where, if someone were to look at him, they wouldn't realize he's currently a cancer patient, his parents said. 
Cooper will be in treatment for another two years. The first nine months were active treatment, where "he had four phases where each chemotherapy regimen was very different," Kristy said. Cooper is through that phase now, and for the next two years, he'll be in a maintenance stage — something Kristy describes as a "holding pattern." He receives at-home chemo every day, has blood checks at the hospital once a month and will have spinal and IV chemo every three months.
Throughout the last year, numerous members of the JMU football family like Ben DiNucci, Riley Stapleton, Trai Sharp and Jimmy Moreland have made sure Cooper knows they're behind him, highlighting who they are away from the game. 
And, for those players who've reached out to the family, Kristy left them a simple message.
"What you do on the field matters," Kristy said. "But oftentimes, it's what you do off the field that matters most."
Contact Catie Harper at breezesports@gmail.com. For more sports coverage, follow the sports desk on Twitter @TheBreezeSports.