As of April 11, Ben DiNucci, Cole Johnson and Gage Moloney sit in the same position they did 365 days ago.
Just last season, JMU football was trying to find its next leader after former quarterback Bryan Schor graduated. In 2018, the answer was DiNucci. The Pitt transfer showed promise in taking over the team that had gone to back to back national title games.
The Wexford, Pennsylvania, native experienced just about everything in his first year representing the purple and gold. He saw the highs, ranging from an 85.2% completion rate against NC State to rushing for 104 yards and three touchdowns against Towson.
But, DiNucci also had to endure the lows.
There were the two turnovers on the first two drives against New Hampshire that pulled him from the game before the first quarter was over. Then there was the five interceptions against Colgate.
"I try not to kind of rehash on what happened," DiNucci said of how the season ended. "But, I think sometimes, those types of games can make you better … So, the biggest thing for me is trying to figure out what happened to make stuff go wrong, and kind of just fix it and not let it happen again."
Now, with a new coaching staff, all three are back and looking to be the guy for JMU.
While it was mainly a fight between Johnson and DiNucci last season, Moloney had been in contention for the job up until the Spring Game when former head coach Mike Houston said his time would come later. Head coach Curt Cignetti, however, has made it clear — the job is wide open.
"At the end of the day, it's really just do what you're coached to do," Cignetti said. "You got to complete the passes, throw it to the right guy, put the ball where it needs to be, protect the football [and] don't turn it over."
Cignetti also harped on having a quarterback who would be reliable with the game on the line. He wants a signal-caller that treats each play like it's 0-0 and handles business one play at a time.
The quarterbacks in Cignetti's arsenal are all capable of being the frontman for the Dukes. All three have game experience — then-redshirt junior DiNucci having the most with then-junior Johnson and then-redshirt freshman Moloney following, respectively.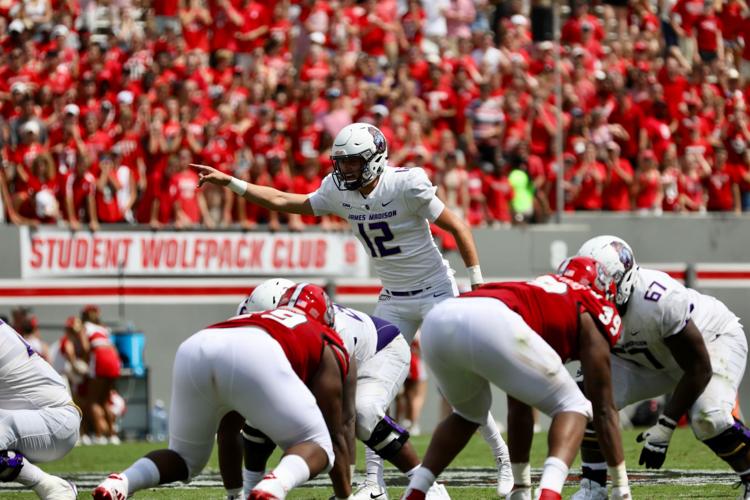 Heading into last season, Johnson had the most familiarity with JMU. He'd been Schor's backup during his first two seasons at the school and, before DiNucci transferred in, seemed a strong candidate to replace Schor.
"Bryan was the most humble guy I've ever met," Johnson said. "He was such a leader and calm under all the pressure, so it's been good to take that into this competition, just remaining calm under all the pressure you receive."
Being the backup for most of last season for the Dukes gave the Virginia Beach, Virginia, native time to continuing growing his game. Thanks to a new NCAA rule, Johnson saw action in four games and still had the opportunity to redshirt, preserving his last two years of eligibility.
In the four games he played, Johnson recorded 41 completions and three interceptions. While he didn't manage a touchdown throw in any of those games, he did rack up 523 yards. After being able to watch from the sidelines and see the speed of the game at the college level, Johnson has his goals set for the season.
"Just gaining a little weight [this summer]," Johnson said. "I'm about 215 right now [and] hopefully I get over 220 this summer and maintain that speed while developing that relationship with all my receivers."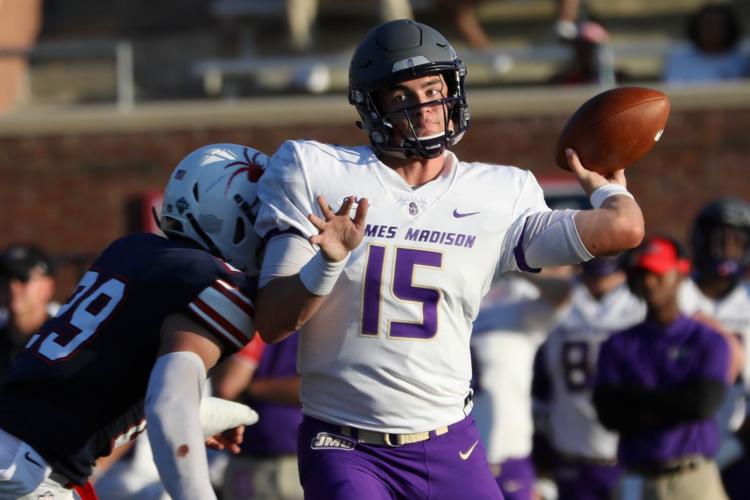 And then, there's Moloney — the 2016 South Carolina Mr. Football. Playing in only three games last year, Moloney has the least in-game experience of the trio. However, in the games he did see action — most of which were only for a few drives — Moloney showed potential.
While Moloney only threw six passes last season, four of those were completions and one was a 71-yard touchdown pass. The Rock Hill, South Carolina, native has had a similar college career to Johnson so far. As a backup seeing an occasional drive, Moloney's time has been limited, but the time he's been on the field has been valuable for him.
"My confidence compared last year to this year is completely different," Moloney said. "I feel good back there in the pocket and not scared to mess up this year."
With all three athletes having the skills to start, it may be a quarterback battle on the field, but in the locker room, it's a different story. DiNucci, Johnson and Moloney don't take the battle off the field at the end of the day.
There's no denying that each one wants to be the player who leads the Dukes into the season, but they each understand that when all is decided, the best option will be the starter — and that's OK with them. Johnson said, they're all working toward the same goal: to win.
"When you've got a room where every guy can be playing, it's been good, but it's also been tough," DiNucci said. "But, we've got a great relationship, we bounce stuff off each other every day."
All three quarterbacks have proved themselves and have the skill to lead this team, making it a hard decision for Cignetti. With the summer still in between JMU and its first game of the season, there's still practice to do and skill to improved on before the next starting quarterback is named.
"I think they've all gotten better," Cignetti said. "I'm happy with all three of them. I think they all belong here. They've all done a good job and it's going to be a real competitive situation."
Contact Catie Harper at breezesports@gmail.com. For more football coverage, follow the sports desk on Twitter @TheBreezeSports.