Mike Houston leaving for ECU left a weird feeling among JMU nation. Its beloved coach moved to the FBS level, but with a roster filled with talent, Houston's replacement needed to be able to begin in stride.
Names like current Florida Atlantic co-offensive coordinator Drew Mehringer and Chicago Bears quarterbacks coach John DeFilippo floated around, but eventually JMU director of athletics Jeff Bourne picked Curt Cignetti to take the reins of one of the premiere FCS programs.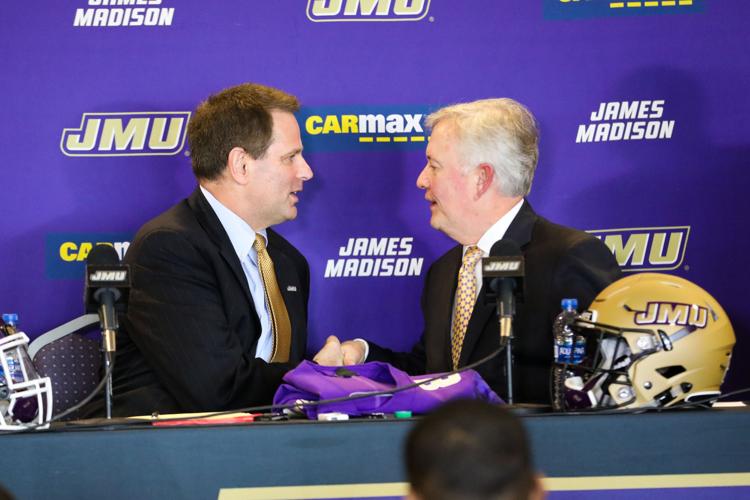 Cignetti came to JMU with loads of experience. With stops at Pittsburgh, North Carolina State and Alabama — as well as head coaching jobs at Indiana University (PA) and Elon — Cignetti's football mindset earned him the next step in his career.
"[Cignetti] and his staff came in and for the older guys who were driven to finish on top, he didn't have to instill a whole lot of discipline into us," former offensive lineman Mac Patrick said. "We knew what was at stake. Coach Cignetti is great with letting his players be who they are … with all that's going on today in this climate, they're trying to be leaders in the community and Coach Cignetti does nothing but encourage his players to do that."
In his debut spring season, the biggest question was who was going to be the starting quarterback. Ben DiNucci finished 2018 with questions regarding his consistency, but still carried a skill set that fit into offensive coordinator Shane Montgomery's scheme. DiNucci beat out now redshirt senior quarterback Cole Johnson for the job, and the team's shape began to form.
Cignetti wanted a hard-nose, downhill offense that relied on its run game to open the field for an aerial attack. With the addition of wide receiver Brandon Polk, an element of speed was added to the passing game. Wide receiver Riley Stapleton, tight end Dylan Stapleton, cornerback Rashad Robinson and safety D'Angelo Amos highlighted a veteran-laden team that wanted to return to Frisco as it did in 2016-17, even after a coaching change.
"All you could do was lean on your leaders," Patrick said. "[The team had] a lot of guys with a lot of playing experience, life experience … You almost learn to roll with the punches."
The Dukes' first test was at West Virginia — Cignetti's alma mater and the school his father coached at for four seasons. It was also DiNucci's first opportunity to show his improvement and ability to lead the team as a top-ranked FCS team.
While West Virginia itself underwent a coaching change, it was able to fend off the Dukes, 20-13. Solomon Vanhorse scored JMU's only touchdown and Ethan Ratke added two field goals, but it seemed like the offense didn't show its true capabilities. The defense, however, made it clear it was going to be a force against every team on the schedule.
"I think everyone that went to that game knew that we had the chance to win," former safety Adam Smith said. "I think we kind of blew a few assignments, blew a few plays, but I think that it was a very close game that showed that we could compete with everyone. We were all upset that we lost that one. We were going in and we expected to win."
The next two games ended in blowout fashion, albeit against small programs.
JMU blew out Saint Francis (PA) 44-7 and dominated Morgan State 63-12. DiNucci began to find his form as a field general, throwing six touchdowns in the two contests without turning the ball over.
A three-game road stretch that included the start of CAA play awaited JMU following the two wins. First was Chattanooga, which kept things close in the first quarter but couldn't keep up as the game went on, eventually falling 37-14.
The next contest was big for a multitude of reasons. As JMU prepared to travel to Elon, it would be the first time Cignetti returned since departing and it was the Dukes' first chance at revenge after the Phoenix upset JMU at Bridgeforth Stadium the year before.
Elon scored on the second play from scrimmage to take a 7-0 lead, but the Dukes responded with 38 unanswered points en route to a 45-10 win. Next was No. 24 Stony Brook, which took JMU to the brink.
"You knew the test was going to be Elon because of the whole circumstances with Coach Cignetti and the whole nine yards," Dave Thomas, host for ESPN Radio Harrisonburg, said. "When JMU came back and scored quickly … You felt that this team had the makings."
The Dukes looked to spoil homecoming for the Seawolves, and when they were up 38-28 with less than 10 minutes remaining in the fourth it was easy to assume a victory for JMU as it would rely on its stout defense to close the deal. But that wasn't the case: A quick touchdown and a 47-yard field goal leveled the score with five seconds left, pushing the game to overtime.
JMU got the ball first and scored via Jawon Hamilton's three-yard run, and the defense stood tall and forced a turnover on downs — sealing another win for Cignetti's team. It proved what the team needed to do for success. Hamilton finished with 105 rushing yards and two touchdowns and running back Percy Agyei-Obese added two more scores and 96 yards on the ground. Cignetti and Montgomery's vision of a run-based offense was becoming clear, and as the team rattled off wins week after week, the expectation of a national championship filled fans' minds.
"[National title expectations] felt right after a while," Smith said. "We started getting that untouchable feeling again. We knew we could beat just about anyone … It started high and it stayed high."
In the next week, JMU needed a fourth quarter outburst to stifle No. 5 Villanova 38-24, and it'd follow with a 38-10 trouncing of William & Mary. With four games left in the 2019 season, the Dukes were 7-1 (4-0 CAA) and sitting at No. 2 in the country.
The Dukes handled each remaining regular season game, beating Towson 27-10, New Hampshire 54-16, Richmond 48-6 and Rhode Island 55-21. The defense was suffocating and the offense meshed well entering the playoffs, but the job wasn't done yet in its bid to return to the heart of Texas.
After being picked as the second seed in the 2019 FCS Playoffs, it faced Monmouth in the second round following a first-round bye. Despite the Hawks keeping the Dukes within distance JMU once again broke away as the game progressed, winning 66-21.
The next two games would be "pre-tests" for the national championship. A stout Northern Iowa team visited Bridgeforth, but was shut out by the Dukes' powerful defense and JMU won, 17-0. Then, Weber State came to town, looking to avenge its heartbreaking loss in 2017.
The Wildcats wouldn't achieve it. JMU flexed its muscles to a 30-14 win, punching a ticket to Frisco to face No. 1 North Dakota State. It was another chapter in the two teams' rivalry and one that was set to be a showdown for the ages.
In less-than-ideal weather, JMU raced to a 7-0 lead after Riley Stapleton caught a five-yard pass from DiNucci. NDSU responded with two touchdowns to go up seven, but a 26-yard field goal from Ratke pulled the Dukes within four. Five minutes and fifty seconds later, another Bison touchdown made it 21-10 heading into halftime.
Ratke added his second field goal of the game in the midst of the third quarter, setting the game up for an intense finish. The game's pivotal moment happened on the first play of the fourth quarter. Stuck at third and 23, NDSU quarterback Trey Lance danced through the line of scrimmage and burst for 44 yards to push the Bison lead to 28-13, serving a huge blow to the Dukes' title hopes.
Not all hope was lost. With 6:55 remaining in the game, Stapleton reeled in his second touchdown of the game to give JMU a lifeline. After stopping Lance on fourth down with under three minutes remaining, the Dukes got the ball back and marched down the field.
With first and goal on the NDSU three-yard line with eight seconds left, JMU was a few feet away from being a two-point conversion from sending the game into overtime. The next play, DiNucci took the snap, rolled to his left and tried to find Polk in the corner of the end zone. Instead, the Bison's James Hendricks stepped in front of the ball, intercepted it and broke the hearts of the JMU faithful across the country.
Despite the loss, the team made fans proud. Through adversity, the Dukes marched back to Frisco following a year absence and pushed the nation's best team to the brink. It fell short, but JMU showed what it has become: an FCS giant that wants to consistently compete at the highest level.
"Seeing them get back to another championship was special," Thomas said. "Seeing them take care of business in the CAA was special. I think seeing where the program has elevated to, when you have a coaching change … with Houston to Cignetti, I think it trended up again … I think fondly of watching his staff coach, how they coach and what they did with these players."
Now, JMU waits for its chance to redeem itself amid the coronavirus pandemic. As the season is in limbo, the team waits for answers. The possibility of a spring season is met with the idea of waiting until fall 2021 to ensure safety, but until then, the Dukes will hold that feeling of heartbreak and use it as motivation.
Because eventually, football will be back, and the future chapters of JMU football will be written.
Contact Noah Ziegler at breezesports@gmail.com. For more football coverage, follow the sports desk on Twitter @TheBreezeSports.