With JMU football receiving new turf at Bridgeforth Stadium and JMU basketball currently in the process of getting a new arena that will open its doors in 2020, it's JMU baseball's turn for an upgrade.
For the first time since 2010, Eagle Field will be updated. The original field opened with Veterans Memorial Park 10 years ago, and JMU Athletics decided it was time for a new turf.
"We've played on similar surfaces in the Southeastern Conference [SEC], so it's gonna give our guys a really good surface to play on," JMU baseball head coach Marlin Ikenberry said.
This new turf isn't only going to liven up Eagle Field for the Dukes, but it'll also put a new face on the program. The new surface was put down on Nov. 23 with the process beginning in late October. It was completed in January.
"Similar to our recent turf project at Bridgeforth Stadium for football, this project at baseball's Eagle Field presents a fresh look for that program," JMU Director of Athletics Jeff Bourne said in a press release from JMU Athletics. "Baseball is unique from many sports in the opportunity to apply some creativity and nuance. This redesign accomplishes that while emphasizing the new brand elements that we launched in early 2017."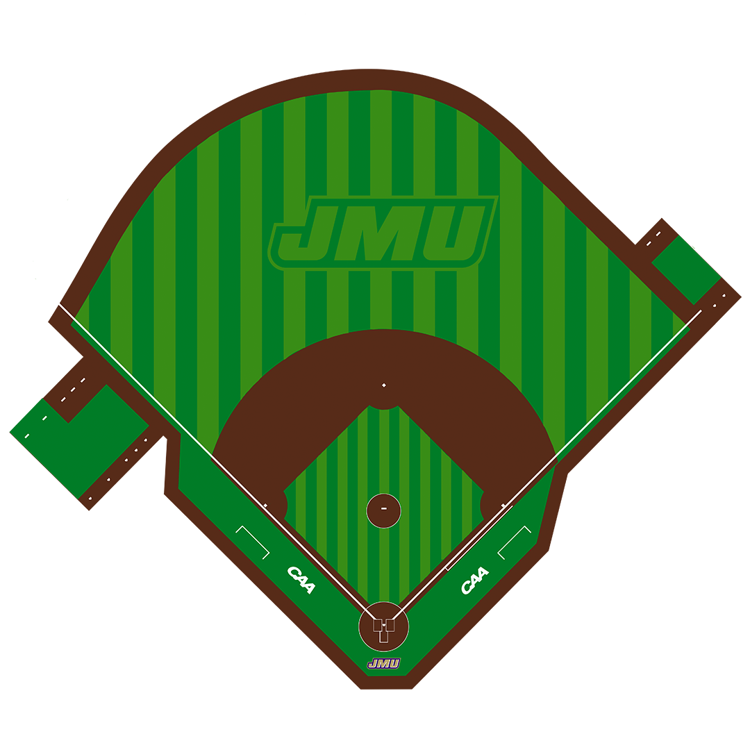 Carolina Green Corp. took charge of the installation of the new surface and was also involved in completing the new surface at Bridgeforth Stadium in 2019 and the JMU Field Hockey Complex in 2014.
Eagle Field will also help JMU's recruiting, members of the program said. With a new playing surface and its visual appeal, the field may attract recruits.
"Kids will see the turf when they drive by or come to camp and see how beautiful it is along with our beautiful campus," freshman catcher Travis Reifsnider said. "It can help them think that JMU is the right choice for them."
The field features the JMU logo in center field and displays a grass-cut look for every home game. The CAA logo appears along the baselines as well. This look is common around the NCAA and gives the Dukes a professional finish to the field.
"I think that this gives us even more of a home-field advantage," Reifsnider said. "It is a huge thing in sports, and not a lot of teams in this area have this quality of turf."
The construction will also feature a new scoreboard, and the outfield fencing will be converted to purple padding. The center field's batter's eye will also be replaced in the renovation.
"Whenever you get an upgrade like this, it shows commitment," Ikenberry said. "It doesn't happen overnight, it takes some time, and I'm thankful to be able to get the field."
The first games to be played on the newly renovated Eagle Field will be from Feb. 21-23 against Quinnipiac.
Contact Savannah Reger at regersj@dukes.jmu.edu. For more tennis coverage, follow the sports desk on Twitter @TheBreezeSports.