When Kym Hilinski found out JMU softball player Lauren Bernett died by suicide last April, it hit her in a different type of way. 
Like after any student-athlete's death, Kym said, she felt a wave of sadness. But also, no matter how unfair it may have been, regret. 
Kym and her husband, Mark Hilinski, were slated to talk to JMU student-athletes in 2020 to share the story of their son, Tyler Hilinski, a former Washington State quarterback who died by suicide in 2018. 
The pandemic caused their talk to be rescheduled. Kym couldn't help but think: What if?
"I just wish we could have been there," Kym said. "Maybe Lauren could have heard our talk and it might have made a difference."
The Hilinskis' rescheduled Tyler Talk, as they call it, occurred Tuesday night inside the Atlantic Union Bank Center in front of a roughly 300-person audience, mostly JMU student-athletes, almost exactly nine months since Bernett's death.
The JMU Tyler Talk was around their 150th since 2019, Mark said. They've stopped counting exactly. But Kym and Mark push forward to save other Tylers. And Laurens. And any student-athlete who may be struggling with their mental health before it's too late.
No matter the toll it takes. 
"I lost my son," Kym said. "I'll always be honest — I'm miserable. I think I'll be miserable for the rest of my life."
'Can happen to everyone'
When Tyler died, the Hilinskis had three options: Stay put, run away or make a difference in other student-athletes' lives before it's too late. 
Kym talked to her oldest son, Kelly, about what to do — how to keep living without Tyler. They considered to "just dig our heads in the sand," she said, in their California home and let Tyler's suicide go. Kym also contemplated taking Mark, Kelly and her youngest son, Ryan, off to a faraway island to try to live, breathe and walk again. 
Those two options didn't seem right, Kym said. 
They chose option No. 3, just as Tyler wore No. 3 at Washington State. In 2018, Mark and Kym started the Hilinskis Hope Foundation, also called H3H, which strives to improve mental health for student-athletes. Tyler Talks are part of H3H, as are mental health modules and other resources. In August 2022, ESPN included the Hilinski parents among college football's top 11 power brokers and advocates shaping the future of the sport. JMU football players adorned green-ribboned stickers with a No. 3 on the back of their helmets Oct. 1 against Texas State, as did 123 other programs across the country, to honor Tyler during College Football Mental Health Week.
But all that doesn't make rehashing Tyler's story over and over any easier. 
"Once in a while, I do want to run away," Kym said. "It's crushing." But she said she finds strength in the student-athletes she speaks to. 
Of the Hilinskis' estimated 150 Tyler Talks over the last four years, they've spoken all over the country, from a 20-person summer league baseball locker room in North Carolina 90 minutes before they played a game, to auditoriums filled with 550 student-athletes at the University of Hawaii. 
During the talks, the Hilinskis paint Tyler as someone who's relatable, someone not much different than anyone in the audience. While a "superstar" to his parents, Tyler was the average kid, Mark said: a 21-year-old who loved the sport he played, the school he attended and his friends. He had some money and a car.
"If it can happen to Tyler, it can happen to everyone," Mark said. 
Mark tries to comfort his audience with his attire. He sees student-athletes wearing hoodies and hats, so Mark does the same, rather than standing out in a sport coat. He doesn't want his audience to focus on him because he's not a mental health expert. He just wants them to listen to Tyler's story. 
Kym and Mark call the talks their "therapy." They speak of Tyler in present tense, listen to Tyler talk in videos and say his name aplenty. They know Tyler's gone, but they say he's missing instead. The hour goes by fast, Mark said. He can't describe his son in 60 minutes. 
"We haven't lost our rehab grip on reality. We know he's gone and not coming back," Mark said. "But at the same time, it feels like yesterday some days, and other days it feels like I haven't seen him in 10 years."
Mark talks a bit faster than normal during Tyler Talks. It's easier for him to cope that way. It's not a foolproof method, though. 
"It'll hit you in the middle while you're standing there with a mic," Mark said, "50/50" of the time. "You're saying these words and you're sort of, for the first time, saying it again that he's not coming back." 
After the Tyler Talks, Kym and Mark make time afterward for athletes who want to confide in them or share their mental health stories. There are usually two to three licensed mental health practitioners on site, too. The Hilinskis use PowerPoints and videos with lessons, one being someone doesn't need a tragedy to ask for mental health support. They tell audiences to use appropriate language: Don't call people "retards," Mark said, and don't say "commit" suicide, as you don't "commit ALS" or "commit cancer." Instead, The Center for Suicide Prevention recommends saying "died by suicide," "death by suicide" or just "suicide." 
Mark said he doesn't tell student-athletes to not grind as hard or to take it easy in their sport. He said he wants student-athletes to treat their mental health as they would a torn ACL or cancer diagnosis: If treatment requires a step back in competition, then do so. It's more important than the sport, he said. 
The point isn't to have an emotional talk, Mark said — it's just the most transparent way they can tell Tyler's story. The only way they know how. Mark and Kym have a routine before the talks, but Mark said he can't practice them out loud: "I would just end up in a heap on the floor."
"It's OK to laugh. Laugh or cry, however you react to it — you're not going to offend us," Mark said. "You know, losing Tyler's the hardest thing. Nothing else kind of comes close."
Kym and Mark aren't mental health practitioners or public speakers. Admittedly, they don't take themselves too seriously. They just know they have an important story to tell, one that may save lives — which gives them an obligation to bring their very best to every venue they speak at. 
But they're tired afterward, because the story never changes. There's no bringing Tyler back.
"I'm pissed, sad and mad at him because I don't understand it," Mark said. "What I've learned in five years is to say, neither did Tyler."
The Hilinski parents spoke twice at JMU on Tuesday, once at noon for coaches and administrators — a "modified Tyler Talk," Kym called it, in which she and Mark prepared them for what they'd tell the students and got feedback on how to address Bernett's death — and again to a crowd of student-athletes at 7 p.m.
Mark and Kym spoke to The Breeze on Jan. 21 and again Jan. 24 after their Tyler Talk at JMU. The Breeze requested to attend the 7 p.m. Tyler Talk. JMU Athletics denied the request, citing a desire to foster a supportive and sensitive environment for student-athletes to be vulnerable. 
Kevin Warner, JMU Athletics assistant athletic director for communications, said the Tyler Talk is part of JMU's longstanding Dukes Lead program, in which JMU Athletics holds events to foster student-athlete leadership and development. The original Tyler Talk at JMU, slated for March 30, 2020, was rescheduled, as were all on-campus Dukes Lead events that year. From March 13, 2020, to spring 2022, all Dukes Lead events happened virtually. Warner said the Tyler Talk was too important to be virtual, so it got rescheduled to this year, when Dukes Lead events were back in person. 
Kym said she and Mark conducted 20-30 Tyler Talks over Zoom during the pandemic. They and JMU agreed on another date to come to JMU, Kym said, because mental health truly matters to JMU's coaches and administrators. 
But as soon as they're done at a school, the Hilinskis carry on. After their second interview with The Breeze, an hour or so removed from their 7 p.m. talk at JMU, they said they'd be off to Central Michigan University on Wednesday morning for another Tyler Talk. 
Mark and Kym don't normally debrief after talks. They don't go out afterward. The talks are emotionally draining and difficult enough. 
But they still get through each one. Mark said a student-athlete may roll their eyes, another story might not resonate with everyone, but somewhere, one student-athlete may go, "They're talking to me." That's what keeps them going, Mark said. They talk to save that one kid, Mark said.
"We always imagined Tyler's there," Mark said. "Not in a weird way, but there's a Tyler or somebody like Tyler in the audience, and I want to give that kid, that girl, that woman, that man the opportunity to see a story that didn't end well."
Kym and Mark said they'd slow down if Tyler Talks were detrimental to their mental health. Mark said they aren't — he doesn't feel any less capable of doing things he couldn't before. And  frankly, Mark said, they don't feel like they're getting to enough schools. 
"Our whole goal when we go to these talks," Kym said, "is if we can just reach one person sitting in that audience that listens, that walks away with, you know, some type of hope in their heart."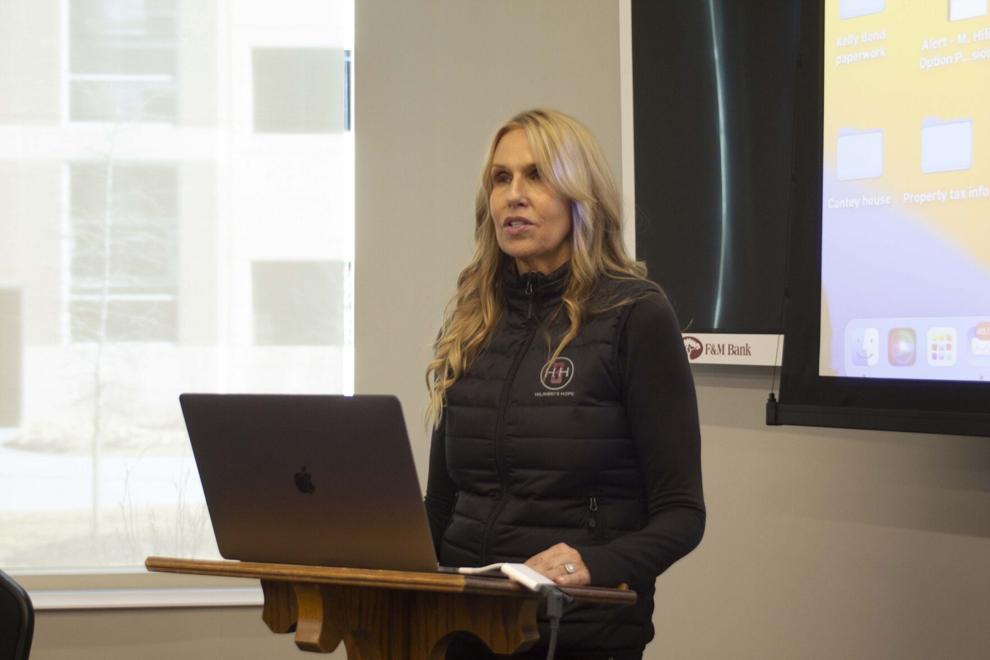 They also keep going not just for their own therapy's sake, but because of how vital they've become to others in need. Kym said she gets calls out of the blue from students from previous Tyler Talks who want to talk. Kym likes the calls; Mark doesn't. 
Kym heard about Stanford women's soccer goalie Katie Meyer's suicide before it became public because Meyer's teammates reached out to Kym. She also reaches out to parents of athletes who die by suicide. Kym didn't know about Bernett's suicide until it became public, she said, but Kym emailed with Bernett's parents afterward to help them sort through the painful next steps. 
The Hilinskis embrace the burden. 
"As we reflect on it afterwards and beforehand and as we run Hilinski's Hope," Mark said, "we recognize from the feedback, email, text, calls, you name it, that these these things are helpful and it's almost like we're — I don't want to say obligated — but we're absolutely obligated to do it the best we can and probably for as long as we can."
Tyler Talks hit some groups of student-athletes harder than others. When the Hilinskis visited George Mason in October, Mark told Sports Illustrated some of the school's softball players were as sad as he's ever seen a group after a Tyler Talk. Kym told The Breeze the George Mason softball team all sat in a row during the talk. Afterward, she said, she and Mark sat with the team; some players cried. Many players knew Bernett from her McDonald, Pennsylvania, hometown and grew up playing softball with her. 
The Hilinskis said they didn't want to make their talk at JMU all about Bernett. But it had to be addressed. They just didn't initially realize the impact — and the aftermath — of her passing. 
'Feeling in the air'
One hundred and fifty Tyler Talks in four years couldn't fully prepare Kym and Mark for Tuesday's rendition at JMU. Mark expected sadness to overwhelm the talk, but he said he'd never experienced it to this extent. Tuesday's talk required even more sensitivity than normal. 
Mark and Kym had never conducted a Tyler Talk at a school this closely removed from a student-athlete's suicide before — with those who the athlete was closest with in attendance. 
"It was more — it's a feeling in the air," Kym said. "I felt it."
Mark and Kym took an overall more conservative approach with JMU's Tyler Talk, Mark said. He found many athletes, staffers, coaches and friends are still processing Bernett's death. Mental health is a "super complex" problem, Mark said, while college kids are "super simple" in their desires: happiness, friends — "what 21-year-old doesn't want it all?"   
JMU staffers spoke in unfinished sentences and struggled to find words in some conversations with Mark, he said. In those interactions, Mark said he could only suspect their minds wandered to the day of Bernett's death, to Bernett's family, to her team, to Bernett herself. 
The Hilinskis understand — Mark said he and Kim are still working through Tyler's death over five years later. Kym said they've learned over the years there's no right or wrong way to grieve. Still, "just, it can be overwhelming" to talk to and see so many people with "very high emotions" about Bernett's death, Mark said. 
"It was just different," Mark said, adding he'd never been as self-aware at a Tyler Talk than he was Tuesday — specifically, about checking where his messages and stories were heading. "It reminds us that time is healing's best friend and enemy."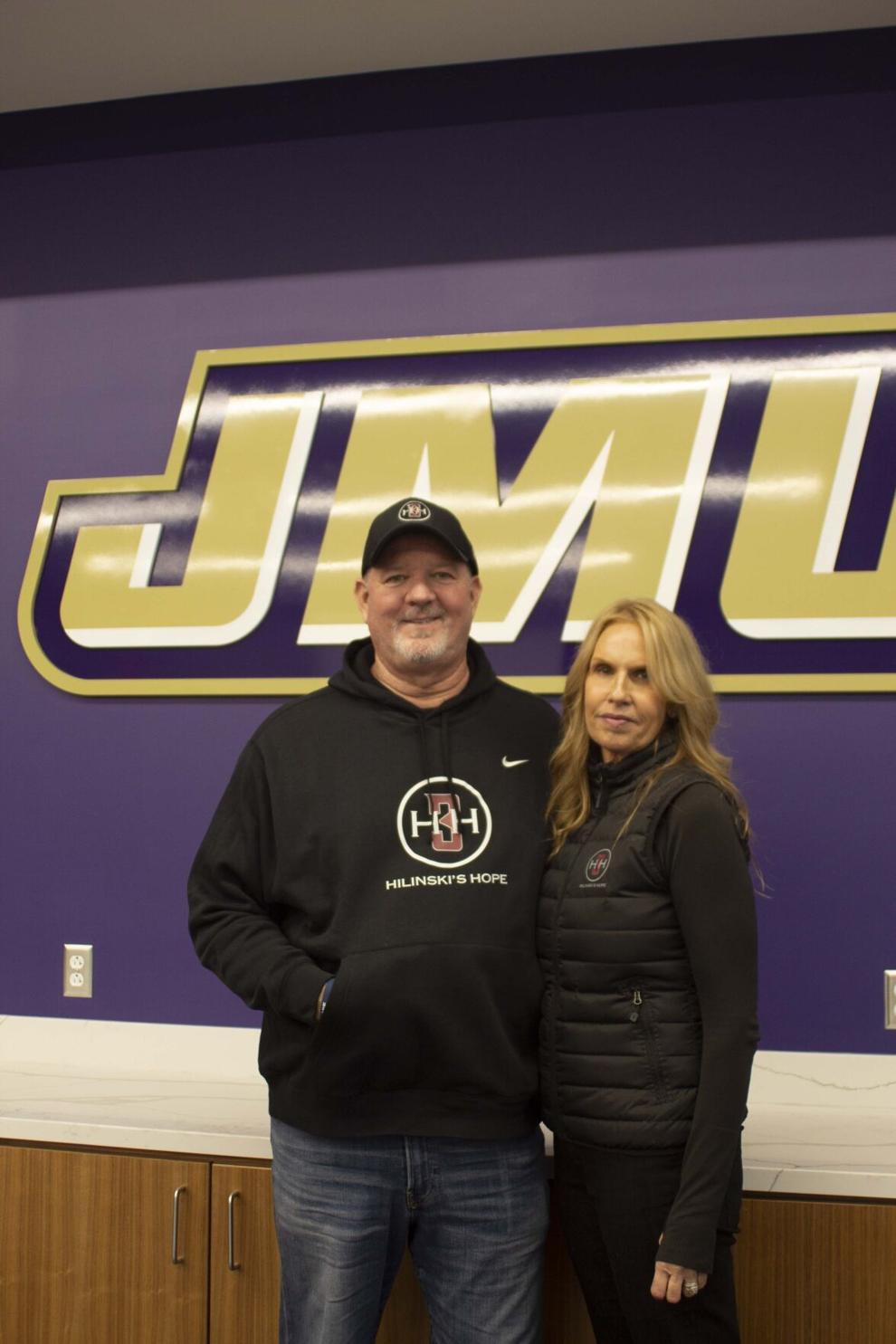 During the modified daytime Tyler Talk, Mark said JMU coaches and administrators helped him and Kym adjust their references about Bernett for the student-athletes that night. Above all, Kym said, the Hilinskis wanted to respect that Bernett was a fellow athlete, acknowledge she's gone and express that she has a story, too. Mark said he and Kym wanted to honor Bernett's struggle. 
Kym said she worried for the JMU student-athletes, especially those who knew Bernett. She knew everybody listening was thinking of Bernett. But at JMU, and at all Tyler Talks, Mark said, he emphasized that someone doesn't need a tragedy to ask for help. 
Kym called the JMU Tyler Talk more raw than normal. Mark said it felt more disciplined: Here's the story, here's the message — "We don't want to make things worse for anybody. We want to make them better." He said he didn't want to speculate anything or get outside of himself. 
"It's, it's tough," Kym said. "She was a person, she has family, she has friends and, you know, a lot like Tyler." 
Part of the Hilinskis' message usually revolves around student-athlete mental health awareness, but JMU student-athletes are a group who "needs that the least," Mark said. They made a point to say JMU has great mental health resources. 
At many talks, Mark said, student-athletes have no idea about their school's counseling and psychological services, have never been to a counseling center or ever talked to a professional about their mental health. Mark said Tyler didn't have access to a licensed mental health practitioner at the time on Washington State's campus with nearly 25,000 undergrad students.
"Everybody wants to know why Tyler's gone and I'm sure they want to know why Lauren's gone," Mark said. "We just know they're hurting a little bit and we hope we're part of the solution."
Mark said he thought, overall, he and Kym accomplished what they needed to at JMU — which is to share Tyler's story. No matter how difficult it can be. 
"It's always hard — Tyler died," Mark said. "It can't get harder."
But the Hilinskis can't always put a measure on the success of their talks right away, they said. Sometimes it comes days, weeks or months after, when a student-athlete reaches out to them. An athlete might say thank you for sharing Tyler's story. 
Another athlete might say thank you for saving their life. For keeping what happened to Tyler from happening to them.
"It's sort of a gift to believe, or to hope, that we are changing and saving lives," Kym said. "I mean, that's an incredible achievement. And if it is truly happening, then it actually helps me more with my sadness."