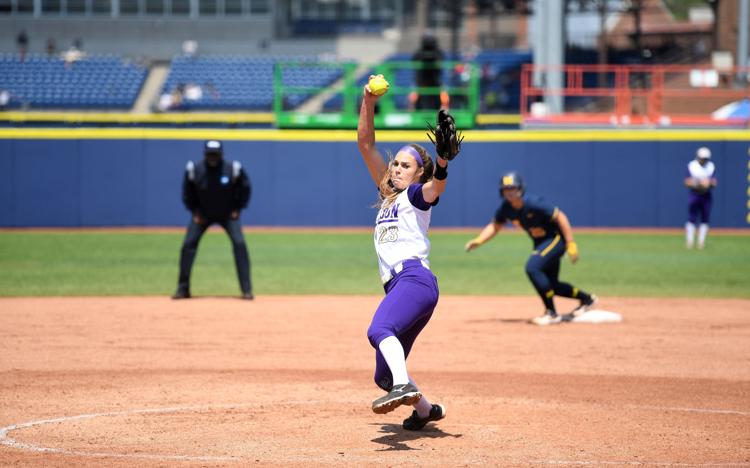 The small-town girl with local roots walked off the softball field for the final time in her college career as a star on the national stage.
Megan Good shined for the Dukes during her career at JMU. She shattered program records, climbed the ranks as one of the best pitchers in the country and was even drafted No. 10 overall in the 2019 National Pro Fastpitch College Draft.
Coming out of high school, Good was a three-sport athlete, excelling in softball, volleyball and basketball. Many thought she'd pursue volleyball in college after being an Honorable Mention Under Armour Volleyball All-American in her senior season and breaking the state record in kills and digs, but it was former JMU softball head coach Mickey Dean who convinced Good her future in softball was bright.
Dean said he was patient with Good during her recruitment process, waiting for her to go through the process with volleyball. The former JMU coach had Good and her family meet with him at his office just to talk one day.
"I just told her, with her ability, she's not going to be just another ballplayer," Dean said. "She [had] the ability to be a multi All-American and to be one of the best players in the country. We sat there, we talked and she looked over to mom, and she says, 'I'm coming here to play softball.' And her mom was surprised because everybody thought she was going to go play volleyball."
The Fort Defiance graduate said she didn't have a problem choosing to suit up for the purple and gold. She came to a program just 17 miles from her high school, a place where she could play in front of family and friends.
Good joined a team that already had talented players ready to mentor and push her. She became teammates with players like Jailyn Ford and Heather Kiefer, who Dean said helped Good become the athlete she is today the leadership they provided to her.
"Honestly, it was the best part of my life [playing at JMU]," Good said. "Coming in as a freshman, I had no idea what to expect … The rest of my years [with] Coach Dean, and then the coach switch with Coach [Loren] LaPorte, we went through a lot of adversity, but I think that it helped us … We just had a really good five years."
Dean left the school after the 2017 season for the same position at Auburn. Even with over 600 miles between him, Good and JMU softball, the team never lost him as a fan.
While Good was putting on a show at the NCAA Ann Arbor Regional, Dean was watching.
"I don't think she played a game that I didn't watch either on [the] internet or TV or with [Twitter]," he said with a laugh. "I always kept up with them and her."
Dean and JMU Nation watched as Good pitched 27.2 innings over the course of a single weekend, throwing 405 pitches, 25 scoreless innings and 21 strikeouts. Much like she did throughout her career, Good led the Dukes that weekend. She helped them earn their way to JMU's second Super Regionals appearance in three years as the only non-seeded team to do so this season.
While softball fans across the nation likely watched in awe as the small-town girl from a mid-major program thrived in the circle, those who coached her weren't surprised by what they witnessed on the field.
"To see a team completely redo their game plan around one player was pretty amazing to watch," Dean said. "To see what she did at Michigan, I felt that they were going to go win that regional … You know how you, even on TV, you can look at a player's eyes and you can see that look? I could see that look in her eyes, and I was like, 'It's game over.'"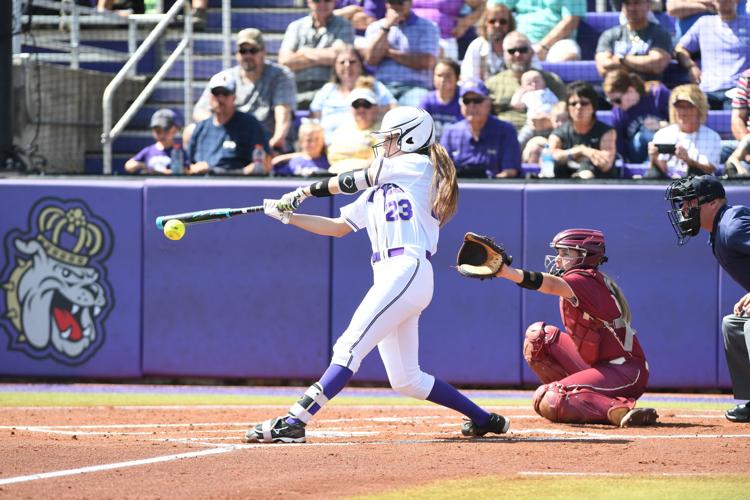 It wasn't an easy road for Good to get to that performance in Ann Arbor. There were trials she was forced to endure during her time with the program. Coming off a year that saw her named the Shutt Sports/NFCA Division I National Player of the Year, Good was sidelined.
She missed what would've been her senior season with a knee injury. While her teammates took to the field, Good became a leader from the bench, mentoring younger pitchers like Odicci Alexander and Payton Buresch. The season she spent unable to play highlights one of the most important lessons she learned during her time at JMU.
"I think it's really about how you handle adversity," Good said. "There's going to be things that happen in life that probably aren't the best … You have to stay positive during times like that, and I know it's hard. But, I think just the way you respond to adversity and how you get back on track of things is really important."
Good eventually did get back on track. She handled the injury and came back almost like she never left. LaPorte watched firsthand as Good fought her way back to the circle. There was surgery, rehab, months of not being able to put any weight on her leg and over a year without pitching competitively, but through it all, LaPorte never doubted Good's inevitable return.
Early in the 2019 season, Good played through some rough patches, much of which can be attributed to her year out of the circle, but she made it through. As the season progressed, the Good of old quickly returned, leading up to a career performance in Michigan.
"You forget a lot of the wins and losses along the way," LaPorte said. "[Michigan], she will never forget. And to be able to do what she did, it was emotional … The press game conference that we had, I don't usually get emotional much, but it got to me a little bit … I never doubted that she [could] do it, but when she actually did do it on the biggest stage of her career — wow."
While Good might not remember all the wins and losses over the course of her career, JMU will remember her. When she walked across the field at Veterans Memorial Park for Senior Day, the list of accolades seemed endless.
From national recognition as a four-time All-American and a player of the year to the numerous program records attributed to her name, Good's legacy at JMU won't disappear anytime soon. Humble in character, however, Good doesn't often go around talking about everything she's accomplished during her softball career.
"It's really only on a rare occasion that you get to witness and be around a student-athlete like Megan," JMU Director of Athletics Jeff Bourne said, "who is not only just a standout athlete, but she's just a great student and a wonderful person … It's rare to find a student-athlete that has the skillset like hers and her personality, to be as gifted as she is and to be as humble as she is and such a good team player."
When Good was excelling at Michigan, JMU Nation was taking to Twitter with a debate that's been addressed a few times throughout Good's career. The question at hand: Was Good the best athlete to come through JMU? While there isn't a definite answer at a school that has seen multiple athletes drafted into the pros — Good included — there's an argument to be made for her.
LaPorte highlights the fact Good was an All-American every year she played, adding how it gets harder to be a successful pitcher as you get older. There's more scouting, people are aware of how a player pitches and there's the wear and tear from playing game after game. However, Good kept performing at monumental levels each season. For Good, though, she didn't even realize there was a discussion being held.
"I had no idea that was going on," Good said. "Just for people to be able to say that is just, like, an honor. And, yeah, I have no idea what to say about this. To be considered as one of the top athletes at JMU is crazy to me."
On May 25, Good's career at JMU ended after five years with the program. While her time ended a few games short of her first College World Series appearance, her impact was left on the program and in the record books.
"She's a small-town girl," LaPorte said. "Not a lot of people knew about her, and I think she gives hope for those small-town girls that aren't playing in California and on the West Coast, and she gives them hope that they can be as good as anybody in the country."
Contact Catie Harper at breezesports@gmail.com. For more softball coverage, follow the sports desk on Twitter @TheBreezeSports.