For a program to change, it must consistently bring in freshmen that make immediate impacts on the court. For JMU men's basketball in 2017-18, it was then-freshmen guards Matt Lewis and Darius Banks, who averaged 14.5 and 10.2 points, respectively. Last season, it was guard Deshon Parker who put up over five points and three assists per game, earning him a spot on the CAA All-Rookie team.
Now, a new set of newcomers have arrived at the Convocation Center, looking to make an immediate impact.
Six freshmen — guards Zyon Dobbs, Quinn Richey and Jayvis Harvey and forwards Julien Wooden, Dalton Jefferson and Michael Christmas — headline a youthful JMU team that's made up of eight underclassmen out of 13 total players. Each of them present various skill sets that head coach Louis Rowe will implement into his gameplan, but as freshmen, they're taking on challenges that the veterans of the team went through when they stepped foot on campus for the first time.
Time management, a new lifestyle and adjusting to a new city are a few of the changes the Dukes' young core has faced since coming to Harrisonburg over the summer for offseason workouts. Going from high school to college is difficult both on and off the court, but the chemistry built during the summer months is crucial to how well the players gel.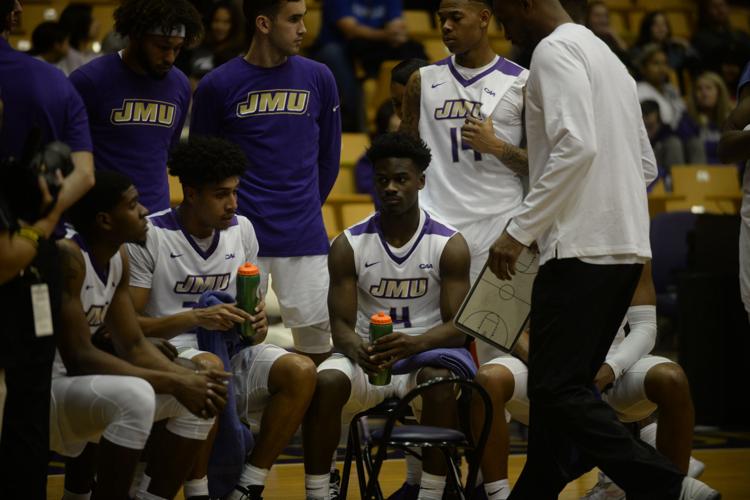 "We're going through the process together, so we can bounce thoughts off of each other," Christmas said. "When we don't know something that somebody might know, we can ask each other what certain things you're struggling with, some things that you think you're strong at and they also have upperclassmen to talk to and get ideas."
Christmas, a three-star recruit by both ESPN and 247Sports, comes to JMU with high expectations. He was named the Virginia High School League 6A Player of the Year in 2017 and won a state championship in 2019, the first in Landstown High School's history.
Three of the six newcomers are Virginia natives, including Wooden, who hails from Roanoke. For him, the biggest hurdle in the transition to college life has been not seeing his family as much. However, the bonds the freshmen have created in the few months together have been critical, and Wooden thinks it'll translate well when JMU's regular season begins.
"Chemistry among us is huge, because it definitely transitions to on the court," Wooden said. "The better we know each other, we're going to do a better job on the court and everything, so I think it's really important." 
Despite being closer to home than others, the freshmen have set out to become closer as the season goes on. Over the summer months, they routinely explored the city, trying to get acclimated to the famous spots JMU students have grown to love. So far, it's simple things like watching movies or bowling, but it's also been visiting various restaurants. When asked their favorite restaurant, each of Christmas, Richey and Wooden responded with the same answer: O'Neill's Grill.
Little things to further the chemistry among the team will go a long way for a team searching for its first winning season since 2015-16. With a record of 14-19 (6-12 CAA) last year, the Dukes are trending in the right direction. However, it's not only up to the team's upperclassmen to take over; it's critical that the team's younger players break out and do what Rowe recruited them to do.
In his time as head coach, Louis Rowe hasn't been afraid to utilize freshmen. He preaches the importance of depth, which requires younger players to step up and help the team down the stretch of a strenuous season — especially when CAA play rolls around.
"We have some guys that are young, but they have shown a level of talent that I thought they had," Rowe said. "That's not to put expectations; they're still young, they're still freshmen and they're still doing freshmen things. But, we have to be able to get them up to speed to play minutes so that we can be deep."
Depth will play a big factor in JMU's crucial 2019-20 season. A common denominator for previous CAA champions has been their ability to rely on eight or more players, and for a Dukes squad that has their sights set on a conference title, they'll need these young athletes to rise to the occasion.
Contact Noah Ziegler at breezesports@gmail.com. For more men's basketball coverage, follow the sports desk on Twitter @TheBreezeSports.