The biggest jump a player makes is between their freshman and sophomore seasons. That couldn't be more evident in JMU men's basketball's junior forward Dwight Wilson.
On the court, fans will see a 6-feet-8-inch man who routinely makes a living in the paint, dominating opposing defenders with his physicality. However, it's what Wilson has done in the offseason that saw him take his game to the next level.
In 2017-18, Wilson only saw an average of 9.5 minutes per game, scoring 3.2 points and grabbing 3.5 rebounds along the way. Then, he spent the summer of 2018 working with former forward Cameron Smith and grew into the tall, substantial presence the Dukes needed.
As a sophomore, Wilson saw the court 25.8 minutes per game. He averaged 10.2 points and 7.8 boards, but his improvement was epitomized in two outings: against Drexel, where he posted 20 points and 18 rebounds, and versus Towson in the 2019 CAA Men's Basketball Tournament first round, where he had a career-high 26 points and seven rebounds.
Now a junior, Wilson is ready to take another jump. In a year where a new offensive scheme will benefit the big men of JMU, the Tallahassee, Florida, native is primed to reap the rewards of an up-tempo offense.
"It's been a long offseason, a hard offseason. It's a lot of work we've been putting in," Wilson said. "It's just exciting to be able to come in and show everybody what we've been working on — a new offense and defense — and see what everyone's gotten better at to show the fans and do some different than last year and show how hungry we are for championship and to get better."
Wilson said the new offense will allow the Dukes to run out and spread the floor, allowing Wilson to barrel toward the basket for easy points. With fast-paced players on the wings, defenses will have to be drawn out to combat quick guard play, allowing JMU's forwards — like Wilson — to set ball screens and further open the court.
This offseason, head coach Louis Rowe worked with the fellow Floridian to polish his game. Rowe said he helped with his shooting skills and how to stretch the floor, but he also noted one of the biggest things a big man seeks to increase consistently: weight.
"[Wilson] just ate a bunch of steaks," Rowe said with a laugh. "DJ works his butt off. He's been phenomenal. His body is in a little better shape, which, I thought he was in decent shape last year, but obviously, freshman year, he was probably 270 pounds plus. He's paying more attention to his body … I think he knows he has some goals, and has some things he wants to accomplish for the team and himself."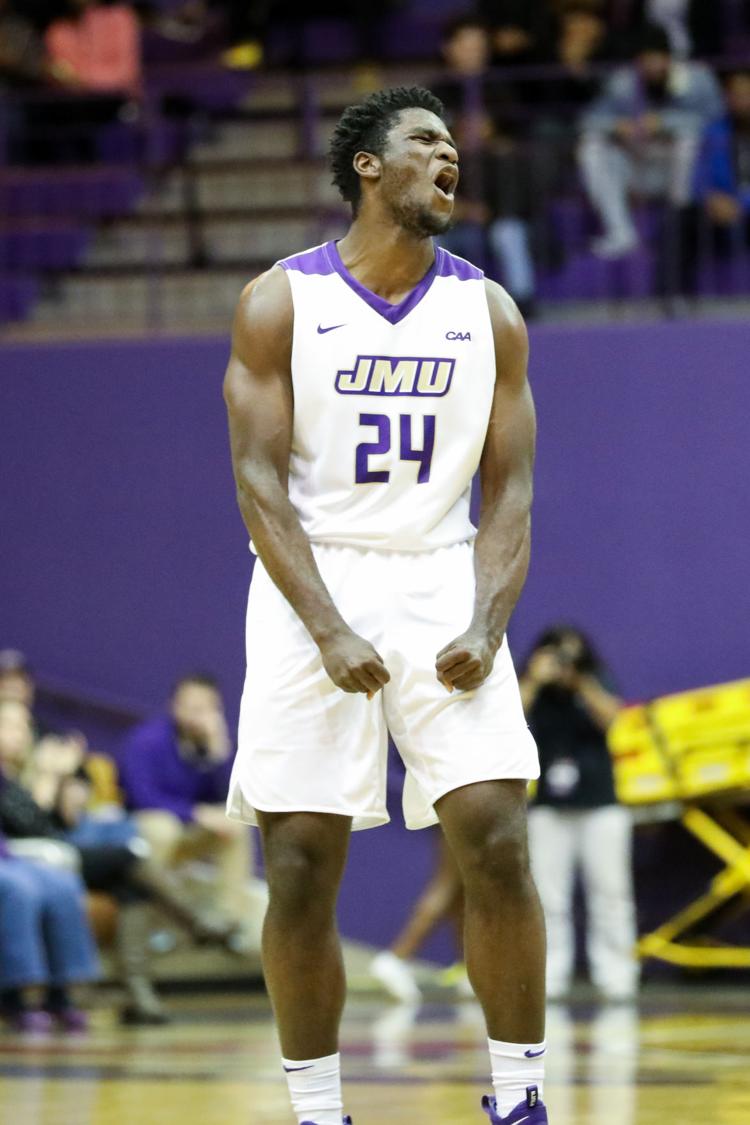 Specifically, Rowe worked with Wilson on 15-17-foot jump shots. Rowe said he doesn't think Wilson will be shooting 3's, but the ability for him to knock down mid-range jump shots will give defenses fits trying shut down a dynamic trait that not many possess.
With a work rate like Wilson's, it's easy to encourage young players to emulate it. As he enters his third year in Harrisonburg, it's not far-fetched to assume the improvement will continue. For the young players — like freshman forward Julien Wooden, who's finding his feet at JMU — a veteran figure is instrumental to positive development.
"It's definitely been huge. He just goes in and competes every day. He plays like he won't play another game ever," Wooden said. "It's probably different for people not seeing him put in the work every day, but for somebody like me, to see the work every day just shows what you take is going to be real good."
Off the court, Wilson is quiet and concise with his words. Once he steps onto the hardwood, though, he becomes a passionate forward who feeds on momentum.
As Wilson yearns to blossom into a top frontcourt player, he said he feels his goals need to be high. His first goal is to help the team to a CAA title, but he also sets a focus on improving every game.
"Personally, to be able to look back on the season and say, 'I got better from the first game,' another one would be All-Conference," Wilson said. "I think it's an achievable goal. It's not an easy goal — there are a lot of good players in this league. I have to show night-in and night-out that I'm an All-Conference player, and that doesn't start in the game; it started in the offseason, and it stays in practice."
Contact Noah Ziegler at breezesports@gmail.com. For more men's basketball coverage, follow the sports desk on Twitter @TheBreezeSports.