Sports and dynamic duos are almost synonymous.
There have been the ones who have graced the fields and courts for all to witness, like Serena and Venus Williams, and Babe Ruth and Lou Gehrig. There have also been the ones — while fictional — who have been ingrained in the memories of sports fans through TV shows and movies, like Benny and Smalls. 
In recent years, JMU football has added its own dynamic duo to the college football history book. Ron'Dell Carter and John Daka have come together as a vital pairing on the defensive front, making even some of the best quarterbacks in college football quiver. 
"The looks on their faces sometimes is priceless," Carter said.
A quarterback's sheer discomfort fending off the duo was on full display during the Dukes' trip south to Chattanooga, Tennessee. Against the Mocs, Carter and Daka combined for nine tackles, four tackles for loss and a sack. 
There was constant pressure on Chattanooga senior quarterback Nick Tiano. With players coming from every direction, Tiano and the offense tried their best to crack the JMU defense. And for a time, they found success, sitting tied at the end of the first quarter. 
But then, Carter and Daka took control. 
Carter remembers watching the Mocs line up, knowing which play was coming. The redshirt senior defensive lineman instantly called to his defensive counterparts, "Hey, the 'naked' is coming."
And sure enough, it was. It didn't take long after the snap for Tiano to be greeted in the backfield by Carter.
"Kid you not, the play came right to me, I hit him," Carter said. "And he was just like, 'Bruh, how'd you know that play was coming?'" 
The simple answer is film. Carter and Daka, along with their teammates, study their opponents each week in order to get ready for the upcoming game.
With a dedication to studying the game and learning the ins and outs of their opponents, Carter and Daka have helped create a lethal defensive line with teammates like junior defensive lineman Mike Greene and redshirt junior defensive lineman Adeeb Atariwa. Between Carter and Daka, they've had 43 TFLs, 22 sacks and 18 quarterback hits this season alone, helping to earn high praise from those who walk the opposite sideline. Daka and Carter both sit within the top-10 in the nation this season for TFLs.
"This is not one of the better defenses in the league or in the country [this season]," Towson head coach Rob Ambrose said following his team's loss to JMU. "This is, right now, one of the better defenses that have played in this league and in the country … These guys are really, really talented, and when they want to play, they're pretty darn scary."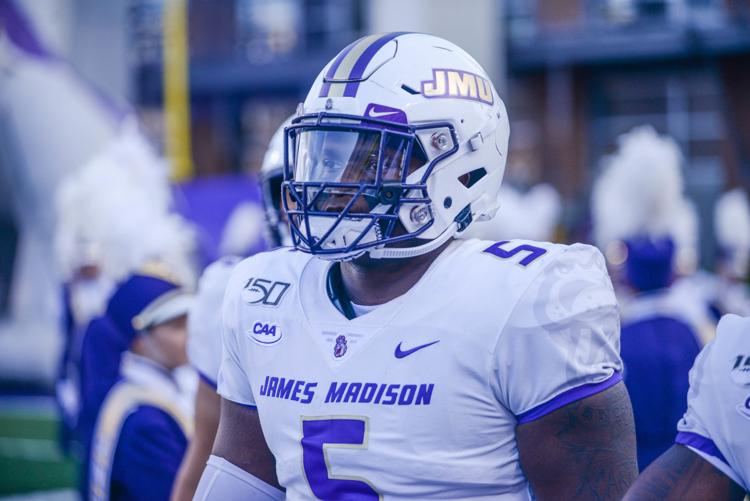 In order to create a powerful combination on the field, there's a need to build a relationship before the pads snap on. For Daka and Carter, much of that relationship has been created through constant communication. 
Their conversations are often centered on hot takes. A frequent discussion between the pair: music. And when it comes to that topic, there's not much harmony.
"I will never agree with him on music," Carter said, throwing a jab at his teammate sitting to his right. "His music taste is horrible."
For Carter, he says he identifies more with the millennial crowd and their taste in music, enjoying rappers like Jay-Z and Lil Wayne, even saying there are rappers his younger friends listen to that he doesn't even know the names of. Daka, though, strays from the highly regarded rappers and listens to other artists like Kodak Black. 
"I don't go with the social norms," Daka said with Carter quickly interrupting, arguing that his taste wasn't a social norm. 
Whether it's on the football field or talking about music away from the game, Daka and Carter have cemented a partnership few can rival. But, if you ask the pair, it's not just about them. Both men are quick to mention players like Greene and Atariwa for helping the defense succeed up front.
"I'm just, like, a fan, sort of, when I'm out there," Daka said. "We're all as hype when somebody else makes a play as if we made a play."
Following an early playoff exit last season, Carter and Daka have helped change the mindset among the roster. The Dukes said they weren't happy losing the CAA title last year or failing to make a deep playoff run. When the team reconvened under head coach Curt Cignetti, it worked to correct last season's mistakes.
"Unfortunately, when seasons go bad, coaches get put at fault for it a lot," Carter said. "But sometimes … it's the leadership that's really the problem."
Prior to the start of the season, the Dukes took part in what they called "summer validation." Before JMU took its first snap of the 2019 season, the players had to understand why they were the No. 2 team in the country and correct what went sour last year. Carter remembers telling his teammates that he didn't care if they liked him or not this year, he just wanted the best out of the Dukes during his senior campaign. 
Much of the discussion over the summer was centered around making sure the older players would step up and hold their teammates accountable. Throughout the regular season, Daka and Carter showed what it meant to be a leader. 
"Accountability [was big], and I felt like we lost our confidence as well," Daka said. "I feel like we're just trying to, like, not show the world that we're the No. 2 team … I just feel like, internally, we had to feel like we were that type of team."
It can be argued that the pain they felt at the end of last season has helped fuel Carter and Daka to put together an almost picture-perfect senior year. Both are finalists for the STATS FCS Buck Buchanan Defensive Player of the Year. 
While some may selfishly want the award to themselves, when the pair was asked why the other one is the best candidate for the honor, there wasn't much hesitation in their responses. To Daka, Carter has put together a career that few can rival and is what he calls a "way more complete player." 
Carter, though, points to Daka's performance in 2018 — along with what he's done during his true-senior campaign — as to why it should be the Upper Marlboro, Maryland, native who takes the coveted award. 
"John was a rotational guy last year, and he led our team in sacks and TFLs," Carter said. "He played 20, 15, less snaps than me and had more TFLs and more sacks … He's somebody that is naturally gifted — certain things, you just can't give someone."
Neither player will know if they won the award until the season concludes, and they're not focusing too much on it anyway. To them, the individual accolades don't mean as much as team success does. 
Both Carter and Daka stressed the importance of the group staying humble. Even when there have been numerous coaches and players sending their praise to the pair and the line, the duo makes sure everyone is still focused on improving because Carter and Daka know what happens when a team loses that mindset. 
"We've seen what happens when you're complacent," Daka said. "We've seen what happens when you lose that hunger; we've seen what happens when you feel like you can do [it on] your own."
Within the next month or so, the pair will suit up in the purple and gold one last time. No one knows for sure when that day will come, as it's dependent on how the team performs in the playoffs. But for the dynamic duo, they know where their final game should be.
Carter and Daka want it in Frisco, Texas, on Jan. 11.  
Contact Catie Harper at breezesports@gmail.com. For more football coverage, follow the sports desk on Twitter @TheBreezeSports.