Pornography is pretty much Taco Bell. Minutely satisfying for minutes at most, easy to become addicted to and you tell only your closest friends that you genuinely enjoy it.
Regardless of personal feelings toward it, the pornography industry brings in $97 billion globally, and gets 450 million visitors per month. But despite being a federally recognized and taxable industry, many performers who either currently work in it or have left it entirely face a great deal of social stigma when interacting in "polite" society.
Pornography is more or less mainstream since 70 percent of men and 30 percent of women watch it at least once a month, according to the New York Daily News. Yet the actors involved in the industry are often ostracized because of their past occupations, either through losing teaching jobs, being denied banking services or having no protections under current discrimination laws.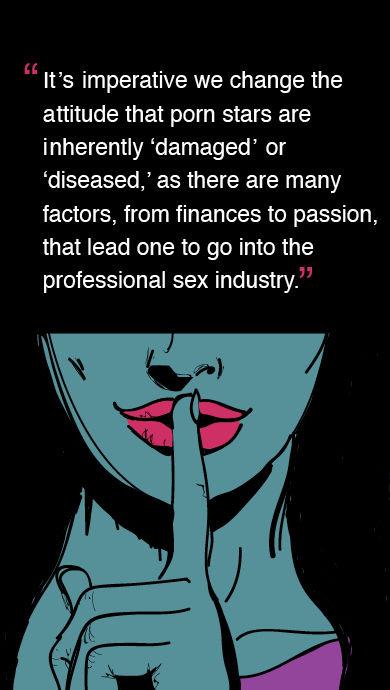 They're denied social mobility based on past actions that some of them may have had to resort to for financial reasons. Whatever we think about the industry they take part in, we can't think of adult film stars as sub-human or believe that they deserve to be poor and friendless.
The Huffington Post covered former porn star Bree Olson, who tweeted a letter about the social discrimination she faced after she left the porn industry. She wrote, "When you do porn, you automatically become a segregated part of society that is held to prejudice without the support of activists for your human rights."
Porn stars tend to have substantial social media followings with numerous fans following their every move. Yet those same "fans" are sometimes the first to try to get former porn stars fired from jobs once they recognize them, essentially refusing to impart any kind of humanity on them beyond their prior profession. This bias against porn actors can cause us to negate any sort of understanding as to why they entered the industry in the first place, essentially reducing their humanity to pure superficial assumptions about their "morality."
Nonetheless, while some may enjoy their work in porn, the industry has been known for its abuse and exploitation, sometimes negating the health and well-being of its actors entirely. Former porn star Lisa Ann says how there is now a growing trend for "abuse" porn, with the focus being to simulate degradation and suffering on the subject. This is especially damaging for amateur-porn stars who are often forced to take on these more lucrative "abuse" shoots since less extreme shoots become less readily available.
It's for those reasons that there should be more pertinent legal protections for those who've had to get into this industry in order to pay electric bills and put food on the table. This would allow them greater protection from industry abuses and hindrances to their employment mobility should they choose to leave said industry.
Under most state laws however, there's no legal protection for adult film workers, meaning that they can be fired solely for their pornographic past. Former porn star Gauge, who's had to change numerous jobs because of co-workers discovering her past in the porn industry, said, "OK — so what — I'm the provider, you're the freaking consumer. Why is what I did so much more wrong than what you did?"
A study done by The Journal of Sex Research in 2012, which compared an equal sample of female porn actresses and a general population of women, rejected the notion that porn actresses were inherently more psychologically damaged than women in the general population. The only major differences found were that porn actresses were more likely to try hard drugs and engage in sexual activity at an earlier age. What may be most surprising was that the study found that porn actresses tended to have higher self-esteem, social support and spirituality than general population women.
It can be argued that trying to "protect" people, particularly women, from entering the porn industry may, in fact, be a form of benevolent sexism. We assume that women are too facile and ignorant about the "evils" of pornography and thus need to be protected from it, regardless of their autonomy in terms of what they want to do with their sexuality and career paths. Male actors aren't free from this kind of discrimination either, as they are just as likely to face employment and societal discrimination on the outside for their choices. They also tend to get paid less than their female co-stars, earning an average of $500 to $600 per scene compared to a woman's $800 to $1,000.
It's imperative we change the attitude that porn stars are inherently "damaged" or "diseased," as there are many factors, from finances to passion, that lead one to go into the professional sex industry. We also need to strive for legal reform in terms of protecting former porn stars from workplace discrimination and abuses from the porn industry, making sure to stop treating them like second-class citizens in the process.
Whether pornography is disgusting or magical is up for debate, but whatever the personal conclusion, its actors and actresses deserve respect.
Armin Haracic is a senior political science major. Contact Armin at haraciax@dukes.jmu.edu.
---
See our Editorial Policy here.