Two days before JMU played Division 1 ranked West Virginia, I saw a girl proudly sporting her WVU sweatshirt in front of ISAT walking to class. This JMU student — since she was clearly a fan of WVU — must have known we'd play them come Saturday. Whether that sweatshirt was her significant other's, her mom's or her's, it didn't need to leave her dorm room that day — or ever — possibly.
Students need to stop wearing other university apparel on JMU's campus. There are students attending JMU from all over the country and all over the world — so it's understandable that students come with allegiances to different sports teams and colleges. However, at the end of the day, they chose to become JMU Dukes and to start wearing purple. While one may have alliances to schools they grew up or watching their parents graduated from or their current significant other attends, one should want to represent JMU as their first choice in university apparel.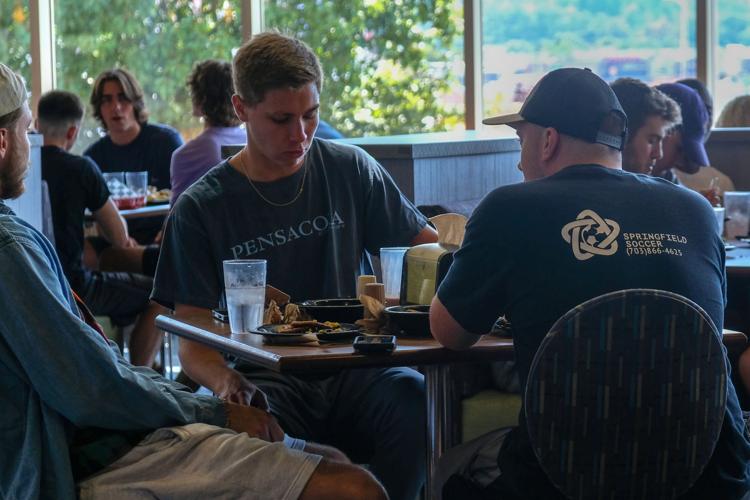 It's acceptable to wear a Virginia Tech shirt to Walmart, to the mall, at home, in one's dorm room or maybe to UREC, but not on the quad or to class. It'll never be acceptable to wear paraphernalia from other Virginia schools — especially those JMU competes against athletically — on campus or around the masses of JMU students. If one is determined to wear their UVA basketball championship T-shirt, it's better to wear it on a Monday or Tuesday rather than the end of the week when JMU could possibly be playing them. Wearing it on a Saturday is a definite "no."
JMU, as a state-funded school, competes with other Virginia schools for attendance, academic rigor, number of applicants, athletics and many other things. As a university, the school probably wants students to attend JMU and experience the best place on earth. When touring campus as a potential student, one should experience how much students love and support JMU by simply looking around. Seeing students on campus wearing William & Mary, U. VA, Virginia Tech or other university apparel promotes those other schools and takes away from the "Roll Dukes" experience.
Athletics is a major part of JMU, and there are amazing student-athletes on campus. JMU athletes should feel supported by their peers — win or lose. It's not encouraging to these hard-working athletes when they walk around campus and see their peers rep their upcoming competition. Students pass each other on campus never knowing what extracurriculars others are involved with. Imagine a player who sees with their own eyes that their classmates don't support them. Wearing other universities' merchandise doesn't automatically mean one hates JMU — it just sends the wrong message.
One should love the Cavaliers in their dorm room or their basement at home. One can sport "Gokies" with their boyfriend when they visit him at Virginia Tech. However, when one's at JMU, on campus or at the library, it's the purple and gold need to see.  
Rebecca Cutsinger is a freshman Media Arts and Design Major. Contact Rebecca at cutsinrj@dukes.jmu.edu