If time machines existed, there are worse moves investors could make than going back to 2010 and loading up on shares of Nvidia. Even before the stock's 131.4% run in 2020, the company's market value increased 1,320% last decade, dwarfing the S&P 500's impressive 250% return in the same 10-year span.
Nvidia has dominated the video game space thanks to its excellent GeForce RTX graphics processing units (GPUs) that power computers and virtual reality headsets. Its graphics cards have 80% market share in the booming personal computing discrete GPU space after shipments jumped 17.8% quarter-over-quarter, according to Jon Peddie Research.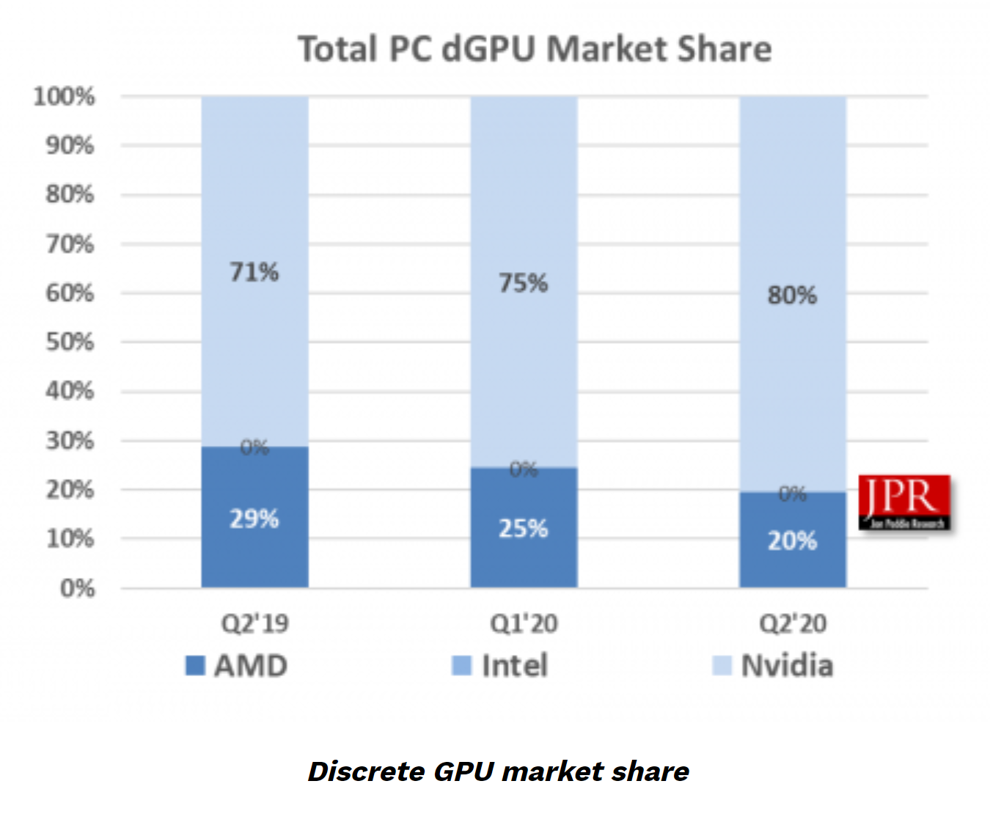 It's well-documented that computer sales soared during the pandemic despite the economic slowdown as demand jumped for computer upgrades. 
Research by the International Data Corporation found that PC shipments rose an impressive 11.2% year-over-year in Q2 2020 — historically a slow season — as volume in the U.S. hit levels not seen since 2009, the IDC found. It's worth noting that Q1 2020 saw the lowest PC shipment numbers in over a decade, due in large part to supply shortages caused by the pandemic. Still, surprising PC demand has benefitted Nvidia, as its GPUs are staples of millions of computers.
The company recently unveiled its RTX 3000 series graphics cards, which a review from Forbes said delivered "impressive performance, especially when it comes to high-resolution gaming, VFX rendering and ray tracing" while boasting a 50% performance boost over the RTX 2080.
Another notable catalyst to drive further growth for Nvidia is its pending $40 billion acquisition of Arm Holdings, a British semiconductor company that it looks to control 90% of. If the largest semiconductor deal ever closes, Nvidia will land a company that produces chips found in nearly all iPhone and Android smartphones on the market. The move would also amplify Nvidia's rapidly growing data center segment while solidifying its lead in the GPU space.
But landing regulatory approval from China, the U.S., the U.K. and the European Union isn't a sure thing, Sebastian Hou, managing director and head of technology research at investment firm CLSA, said to CNBC. Hou's thinking is reflected in an opinion piece from Global Times, a Chinese Communist Party-sponsored tabloid, published on Sept. 15, which read that "Chinese technology companies would certainly be placed at a big disadvantage in the market" if Nvidia acquired Arm.
The Arm acquisition falling through is a risk, though it's not scaring away director Stephen Neal, who acquired 450 Nvidia shares on Sept. 21 and 22 for $224,142 at a cost-basis of $498.09, according to a form the insider filed with Securities and Exchange Commission, Barron's noted. A week earlier, Needham analyst Rajvindra Gill bumped his price target to a Wall Street-high $700 from $600, citing optimism around the Arm acquisition, adding in a note the move could "create the leading AI computing platform in the semiconductor industry."
Like other software and tech names, Nvidia's stock has a relatively high beta of 1.53, which simply means it moves about 1.5 times stronger than the overall market. That means if the S&P 500 advances 1%, Nvidia would be expected to gain 1.5%, though a 10% correction could sink the stock by 15%.

To be sure, investing in Nvidia carries substantial risk, especially after its mammoth move so far this year. But its stock is well off its all-time high of $589.07 at its current level of $544.58, as of Oct. 1, and there's no shortage of fuel to keep the gains going long-term. 
New investors with side money should consider getting in the game with Nvidia.
James Faris is a senior media arts and design major. Contact James at farisja@dukes.jmu.edu.
Disclaimer: I have no position in Nvidia and no plans to initiate a position in the next 72 hours. I wrote this article myself, and it expresses my own opinions. I'm not receiving compensation for it, and I have no business relationship with any company whose stock is mentioned in this article. All information is current as of Oct. 1.
Additional disclosure: Investors are always reminded that before making any investment, they should do their own research on any name directly or indirectly mentioned in this article. Investors should also consider seeking advice from a broker or financial adviser before making any investment decisions. Any material in this article should be considered general information and shouldn't be relied on as a formal investment recommendation.