Jackson Hall, built in 1909, hasn't been renovated since 1971, making it one of the last buildings on the Quad to be re-renovated. However, in September, construction workers came in with their bulldozers and jackhammers to update the building. 
Bill Wyatt, director of university communications, said the renovations, which will be completed in the fall of 2020, will include adding eight more classrooms and an elevator to the building.
"The renovation will make Jackson Hall fully accessible," Wyatt said. "The interior will be renovated, creating more faculty space and classrooms, and it'll have all new up-to-date systems — electrical systems, technology systems — but the historical exterior of the building will remain."
Wyatt said these state-funded renovations would cost a total of $5.5 million. The renovations are being carried out through a local outside contractor, Nielsen Builders, who also completed the $31 million in renovations on Wilson, Wyatt said. 
Jackson Hall's renovation led to the history department being moved into Wilson Hall during the first two weeks of August. Chris Arndt, associate dean of the College of Arts and Letters and history professor, said this move has been beneficial for him and his department. 
When the renovations on Jackson Hall are complete, the justice studies department would move into the new space in the spring of 2021, Wyatt said. 
"The members of the department, as best as I could tell, were overjoyed by the spaces that they moved into in Wilson," Arndt said. "It's a spectacular space, and I suppose it's the envy of many on campus."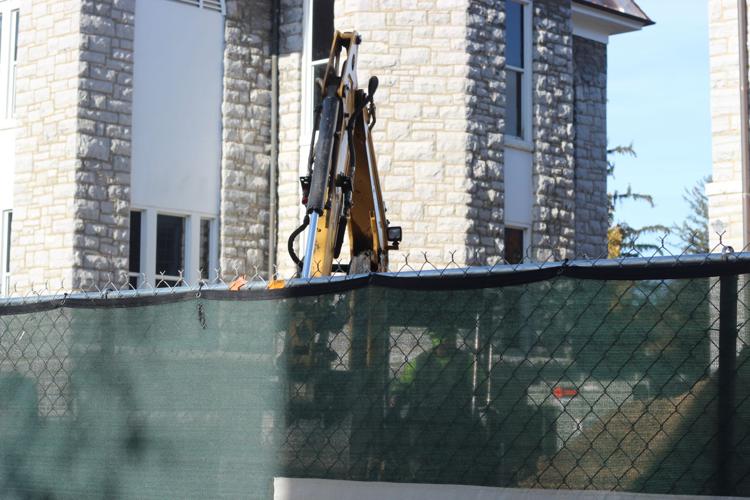 Leaks in the ceilings and issues with the HVAC system are among the problems that need fixing in Jackson Hall, Arndt said. He also said the women's facilities aren't accommodating to the number of women in the department. 
"I don't know how much it got in the way of work, but it's just having conditions that are appropriate for students to be in," Arndt said. "Having climate control, there are some classes you would have to open the windows because it would get too hot some times of the year."
As far as the justice studies department moving from Moody Hall to Jackson Hall, Glenn Hastedt, justice studies department head and professor, said the move will be "advantageous" for him and his department. He expressed that renovations on Jackson Hall will allow for all the offices to be on the same floor with open spaces that'll provide students with space to interact with each other between classes, which is something that Moody Hall doesn't have. 
Wyatt said it is still not clear who will move into Moody Hall after the renovations on Jackson Hall, but he said it will probably be another academic department. 
"The layout of Moody Hall is an old dormitory, so it definitely needs to be restructured to make it more suitable for today's academic setting," Hastedt said.
Hastedt said Moody Hall is the perfect size for the whole justice studies department to be together, whereas, in Wilson Hall, three or four different departments fill the space. Even though Hastedt said Moody Hall has constraints, he's still pleased with the time it' ill take to reconstruct Jackson Hall. 
"The building is scheduled to be finished and for us to move in, in fall of 2020, so it's going to go pretty quickly," Hastedt said. "You can't do it much quicker than that."
Contact Carley Welch at welchcw@dukes.jmu.edu. For more coverage of JMU and Harrisonburg news, follow the news desk on Twitter @BreezeNewsJMU.