Blackface can be traced back to the early 1800s, when racism was embedded in American culture. Thomas Rice, who's known as the "father of minstrelsy," created the infamous blackface character Jim Crow in 1830. Minstrelsy gained popularity soon after, and by the 1840s, dozens of stereotypes of African-Americans had been instilled in American society — a reality that's still affecting people of color today.
The impacts of these acts influenced the college experience across the nation, including Madison College — now known as JMU. As shown by the Virginia lawmakers who recently apologized for wearing blackface in college, the issue is rooted deep in the Commonwealth.
The first documentation of blackface on Madison College's campus can be traced back as early as 1912 when its Schoolma'am Yearbook published the "Shendo Land" song, which was sung at commencement that year, according to Margaret Mulrooney, a historian and the associate vice provost for university programs. The song was known to be performed by people wearing blackface, and it used specific language to mock people of color. A few years later in the 1917 edition of the Schoolma'am, one of the opening spreads included a photograph and itinerary of a student-led minstrel show called "A Dark Night at the Normal."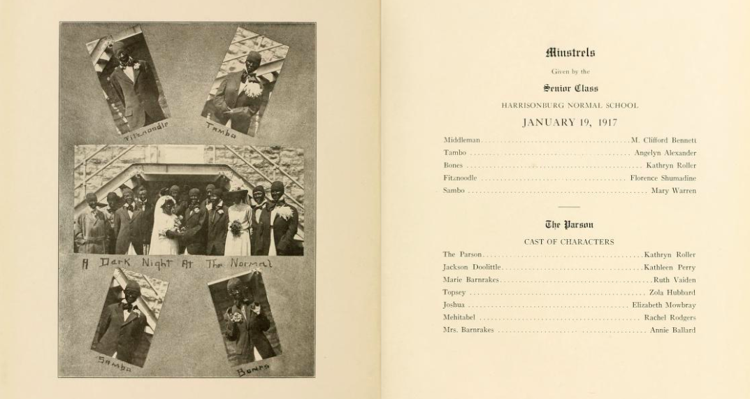 Minstrelsy was an influential part of society and wasn't only accepted, but encouraged. The Bluestone printed a photo in 1954 of three individuals dressed in blackface participating in the "Senior 'Plantation Party' Offers Traditional Southern Hospitality" minstrel show.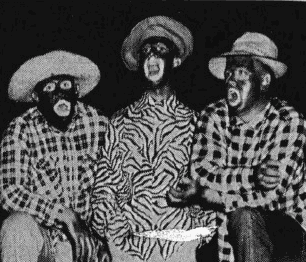 According to Mulrooney, the heart of racist behavior, then and now, stems from the many Americans who were against desegregation in the '60s.
"One day you wake up and you have to share the bathroom with black people," Mulrooney said. "The signs are gone. The white and the colored signs are just gone. It doesn't mean that you have changed, it just means the sign is gone."
Executive Order 10925, which established affirmative action, was signed into law in 1961 by President John F. Kennedy, requiring employers and educational institutions to not discriminate against applicants by their race, color, religion or national origin. This helped males of all races at Madison College because when the school went co-ed in '66, more programs became available like football and the Marching Royal Dukes. It also allowed the first African-American JMU student, Sheary Johnson, to be admitted in '66. However, as time went on, it became obvious not everyone was supportive of these changes. According to Johnson, she found her time at JMU to be "enlightening," but societal norms ruled the campus at that time, creating a drastic racial cliche on campus.  
"People were not really in the position to really learn somebody else," Johnson said. "Whites stayed with whites. Blacks stayed with blacks. You really didn't learn [about] each other so I just thought that they, for the most part, were not able to move forward."
There came a time when some people believed there needed to be more African-Americans  represented at JMU, while others believed people should be admitted and hired based on their merit, not their skin color.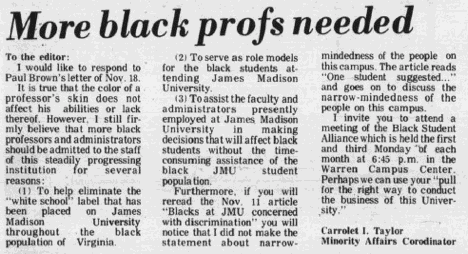 During this time, African-American dances were performed on campus and according to the archive in The "Mad" '70s,  students "enjoyed" it. But out of the 1,347 students enrolled in Madison College at that time, only 10 were African-American. According to Mulrooney, even though Ronald Carrier, JMU's fourth president, spearheaded the desegregation process at Madison College, it, along with every other academic institution in Virginia, was "out of line" with federal mandates and regulations of desegregation from 1954-78. It wasn't until after David Tatel, the Virginia Director for the Office for Civil Rights in 1977, sent a letter to Virginia Gov. Mills Godwin that change ensued. Tatel stated that Virginia "did not meet important desegregation requirements and have failed to achieve significant progress toward higher education desegregation."
In order to increase diversity on campus, Carrier established the university's Black Student Alliance soon after his inauguration and supported Delta Sigma Theta, a service sorority on campus that introduced a "Black Emphasis Week."
However, the '80s became a time of resistance in the U.S. In the 1981 Bluestone yearbook, a student was photographed sporting blackface at a campus event. In the '83 yearbook, another student was depicted hoisting a Confederate flag into the air and gave "rebel yells" at a Southern rock concert, and in the 1987 edition, another student was shown wearing blackface as part of a costume at a Halloween party.  
According to Mulrooney, minstrelsy persisted on college campuses and other public spaces into the '80s. Many people didn't want to see change, which is why Mulrooney wasn't surprised when she discovered that Virginia Attorney General Mark Herring admitted to wearing blackface in 1980 after she saw the photo of two individuals wearing racist garb in Democratic Gov. Ralph Northam's medical school yearbook from 1984.
"You see minstrelsy cropping up in different places as well as more discriminatory behaviors and actions as a way of demeaning black people and affirming whiteness," Mulrooney said.
Even though the use of blackface was diminishing, it wasn't uncommon to find people wearing blackface at parties or other underground events in the '80s.  
The number of enrolled African-American students jumped from 30 in 1976 to 63 in 1980. The university attributed this to its affirmative action program that focused on recruiting students of color. Changes in society's perspective of race were made evident in the '90s; at JMU, The Breeze published an article stating that the African-American studies minor may reappear in 1992. The minor was later re-introduced to campus, and it was renamed to African, African-American and diaspora studies over the past year.
Incidents involving blackface haven't gone away. Last semester, a former adjunct professor at JMU dressed up as "Urethra Franklin" and wore blackface. Even though he wasn't teaching at the time of the incident, the university officially cut ties with him. More recently, after Northam and Virginia Attorney General Mark Herring admitted to the public that they'd donned blackface in the past, JMU President Jonathan Alger sent out a campus-wide email addressing the community.
"James Madison University is firmly committed to a welcoming, inclusive and non-discriminatory environment for individuals of all backgrounds," Alger said. "Messages that condone racism, violence or hatred are antithetical to our mission and values."
Senior Sakira Coleman created the "Unheard Voices" program at JMU her freshman year and led an event hosted by Women of Color called "Speak Up" last semester, just days after the former JMU professor blackface incident. The health communications major believes that to move forward, people have to understand the past.
"The point that I always bring up is people of color don't get to take their skin off," Coleman said. "They don't get to change the color of their skin. They don't get to scrub it away at the end of the day. We have to live with these consequences. We are constantly living with consequences, whether that's mass incarceration, police brutality, being profiled, being seen as inferior in the classroom."
While the U.S. has progressed significantly in regard to equality since the civil rights movement, African-American students aren't viewed as equals by everyone. According to Coleman, she's had several instances at JMU where she was viewed as inferior by group members while working on class projects. Coleman has had to talk to several professors over the years at JMU to confront the issues when they arise.
Coleman has also met people at JMU who "hadn't met a black person before." Because of this, she values education in regard to black history, from the good to the bad.
"Racism, microaggressions, they are constant unless you are intentionally working to pull back the history of it," Coleman said. "You can't forget the history of it or it's bound to repeat itself."
As a college student, Coleman has seen people wearing blackface at other Virginia universities in the past as well as other racist behaviors. In January, a female was awarded the "blackest white girl you'll ever meet" award at an Alpha Phi semi-formal at Old Dominion University. To Coleman, it wasn't a surprise to see these behaviors. She believes people don't realize the consequences when it comes to stereotyping.
Much like Mulrooney, Coleman and many of her peers believe education about the past is the only way the community can move forward. A common theme, however, is that few or none non-African-Americans attend events such as "Speak Up."
"It's redundant when we're talking about police brutality or blackface but it's only black people in the room," Coleman said. "We are in our own bubble, and I think that needs to change."
While it's undeniable that strides have been made to create equality, Johnson believes there's still plenty of progress to be made in the U.S.
"We have a ways to go on the one hand … I believe we have to look at the context," Johnson said. "Watch the actions of the person because their actions let you know who they are and what they really think of you as a person and … your race. Don't go by what people say, go by what they do."
Contact Katelyn Waltemyer at breezenews@gmail.com. For more coverage of JMU and Harrisonburg news, follow the news desk on Twitter @BreezeNewsJMU.