Students gathered in front of Wilson Hall on Thursday afternoon to protest the Kentucky grand jury's decision to not indict officers Jonathan Mattingly, Brett Hankison and Myles Cosgrove in the killing of Breonna Taylor. 
"Breonna Taylor's name was used for everything except justice," Summer Khaswan, a freshman history major who organized the protest, said "And she deserves better, her family deserves better."
Khaswan said that after she saw the verdict she posted on the "JMU Students Support Black Lives Matter" Facebook page, asking about organizing an event for Taylor. After people liked the post, she planned the protest, chose a time and people showed up, she said. 
In Khaswan's Sept. 23 post to the Facebook group, she wrote that students who are still on campus should come out to peacefully protest for the justice of Taylor at Wilson Hall on Sept. 24 at 4 p.m. 
"When I was little, I would go to school, and when 9/11 would come, my peers would make fun of me because my dad was Arab," Khaswan said to the group.  "And so he led me with this quote every single year: 'Ignorance is bliss for the majority, but ignorance is death for the minorities.'"
Khaswan spoke about the need for change and justice for Taylor. She opened up the floor for others to share their thoughts and feelings. Several students and some faculty used this opportunity to push for education about systemic racism and anti-racist change in the U.S. 
Cynthia Ruff, an assistant director at the Center for Multicultural Student Services, said that people should be reaching out to people they know and having conversations about anti-racism in person and on social media. 
Ruff encouraged students to get involved with CMSS and pressed that there was more to be done.
"Thank you for honoring Breonna Taylor's life, her memory, the legacy that she should not have had to have right now, she should be here with us," Ruff said. "Thank you for creating this space, for allowing me as a Black woman to encourage you to do this."
Someone in the crowd said "keep the foot on the gas!" Ruff repeated the phrase as the crowd cheered. 
Other students pushed for change in government and Khaswan handed out flyers with voter registration information, as well as how to help Taylor's case and family directly. 
"I just want to keep on saying how important it is to go vote, not just in the national level for our president but in the state level and also our county level," Annie Mcgowan, a freshman media arts and design and history double major, said. "By staying silent you're staying violent, go vote."
Khaswan and the students took a moment of silence for 195 seconds, to symbolize the 195 days that have gone by since Taylor's death. Many students took a knee, held up their fist and bowed their heads in silence to share solidarity with the Black community.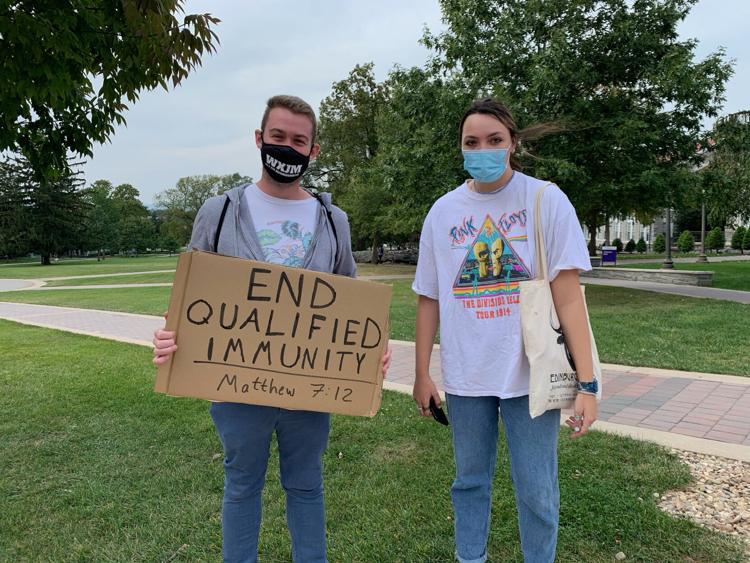 "I just wanted to come up here and say, the deaf community stands with Black Lives Matter ... we see you, we … hear you, we support you, we're right here beside you," Anna Cantilina, a junior communication sciences and disorder major said. "These protests matter, every single one of them is making a difference, and if we keep fighting, they can't ignore us."
Many students shared how the protest and the turnout of the protest impacted them.
"But when I see everyone out coming together like this, raising our voices and doing what we can, speaking against what's not right, it just gives me hope, it makes me feel like tomorrow is gonna be a better day," Brontë Johnson, a sophomore media arts and design major, said. 
Calista Lide, a sophomore music education major, said that it meant a lot that the protest was organized.
"I was hoping we would do something, and the fact that we did just made me even more happy, and to find out that she's a freshman who [organized] it … it makes me feel welcomed here a lot more." Lide said. 
Kyel Towler, a senior communications studies major, shared the feelings and thoughts that he experienced after hearing the verdict through a blog post he read to the crowd. 
"So when I looked into my spirit while thinking of yesterday's verdict, I have nothing but sadness," Towler said. "The grief that I feel is overwhelming, and granted I didn't know her personally, but I can see myself in her, I can see my loved ones in her, and … I can see herself in me."
Towler said that Taylor deserved to live, and for her to have justice nothing like this should happen again. He said that everyone needs to do more to ensure justice. 
"There's so many of us who find themselves being idle, find themselves just doing the nice little hashtag, the nice little blackout post, the nice little whatever, but aren't actually challenging nothing," Towler said. "But if you ain't challenging nothing, what the fuck are you doing?"
Khaswan encouraged others to continue the conversation even after the event ended. She said that during the protest she realized how privileged she was to be at JMU.
"We're learning from each other every single day," Khaswan said. "It makes me really grateful." 
Contact Ashlyn Campbell at campbeab@dukes.jmu.edu. For more coverage of JMU and Harrisonburg news, follow the news desk on Twitter @BreezeNewsJMU.