Following Staunton's decision to discontinue the recycling of plastics, Cassy Whitacre and Mandy Drumheller chose to create a business — now known as RefillRenew — in their community in an attempt to minimize plastic waste produced in the city.
RefillRenew allows those in need of items typically stored in plastic to refill their containers with items they need. Drumheller said the idea of RefillRenew began in early April, with its storefront opening June 1.
"[Staunton's new recycling policy] was really disheartening, and we knew that if we were having such a hard time finding products that didn't use single-waste plastics, then everyone else must be too," Drumheller said.
This option prevents individuals from having to purchase a new plastic container each time they stock up on some of their favorite products, including name-brand shampoos, conditioners, body washes and lotions. Prices on the refilled products are determined by their weight.
Additionally, RefillRenew has a "bottle library" at their location, which allows individuals to donate plastic bottles for the purpose of being refilled. This function allows those who don't have or forgot a bottle to acquire the product they need without producing any additional plastic waste. Bottles are sanitized then made available for use by any customer for free.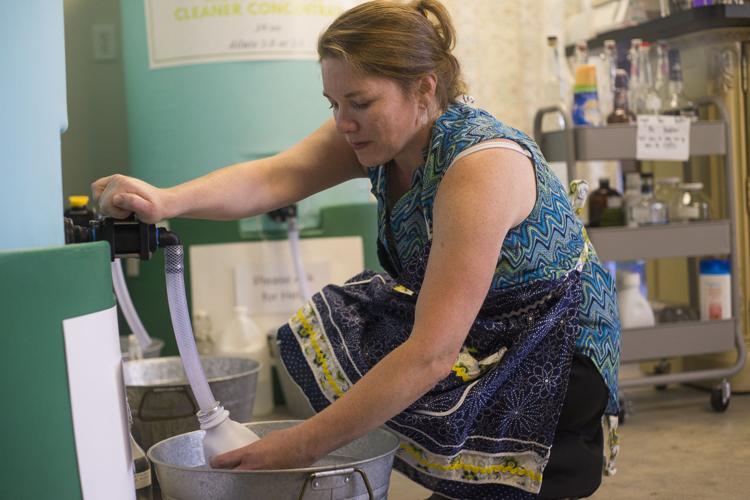 Drumheller said RefillRenew is able to acquire name-brand products in such large amounts because of its cooperation with distributors that provide the products to larger companies.
"We got in with those distributors and were able to buy name-brand products and also more generic products," Drumheller said. "And also, a lot of nice, natural products — products without chemicals or parabens."
Drumheller said RefillRenew considers itself to not only be a refill station, but also a zero-waste shop. 
"We have lifestyle products like bee's wrap, reusable silicone bags … deodorant in biodegradable containers, right alongside the bulk, refillable household and personal care products," Drumheller said.
Drumheller said the store is operated by her and Whitacre with the assistance of a handful of employees.
Porter Grace, employee of RefillRenew, got involved with the company when Whitacre and Drumheller began searching for help in their community.
"[Whitacre and Drumheller] go to my church," Grace said. "When they started looking for employees, that was one of the first places they looked. This is something I think is really important, so I jumped on."
Whitacre said Staunton residents are enthusiastic about the idea of being able to reduce plastic waste despite Staunton's new recycling policy.
"Mostly the response has been that people come in and they say 'I'm so excited about this,' Whitacre said. "Or 'Thank you so much for doing this, I'm so glad to not have to throw away my shampoo bottle,' so people are really excited about the idea and have been really interested in the different products that we have."
Whitacre said that although a zero-waste lifestyle isn't attainable, RefillRenew provides options that permit individuals to make small changes to their lives that will have a positive impact on the environment.
"We have a lot of practical options about lowering your waste," Whitacre said. "[Being zero-waste] is an unattainable goal. It is easier to be like 'Well, I could switch to a bamboo toothbrush. I could keep that straw in my bag all the time, no problem.' We have simple, practical and generally affordable items so you can start to lower your waste."
Contact Connor Murphy at breezenews@gmail.com. For more coverage of JMU and Harrisonburg news, follow the news desk on Twitter @BreezeNewsJMU.