Jeremy Hawkins remembers walking down the halls of the Music Building as a freshman in 1997. He saw only one professor with a Safe Zone sticker on his door.
His first thought: "I'm gonna take his class." 
Today, more than 300 JMU faculty and staff are considered Safe Zone members who support LGBTQ students. Safe Zone is a voluntary network that believes every member of the university community should have an equal opportunity "to grow and learn in a safe and open environment." Hawkins is the assistant director of Off-Campus Life and a Safe Zone coordinator.  
Safe Zone members display a pink sticker on their door that indicates they've completed a Safe Zone workshop. Workshops are hour-and-a-half-long sessions designed to teach staff members to make their students feel welcome.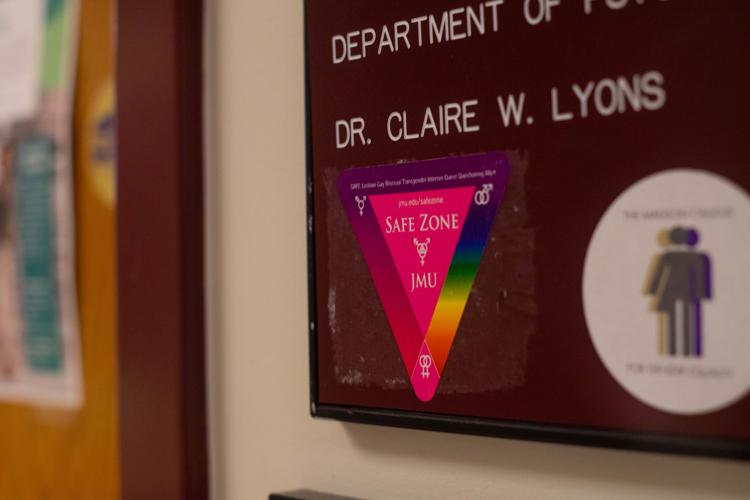 Workshops include lessons on gender vs. sexuality, the privileges of being heterosexual and examples of micro-aggressions. They also teach inclusivity principles like affirming the existence of marginalized people and understanding privilege, as well as oppression. 
"When you're not in the majority of people, it's easy to feel alone or potentially to feel like you don't belong in a place," Jennifer Iwerks, assistant director for Sexual Orientation, Gender Identity and Expression Education and Support said. "So the more people see that there are folks that understand who they are and that can support them, the better." 
According to FBI statistics, members of the LGBTQ community are at a higher risk of being the target of hate crimes. In 2017, there were 8,828 victims of hate crimes reported — 1,338 based on sexual orientation bias and 132 on gender identity bias. Racial bias accounted for 5,060 victims and religious bias accounted for 1,749 victims.
"Marriage equality took center stage for such a long time, and then almost the day the Supreme Court passed it,transgender rights were front and center," Bryson said. "Those kind of things motivate people to come back and do another workshop even if they're already Safe Zone certified."
Bryson says that places in music and theater are "naturally safe spaces," but the necessity of the sticker is for students who might not know who to turn to for help. Bryson says the stickers are a way to show students which faculty members are most likely to recognize your identity and allow for self-determination in who you are inside the classroom.  
"University policy says that sexual orientation, gender identity and expression — people are protected from harassment and discrimination on those bases, so in general, the whole university should be a safe space," Safe Zone coordinator Bethany Bryson said. "But the stickers represent people that you might turn to if you're having a problem or you need help with something, like a problem in class." 
As a JMU undergraduate, Bryson was the president of the student-led LGBTQ+ organization Madison Equality for two years. Bryson said Safe Zone is important because there's always room for growth and improvement in how members of the university support their LGBTQ students, faculty and staff. 
Vic Tedrow, a junior religion major, identifies as pansexual — someone who's attracted to people regardless of their gender identity or sex. Tedrow is the Campus Outreach Coordinator for SOGIE who helps set up events like the Transgender Day of Remembrance in November.   
"When you see that sticker, you can take a breath and be relaxed," Tedrow said. "I can be myself, I can say my opinions, maybe even share my identity in this class, and that's a really nice feeling."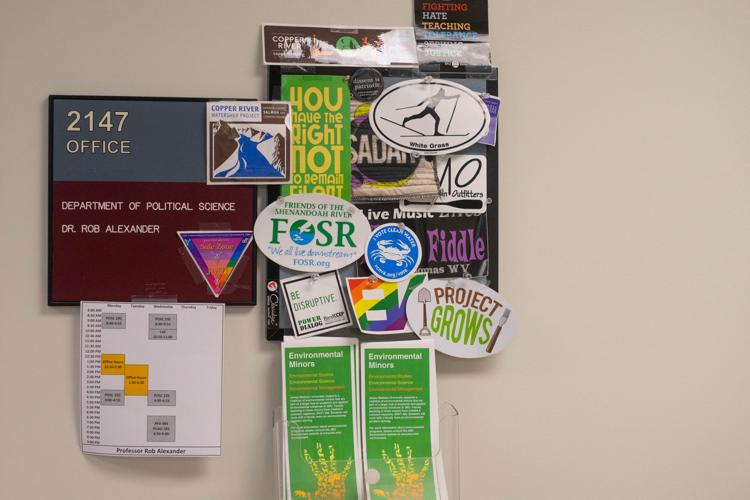 Safe Zone exists in the academic setting of the classroom, while the Lavender Lounge is an extension of the SOGIE office for students during the day. The lounge, located on the first floor of SSC next to the Well, is a hangout area for LGBTQ students. It has more than 1,500 books related to LGBTQ content and a self-expression closet with clothes for people to try on that might match their gender identity.  
"I think it's one of the best things that we have on campus just because this is where so many people create friendships, and it's not like you have to outwardly say anything when you are in here about your identity," Tedrow said. "You know that you're accepted when you're in here, and if you want to have a conversation with someone, most times people are very open. It's a great experience to learn more about others' identities and feel valid in your own."
In an effort to move toward equality, Hawkins says that gender-neutral housing is on the radar for the Office of Residence Life. He says this would be a positive step toward visibly supporting the LGBTQ community.  
"The vision of Safe Zone is to have a campus community where you no longer need a Safe Zone program," Hawkins said. "It is working to that point."
Contact Mitchell Sasser at sassermp@dukes.jmu.edu. For more coverage of JMU and Harrisonburg news, follow the news desk on Twitter @BreezeNewsJMU.