RICHMOND, Va. — Thousands gathered at the annual Lobby Day rally held in Capitol Square on Monday. Protesters flooded the Capitol with flags, bright orange "Guns Save Lives" stickers and many assault rifles. 
Lobby Day is an annual event, but due to threats of violence, Gov. Ralph Northam (D) declared a state of emergency in Richmond from Wednesday to Tuesday and made it temporarily illegal to carry weapons within the grounds of the Capitol, according to NBC News. Despite the threats made, the rally remained peaceful, and roads to the city reopened at 4 p.m., according to WTVR, a news station based in Richmond, Virginia. 
Many who attended directly challenged Northam's opinion on guns. InfoWars host Alex Jones paraded through the streets of Richmond Monday morning in his signature armored vehicle chanting remarks antagonizing Northam. 
Photos from the 2020 Lobby Day rally in Richmond, VA
People from all over the country gathered in Richmond, VA on Monday, January 20th for the Lobby Day rally. This annual rally gathered more than previous years due to Governor Northam's newest gun legislation. Protestors collected on the lawn of the Capitol building and in the streets to speak out against the legislation.
"We are black, white, old, young," Jones said. "We have a right to the Second Amendment, to defend ourselves. And despite him trying to keep ourselves to not having speech, we have our First Amendment. It's ours, and you're not taking it, scumbag. Governor 'blackface' Northam will not take our Second Amendment. Governor 'KKK' Northam will not take our speech."
Based on these threats, I am declaring a state of emergency in Richmond from Friday evening until Tuesday evening. This will include a ban on weapons of any kind in Capitol Square during that time. Learn more here: https://t.co/k8bxLj6odF

— Ralph Northam (@GovernorVA) January 15, 2020
Northam is looking to pass legislation that would require "universal background checks, limits on the types and numbers of firearms that can be purchased and a 'red flag' law allowing the authorities to seize weapons from someone deemed a threat," according to the Washington Post.
What Northam calls "common-sense gun control" is what JMU sophomore music performance major Ian Cox calls an infraction on protected rights that are granted by God. 
"I'm here today to support the rights that we are granted by the Constitution," Cox said. "I'm just here because I support everyone's right to protect themselves. For me, I know that if I'm in a situation that I'm in trouble, I don't want to have to rely on the 5-10 minute wait time for the police to get here."
For the first time in decades, commonsense gun safety measures are finally advancing in the Virginia legislature. This is the first step in the process—Virginians are demanding real action on gun violence, and they are watching. https://t.co/biJryNFFI5

— Ralph Northam (@GovernorVA) January 13, 2020
Leading up to the rally, some attendees said they were wary of the use of tear gas to control crowds if violence emerged. Some protesters went as far as to wear gas masks in preparation for the possible outcome. 
Seth, who wore a mask and carried an unloaded Colt AR-15 chambered in .556, expressed that "gun rights are for everyone." The Breeze requested to speak to several individuals dressed in similar garb, but the others declined to give their first or last names. Seth was the only one willing to share his first name with The Breeze. 
"White, black, gay, straight, transgender — they're for everyone because when your freedom of speech comes to an end, how do you defend it?" Seth said. "You can have it because you're a free man or free woman. You're just free, so just have it."
Speakers for the rally took the podium starting at 11 a.m. and spoke until around 12 p.m. Jan Morgan, a Fox Business analyst and founder of 2AWomen, an organization of women dedicated to supporting the Second Amendment, was one of the spokespersons. She began her speech with remarks toward Northam. 
"I want you to know … I looked up the word 'tyrant' in Webster's Dictionary today, and here's what it said: right beside the word 'tyrant,' here's the definition: Virginia governor Ralph Northam," Morgan said. 
Stephen Willeford, who's famous for firing back at Devin Kelley, who opened fire on congregation members at the First Baptist Church in Sutherland Springs, Texas, was the last speaker at the podium for the rally, calling upon listeners to fight to return the U.S. to its prior form.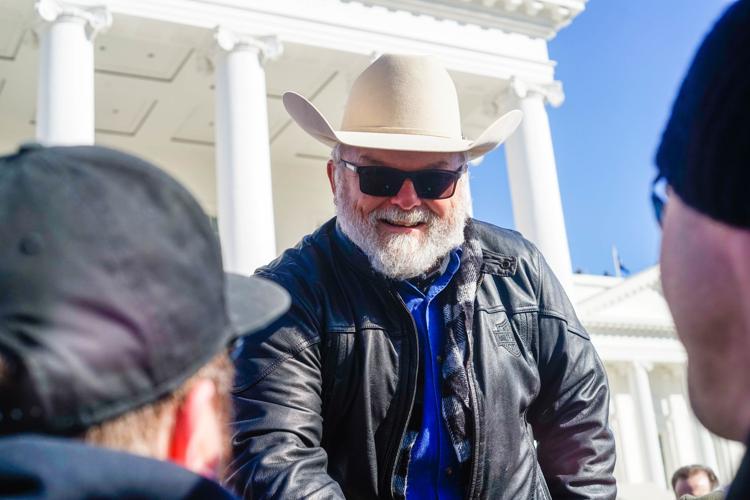 "We need to start taking our rights back and start making this country back to what it used to be and what it needs to be — a free country," Willeford said. "Everything starts here, it seems like; the Constitution started here. So, let's start here, and let's start taking our country back."
After the rally concluded, thousands of participants clogged the exit, leading to a crowded North 9th Street. Among those on 9th Street was Black Guns Matter member Michael Mumford. He said that his organization's goal is to educate "urban individuals" about gun rights and conflict resolution skills. 
Mumford, a resident of south Richmond, said he believes that increased gun control will have more consequences than just infringing on Second Amendment rights. 
"This is a litmus test for everything," Mumford said. "It's not just on 2A — it's everything. It's from gun rights to abortion rights to what you can say and what you can feel. The more that we give to them, the more that they will be more than happy to take from us. The end game is not just gun control. It's people control, it's populace control."
Among the groups present at the rally was the Original Black Panther Party. The group's general, Mike Pain, led members down East Main Street after the rally ended. Pain, along with other members, engaged in discussion with other attendees. Pain said his group attended the rally in case violent acts — like those that happened during the Charlottesville "Unite the Right" rally — occurred. 
"We've always been the type to defend and protect people," Pain said. "We've never attacked."
Mumford and Pain both expressed that Monday's rally was about more than just gun ownership. Both mentioned several systemic issues the U.S. faces. 
"A lot of people were really scared of the threats and scared that there would be mayhem and carnage, but what we wanted to do now was make sure everybody was safe for one, also just to show and put our voices out there that we cared about the Second Amendment," Pain said. 
While the question of gun rights is a multi-faceted issue, Cox said that for him, it comes down to being able to have the right to protect oneself. 
"I want to be able to defend myself from anything, and I want to be able to defend others, too," Cox said. "I feel that everyone should be able to do that."
Contact Katelyn Waltemyer at breezenews@gmail.com and Jake Conley at breezecopy@gmail.com. For more coverage of JMU and Harrisonburg news, follow the news desk on Twitter @BreezeNewsJMU.