JMU's Board of Visitors is scheduled to meet in person and on campus at their next meeting Friday. In the midst of a pandemic, the board previously held their meetings remotely over the spring and summer. This will be the first in-person meeting the board will have since February.
In the spring, one of the meetings was made accessible online for students and their families to voice their concerns and ask questions in regard to the university's decisions in reaction to the pandemic. 
According to a press release from the Partners for College Affordability and Public Trust, a group of bipartisan local, state and student leaders sent a letter to the Board of Visitors urging for the upcoming meeting to be public online. After the letter was sent last week, the Board of Visitors announced, "public comment will not be received."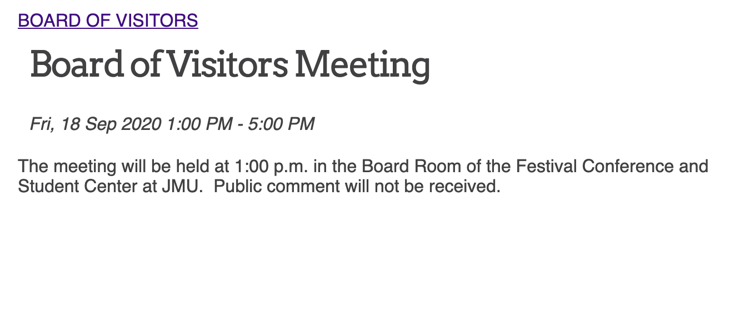 "Colleges and universities like JMU are making monumental decisions impacting the lives and pocketbooks of thousands of students and families," Megan Rhyne, executive director of the Virginia Coalition for Open Government, said in the press release. "Not giving them the tools to monitor and participate in these decisions, when the technology is easily accessible and harnessed, disregards their interests and concerns."
This request from the various 16 leaders comes after JMU's decision to shift instruction primarily online until Oct. 5 when the university will reevaluate whether or not classes will resume in person. 
Contact the news desk at breezenews@gmail.com. For more coverage of JMU and Harrisonburg news, follow the news desk on Twitter @BreezeNewsJMU.