Democratic Gov. Ralph Northam's proposed budget increases funding by $94.8 million for early childhood education programs in the Commonwealth. The additional grants will allow public and private preschool programs and initiatives to increase accessibility, affordability and quality of early education in Virginia. 
Childcare and preschool programs in Harrisonburg and Rockingham will benefit from the proposed budget, as most already receive state grant money. The increase in funding will allow local public and private programs to care for more children and potentially raise the pay of preschool teachers and childcare providers. 
The proposal includes $59.5 million to enhance the Virginia Preschool Initiative (VPI), which will give increased access to early childcare to at-risk four-year-olds in the state or children with a greater chance of failing academically or dropping out. Portions of this funding are expected to increase the VPI per-pupil amount by 10% annually. This could incentivize childcare program partnerships to increase class sizes and to decrease or eliminate waitlists for childcare. 
Another $26 million of state funding will be funneled into the expansion of VPI, Mixed Delivery Grants and pilot programs to include 2,500 at-risk three- and four-year-olds in existing childcare programs. 
"Many families need to work, but having access to safe, caring, educational opportunities for your children is a major concern across the Commonwealth," Teresa Harris, professor of early childhood education at JMU, said. "[This funding] gives us a chance not only to expand and make high-quality care and education available to families, but it also lets us address issues of quality so that children that are in care during those first five years are most likely to enter kindergarten ready to learn and able to take advantage of what our public schools have to offer."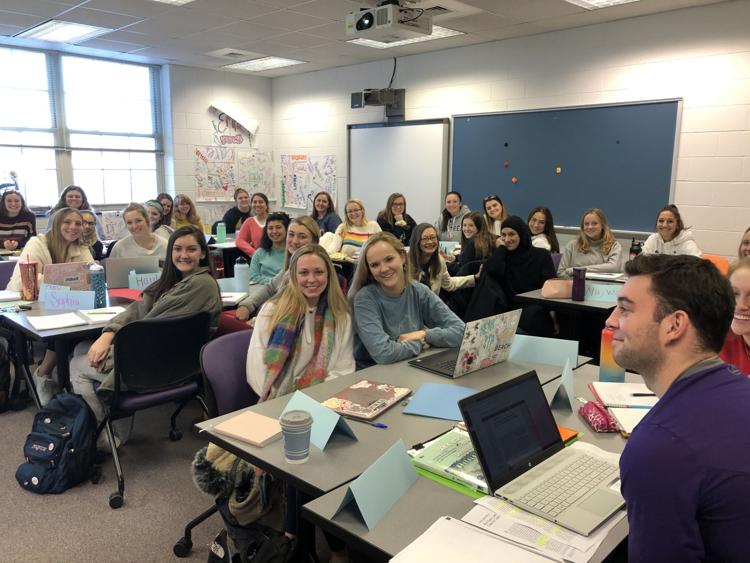 Harris and other early childhood professionals said they're excited to see firsthand the effects of increased investment in preschool programs. The additional funding will increase the accessibility to classrooms for public and private caregiving programs, Harris said. The new spots will accommodate those previously on waitlists.
And most importantly for Harris, caregiving programs can be grown in "childcare deserts" across the state, mostly rural areas of Virginia where any type of childcare is largely inaccessible or unavailable. The available childcare in Northern Virginia, Harris said, is generally accessible and of high quality. In areas like Harrisonburg and Rockingham, Harris said childcare accessibility is "pocketed" throughout the region. 
The director of SMART Beginnings, Sharon Shuttle, said both Harrisonburg and Rockingham County have successful private and public preschool programs. SMART Beginnings — a state-funded program that collaborates with the area's childcare providers to ensure quality of care — will aid the community in determining how the new funding will impact services to children and families and how that will "trickle down to improve programs."
"I think it's just taking the things we're doing well and doing them better, and taking the things we don't do so well and really taking the time to tease that out and figure out how we can use these funds in a way that maximizes the gains for children," Shuttle said. "This is money coming from the state, and this is tax money that people have put in, and so we're asking them to trust us to be able to do what's right for our community and what's right for our children."
This investment on the part of the state government will help to create a "comprehensive system" for early childhood education and care, which Harris said she believes will fill the gaps in childcare  between regions of the state due to the diverse allocation of previous funding. 
"It really opens up opportunities both for families to with confidence leave their children in care while they work to provide for their families," Harris said. "And for those of us who work within the profession, it gives us the chance not only to look at the quality of what we're doing but the equity in terms of compensation for what we're doing."
Harris said the proposed funding will give private and public childcare centers the ability to increase the providers' pay without increasing the already high cost of childcare paid by families.
Quality of childcare and education grows with the quality of early childcare providers, who are increasingly more educated but still remain undercompensated in many regions of the state, Pat Kennedy, the director of the Young Children's program at JMU, said. 
"For me, it's really exciting to be able to provide support for teachers, to be able to help them in their professional development, to continue to increase the quality," Kennedy said. "Another piece I think we'll be looking at is the inequality of the pay because [childcare] is just a low-paying profession. Some of them are not even making a living wage; they qualify for food stamps." 
Addressing early childhood educator compensation is a goal stated in the governor's proposed budget, which allocates $8 million toward attracting and retaining educators, especially in hard-to-serve preschool programs.
The interest in increasing the quality of educators — and early childhood education as a whole — reflects a general understanding of the importance of setting a good foundation during early childhood from both policymakers and educators. 
"It means that we are recognizing that the first five years of a child's life are extremely important and that we recognize that the research and data that supports that notion is valid," Shuttle said. "We are as a community realizing that it's more important to put money toward our youngest than trying to do remediation on the other end." 
Harris said children without quality and educational childcare during early childhood are at greater risk for being unprepared for kindergarten and potentially repeating grades — and with each repeated grade, costs to the Commonwealth and the chances for that student to drop out before graduating high school increase. This is a "both an economic and ethical dilemma" for Harris, as these individuals are less likely to find high-paying employment that will allow them to contribute as taxpayers. 
"We've known for a long time how important this time of life is," Kennedy said. "But now, we're finally putting our money where our mouth is." 
Contact Jamie McEachin at mceachja@dukes.jmu.edu. For more coverage of JMU and Harrisonburg news, follow the news desk on Twitter @BreezeNewsJMU.