Students Against Sexual Violence, an unofficial student-run organization at JMU, hosted a comment-writing party Tuesday in response to proposed federal changes to Title IX. The changes include allowing schools to adopt a higher evidentiary standard and not requiring them to address incidents that occur off-campus. The public comment period closes Jan. 30.
U.S. Secretary of Education Betsy DeVos proposed the changes to Title IX, a law protecting students and faculty from sex-based discrimination at universities that receive federal funding. Once the comment period closes, the Department of Education will read all the comments and consider making revisions before finalizing the changes.
"Since we've been working toward policy change already and we've made some progress, the idea of regressing back to even worse than it is now is disturbing," Kearstin Kimm, a junior computer science major and co-founder of SASV, said. "So we wanted to let people know that there are changes and that you actually have some power right now. You can take this opportunity and make your voice heard."
The comment-writing party was SASV's first organized event and the group partnered with the James Madison Center for Civic Engagement. After SASV gave a short presentation on the proposed policy changes, Associate Director of the center Carah Whaley provided tips for effective comment writing.
"When we think of civic engagement, there are always underlying political questions or policy questions and often times we're talking about structures of power," Whaley said. "So tonight's about learning about the different structures of power and what are the leverages for change when we talk about an issue that we care about."
The event resulted in 15 hand-written submitted comments. Public comments can also be submitted online and regulation changes to Title IX were receiving more public comments than any other issue available for comment during the week of the comment-writing party.
"I think that it's really easy to check out and be out of the loop just because things are going on in the world, always, that are hard to deal with and hard to understand … but I just think it's important to be informed and to be as educated as possible," Emma Breault, a sophomore psychology major who attended the event, said. "I don't know how much of a difference this is going to make, but I think just taking the step to try is important."
At JMU, Title IX and the Office of Student Accountability and Restorative Practices have faced scrutiny for their handling of sexual assault cases, including the case of SASV Co-Founder Caroline Whitlow. According to SASV, these changes would leave more Title IX related incidents to the discretion of universities, which the group said will negatively affect schools across the country, not just JMU.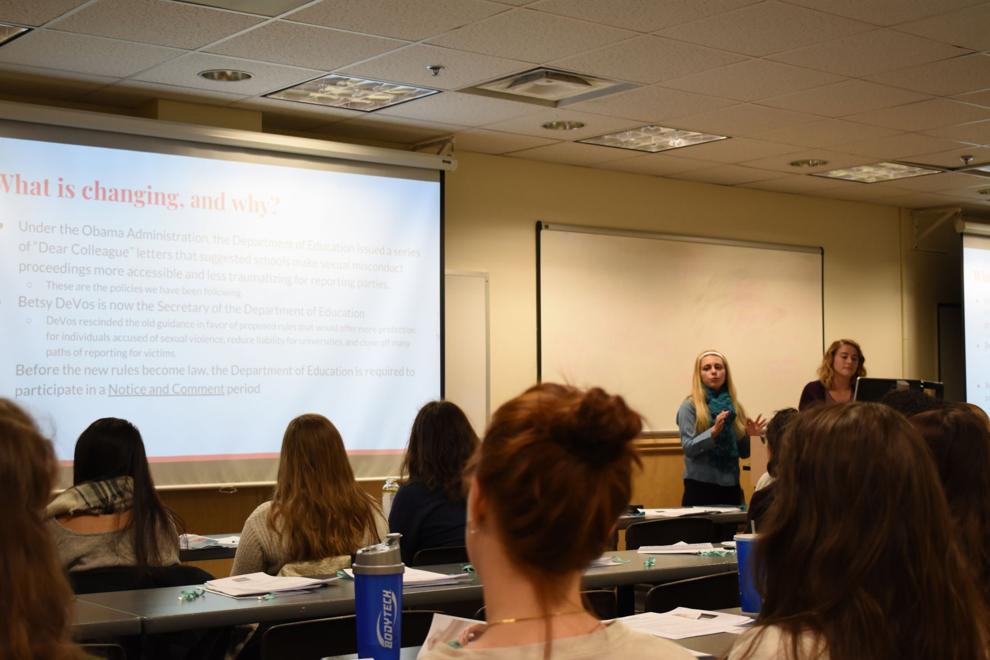 Vice President for Student Affairs Tim Miller partnered with the Student Government Association last week to hold a meeting to educate students on the proposed changes as well. While Miller said many students who attended expressed concern over the proposed regulations, the changes are being made on the federal level and aren't finalized. Until public comments are submitted and read and the proposal is revised and completed, Miller said there isn't much the university can do in terms of changing its Title IX processes.
"We need to recognize that this is a proposed set of regulations, this is not the regulations themselves and none of us know or could even guess at what the finally policy will be," Miller said. "The new version could have less discretion for universities, it could have more. We have no idea, and that's why I think it's important that people use their voice and engage with this policy and with the federal government to share their thoughts so that the federal government can create policy informed by student voices."
During last week's meeting, Miller said he heard concerns from students on the changes related to evidentiary standards in cases and the change in location-based requirements for universities to hear cases.
In addition to changes related to the handling of sexual assault cases, the proposal includes a change to the definition of sexual harassment from "unwelcome conduct of a sexual nature" to "unwelcome conduct on the basis of sex that is so severe, pervasive, and objectively offensive that it effectively denies a person equal access to the recipient's education program or activity," a more specific definition that could limit potential victims.
"We want to just make these things work in the favor of students, both reporting and responding parties," Kimm said. "They estimate how much money it's supposed to save universities but it doesn't estimate the cost that it's going to take on the students who attend those universities."
Miller and SASV have monthly meetings to discuss sexual violence issues at JMU, and the group said it's had increased success working with administration in the past year.
"They're bringing well thought out concerns and we're talking about them and having, what I would argue are really good, worthwhile conversations about this issue, about JMU and JMU's future and how we work with all students," Miller said. "I hope that we can continue to have that relationship on behalf of students going forward."  
SASV is still debating whether or not to become an official student organization. In addition to giving its input and working against these federal changes, SASV plans to continue to work with administration to have the best practices in place at JMU.
"We don't really care if anyone knows who we are if they're engaging with these things that matter and making their voices heard in these processes," Kimm said. "We really just want to be used to the students' advantage because we do have a direct line with administration and we have some experience with things where if someone comes to us with a suggestion we can make things happen."
Contact Thomas Robertson at breezenews@gmail.com. For more coverage of JMU and Harrisonburg news, follow the news desk on Twitter @BreezeNewsJMU.