A massive crowd of students gathered outside Carrier Library on Monday, shouting and arguing against the scene that had unfolded. The hordes of JMU students gathered to listen to one man shout and attempt to propagate his religious beliefs.
The scene involved groups of protestors, police officers and even a costumed Jesus and God. The man in the center of the whirlwind of shouting was self-proclaimed "Campus Preacher" Keith Darrell, who's a member of Church Fellowship, a religious evangelism group attempting to spread Christianity.
"I am here to preach the good news," Darrell said, holding a Bible in his left hand. "God loves the world. And through his death, his burial, you can have eternal life." 
Throughout the day, Darrell touched on topics such as the rising of the Messiah, gender equality, homosexuality and many other present-day controversial topics. Alexys Taylor, a senior health sciences major, said Darrell made comments about the black and LGBTQ communities, so when she walked toward the area, she decided to check it out and eventually told the group that this was a "bad perception" of Christianity.  
"Christianity is love, and it's not condemnation. It's not hate, like, you're not defined by your sin. Like there's, there's no, like, it's not an exclusive club," Taylor said. "You don't have to meet the standards in order to be a Christian."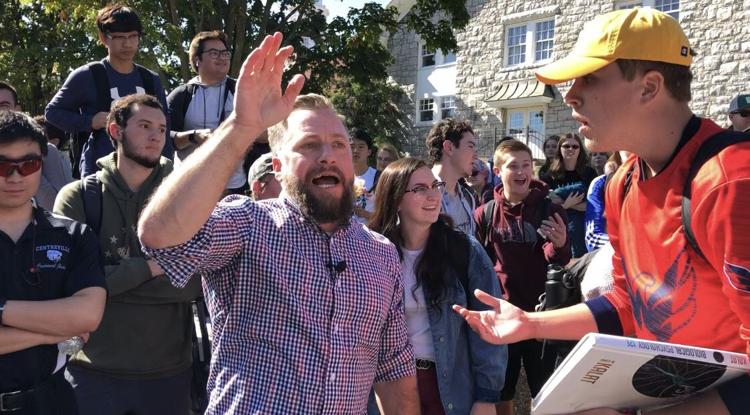 Additionally, Jerry Rindeau, pastor for Cru, wants the JMU community to know that Christianity is a welcoming faith that revolves around the positive message of redemption.
"I'd want to make sure that [the offended students] knew that I, as a Christian, loved and respected them," Rindeau said. "I'd want them to know that they're safe around me, they're safe in my community [and] they're safe coming to my church and my ministry."
The faces of many students grew angry throughout the progression of Darrell's sermon, upset by what he said. Members of the crowd weren't hesitant to speak up, voicing their opinions — both serious and superficial — by shouting back at Darrell and almost always receiving support from fellow students. 
"You've got so many people here shouting, saying that they're right, and so are you," one student challenged. "But how do you know you're right?" 
JMU's Spokesman and Director of Communications Bill Wyatt said that JMU doesn't have any policies in place to deter people away from speaking about their beliefs on campus. 
"You have a right to free speech, everyone on campus, regardless of your religion, sexual orientation, socioeconomic class or background," Wyatt said. 
University administration encourages individuals to speak their minds, regardless of topic. 
"What was important to the Father of the Constitution, James Madison, always remains important to us," Wyatt said. "Diversity of thought is important to education, and it is important to encourage free speech."
Wyatt also highlighted the importance of safety in these situations. He said that when situations such as these occur, police officers are always sent to the area.
Some students created signs with creative and positive messages, such as "love" or "trans rights," while others had referrals to SoundCloud usernames, legalizing cocaine and "donate to Pike-tober Fest." Many of the messages written were in direct contradiction to much of what Darrell said. 
Freshman sports and recreational management major Clay Napoli was among many of the students against the sermon. 
"His messages are very contradictory," Napoli said at the scene. "He's saying his messages are from God, but he's saying things that are very anti-love."
For Taylor, she wanted to shine a light for those who aren't religious and let them know that, to her, this wasn't true Christianity. 
"I just don't want anyone to think that Christianity is, like, this harsh, judgmental thing," Taylor said. "That's not what it's supposed to be."
Although Darrell remained insistent that his messages were "for the greater good" of the people, many in the audience had varying opinions. 
Biophysical chemistry major Bee Swatosh was on the scene for about two hours, listening to what was being said on both sides. 
"He said, 'Women were less than men,' 'Christianity was right' [and] 'every other religion was wrong.'" Swatosh said. 
To many of the students present, Darrell's overarching message was offensive and negative. 
A day after the incident, additional preachers came onto campus along with  Darrell. Topics of the new sermons referenced many of Darrell's own, including concepts of forgiveness, condemnation and  the extent of God's "love." 
Darrell said he hoped what happened at the gathering lead students toward a spiritual awakening.
"I am persuaded that God loves people," Darrell said. "From where I sit, I love these people, even if they disagree with me."
Katelyn Waltemyer and Connor Murphy contributed to this report.
Contact Brontë Johnson at johns2bs@dukes.jmu.edu. For more coverage of JMU and Harrisonburg news, follow the news desk on Twitter @BreezeNewsJMU.