After several requests from local residents who walk through local parks frequently, Harrisonburg's Parks and Recreation Department decided to create a pollinator garden in Hillandale Park which was finalized in early May. With the increase of urbanization in Harrisonburg and across the U.S., there's been a shortage of pollinator species, especially bees.
The gardens provide an opportunity to utilize natural areas in urban settings for pollinators since they are crucial to the food industry. Pollinator gardens will help take advantage of green spaces throughout Harrisonburg. According to Mike Hott, landscape manager for the city of Harrisonburg, when green space like a field of grass is left alone it isn't serving the pollinators to its fullest potential.
"Now [we've] created one, a place where people can actually see the flowers and enjoy them plus it's good for the insects that are going to have nesting and foraging areas." Hott said.
A request for a land use permit was submitted to VDOT for the placement of another pollinator garden in the area off of Interstate 81 and East Market Street exchange. According to Jeremy Harold, superintendent of parks, there's been an area identified downtown as a potential spot for another pollinator garden. These three are the only pollinator gardens the Parks and Recreation Department are aware of. However, there's a possibility locals may have built their own.
"We've had requests from citizens for different pollinator areas over the past several years," Jeremy Harold, superintendent of parks, said. "We've acted since then, with some of our rain gardens and landscaping areas — we've tried putting in some native pollinator friendly plants."
The garden in Hillandale park took approximately two months to create. The workers constructed the garden by cutting down invasiveshrubs and small saplings, followed by a scraping of the ground to remove the root systems. The workers then leveled the dirt, marked the lines for the mulch paths and finally planted the pollinator species including comb flower, black eyed susans, bee bombs and mimfs.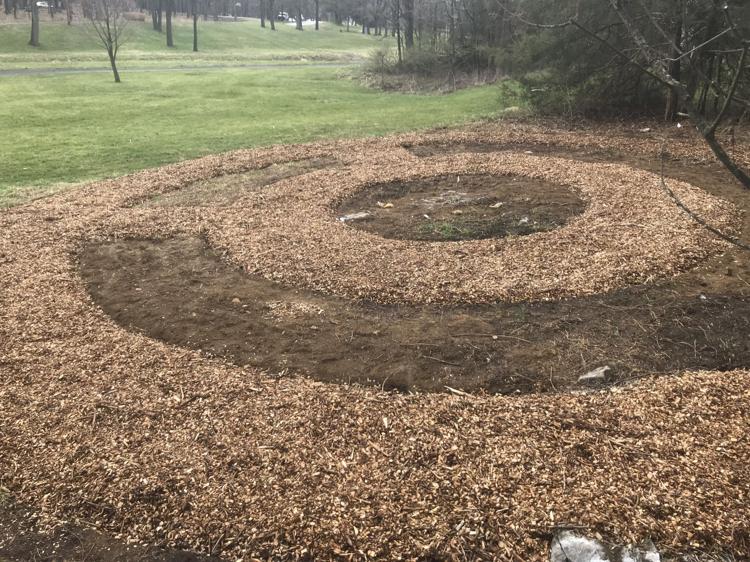 While the garden's main purpose is to provide an area for insects to pollinate, it can also serve as an eye-pleasing aesthetic to those who walk the parks. In the gardens, there are plenty of wildflowers. Native grasses will also be present, which offer more support to the soil, according to environmental specialist Wesley Runion.
"The root system is a lot larger than some of our other grass species and the perennial wild flowers also have a pretty deep root system, collect a lot of nutrients and help prevent sediment runoff," Runion said. "It'll help with water quality and promote our native bees or pollinator species which helps out with having more habitats than a manicured lawn which happens a lot in the urban areas."
The garden that'll be placed off Interstate 81 will have a different design than the garden in Hillandale Park. Since it'll be near a highway, Harrisonburg's Parks and Recreation department had to fill out an application for the garden which was approved by VDOT on Monday. The plants must be a two to three feet away from the road and since the area is on a hill, there isn't a height requirement.  
According to Runion, this garden will have a meadow design. In comparison to the garden at Hillandale Park with mulched paths, this garden will have the appearance of a meadow. It won't have any mulch paths like Hillandale's because people will only be able to look at the one off of Interstate 81 — which isn't expected to be finished until late August.
While homeowners tend to "manicure" their yards, according to Runion, it's important for people to realize that constant mowing and fertilizing isn't necessary for wildlife. Over the years, they've adapted to the nutrient-lacking soil and too much can be unhealthy for the wildlife. According to Hott, giving back to wildlife is important.
"You know society is really going away with the whole construction thing and getting rid of these areas that are meant for insects and birds so the more we take away, we need to start putting it back." Hott said. "It's nice to put back what we're taking away."
Contact Katelyn Waltemyer at breezenews@gmail.com For more coverage of JMU and Harrisonburg news, follow the news desk on Twitter @BreezeNewsJMU.