According to a study by CompTIA, 261,000 new jobs were added in the technology industry in the U.S. in the past year. Although the number of jobs in the field continues to increase, recent graduates who specialize in tech can still have difficulties during the job search. Pathrise is a program that allows new job seekers to access personalized advice through trained advisers to dramatically increase the chance of job placement within 12 months.
"Not everybody is in a school smack dab in the middle of the Silicon Valley or even lucky enough to be in a computer science organization," Pathrise CEO Kevin Wu said. "A lot of what the inspiration for Pathrise was, it was like a systematic way of sharing that access, sharing that information with the people that don't necessarily get that."
Pathrise was founded in February 2017, and its first cohort of job seekers, or fellows, was enrolled in January 2018. Cofounders Wu and Derrick Mar have backgrounds working at nonprofits that specialize in education-technology and mentorship. Their goal in creating Pathrise was to allow further access to the skills necessary for one to get the best job possible.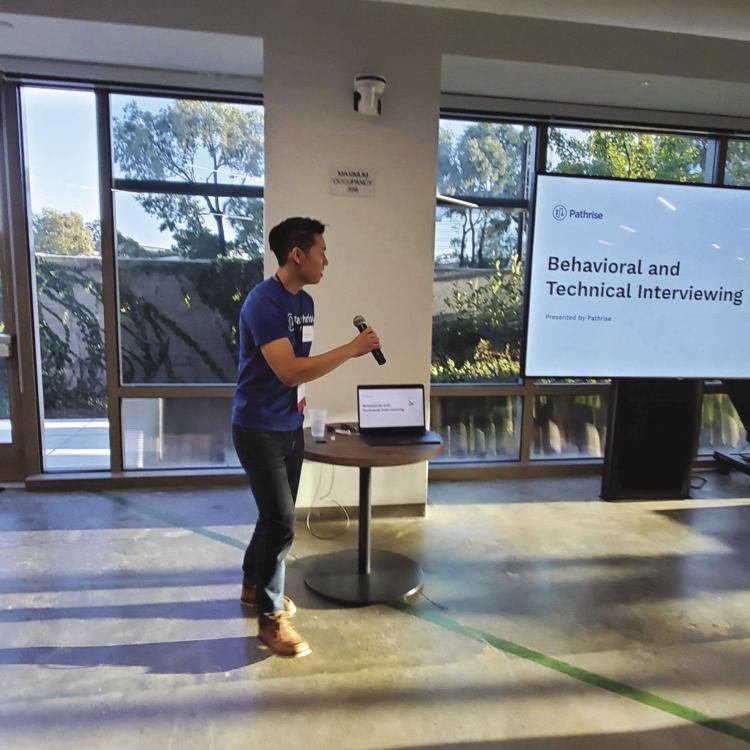 Those who want to get started with Pathrise have to be accepted through an application process that involves an introduction survey and industry assessment, which both evaluate the applicant's goals, experiences and skills. Once accepted, the fellow can begin speaking with their adviser and attending workshops risk-free for two weeks.
"I think it's really revolving around this idea of 'hustle,'" Wu said. "In my personal career, there hasn't really been anything that I haven't started or been able to achieve because of 'hustle,' where most of it I owe to some degree of network shenanigans."
Though networking came easily to Wu, this case isn't the same for many others in the industry, which can put them at a disadvantage during the job search. Wu wanted to make these networking skills more accessible, in addition to creating a central source of information about the job search, as opposed to Google search results, which Wu says are "spotty" and "unreliable."
"Pathrise is a central source of truth where we're actually continuing to do research and collecting data on each of these pieces of the job search," Wu said. "There's lots of really valuable skills that job seekers have, and also a lack of transparency in the job search, and those combined together make it a perfect place to start."
The company doesn't have an up-front cost for clients, but after a fellow has been hired, Pathrise requires them to pay 9% of one year's worth of income. Laura Hickerson, assistant director of employer engagement for JMU's Career and Academic Planning, advises students to be wary of companies with these types of agreements.
"No student should ever pay to get an internship or a full-time job," Hickerson said. "There's lots of companies that would love to have you that aren't going to make you pay."
Senior engineering major Jacob Ortiz previously worked at the tech company Neustar, Inc. as a network infrastructure intern. Although he was able to obtain this internship successfully without Pathrise, the interview process was still difficult for him.
"I definitely struggle with the interview process," Ortiz said. "I've had a couple of video interviews that I wish I prepared more for."
Wu considers the modern-day interviewing framework repetitive and underdeveloped. Because of this, Pathrise was designed to relieve the anxiety that job-seekers face by providing advisors that are with their fellows each step of the way.
Ortiz was able to make several connections early on by reaching out to anyone in the industry who would give him advice — from his parents' friends to individuals in a religious community. He's noticed that some of his colleagues have had more trouble with networking because of the social aspect.
"It's sad, but it's not what you know, it's who you know," Ortiz said. "Having a resource like that would be extremely helpful because some people aren't as lucky."
According to its website, Pathrise, on average, has doubled interview response rates for its users, and those fellows receive $12,600 or more above the industry's average salary. No JMU students or graduates have utilized Pathrise yet, but the program hopes to keep expanding its service to job seekers across the country. Wu said he doesn't think there's any other product that can impact somebody's career as much as Pathrise can.
"I think what we're doing is really meaningful," Wu said. "You really get to see firsthand the impact that we have on helping people fulfill their aspirations and succeed in achieving a livelihood."
Contact Kamryn Koch at kochkr@dukes.jmu.edu. For more coverage of JMU and Harrisonburg news, follow the news desk on Twitter @BreezeNewsJMU.