Although it's been open since move-in day, Paul Jennings Hall had its official grand opening ceremony at 1 p.m. Friday. The new residence hall was named after Paul Jennings, James Madison's former slave. The namesake was suggested by JMU community through an online survey, which then went to the vice president  of student affairs and eventually the Board of Visitors, who approved the name. 
The ceremony consisted of refreshments before the remarks were given, followed by a reception and tours of the building after the half-hour remarks. The gathering was filled with faculty members, Office of Resident Life employees, students and descendants of Paul Jennings. 
Director of Residence Life Kevin Meaney said it's the first time JMU has extended suggestions for a new residence hall name to the student body.
The five-floor building on East Campus holds both first-years and upperclassmen, which is the first time JMU's had both groups of these students together, Meaney said. Paul Jennings Hall also includes an exhibit about Jennings and his family immediately behind the entrance of the building. 
"When we started to think about it, we thought it would be a really exciting thing for us to do, and it would be a way to honor who [Jennings] was and also to start some discussions about the whole picture of James Madison," Meaney said. 
Jennings eventually went on to buy his own freedom. He also was an eventual landowner, author and public servant. Additionally, Jennings to facilitated one of the largest slave escape attempts in history.
Aaliyah McLean, JMU's student body president, spoke of the pride she had for JMU in naming the resident hall after Jennings. She said while this is a positive moment in the history of JMU, it's important that "we do not stop here" in continuing to make JMU an inclusive community. 
"[Jennings'] legacy now stands and is recognized as on par with buildings on this campus that honor Confederate legacies," McLean said. "Standing on the shoulders of my enslaved ascendants, I am so proud to be part of this great moment that'll go down in the history of James Madison University."
Raleigh Marshall was one of several descendants of the Jennings family in attendance at the ceremony Friday. Marshall and his wife both graduated from JMU in '05.
Marshall touched on the importance of learning and talking about slavery, as he said it's a topic not talked about enough. He also said — in helping to construct the residence hall and the exhibit — it was important for him to keep in mind how Jennings would want his legacy to be remembered.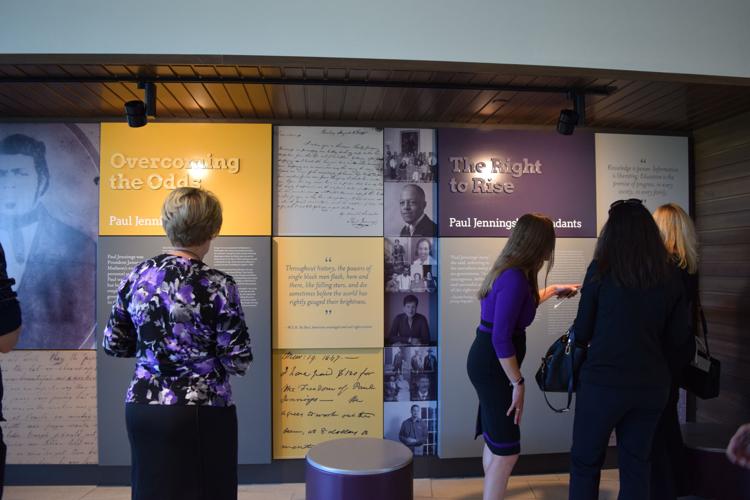 "This was not easy," Marshall said. "Digging through our family's history, there was much pain to be found, and it's an experience shared by many families in America who come from enslaved populations."
When the executive vice president and chief curator of James Madison's Montpelier Estate, Elizabeth Chew, took the podium Friday, there was a sense of pride and excitement in her voice. Montpelier is where Madison and his family resided, as well as his slaves. Meaney said Chew was a key contributor in informing and fact-checking the exhibit in the residence hall. 
Chew spoke of her gratitude to President Jonathan Alger and the university as a whole for "doing the right thing" in naming the new residence hall after Jennings. 
"The stories of Paul Jennings and of every other man, woman and child enslaved by the Madison family at Montpelier over three generations of their ownership show the important stories that we share every day in our conviction that it's urgent to tell a complete and, as we call it, the whole truth history," Chew said. 
As the ceremony was nearing its end, Alger acknowledged the overlap in the gathering and Family Weekend. He said he "could not imagine" a better way to celebrate JMU families than having Jenning's descendants there for the grand opening dedicated to their late ancestor. 
Before Alger cut the gold ribbon in front of the building he thanked all who attended. 
"By honoring Paul Jennings, we are seeking to take one more step on the journey of making the ideal represented by those words, 'we the people,' more real and more inclusive," Alger said. "That's the chapter of history that our constitution demands of every generation." 
Contact Carley Welch at welchcw@dukes.jmu.edu. For more coverage of JMU and Harrisonburg news, follow the news desk on Twitter @BreezeNewsJMU.