"Pardon our dust."
That's the message JMU's Information Systems team sent through MyMadison to students, faculty and staff ahead of a site-wide user interface update that'll be rolled out in the coming weeks and months. The team is hoping that students will see the changes around the holidays, but there's no official launch date set.
"It's one of the few things other than Canvas that every student has to use," Robin Bryan, deputy chief information officer for JMU Information Systems, said. "And, the technology has kinda lagged behind a little bit in terms of the look and feel. So, it was important to us that we kind of enhance it."
Plans to modernize MyMadison were in the works as early as January, Bryan said. The team's goal was to improve the user interface by making it more efficient and intuitive while providing a common experience throughout the site, regardless of the device it's viewed on.
"It wasn't just about convergence; it was about making it look good," Tariq Rabie, application manager for MyMadison, said. "We really emphasize trying to make sure that that was part of this project."
The new MyMadison site uses blank white space more efficiently, and it resizes as window size and aspect ratios change to provide a consistent look and feel across phones, tablets and desktop devices.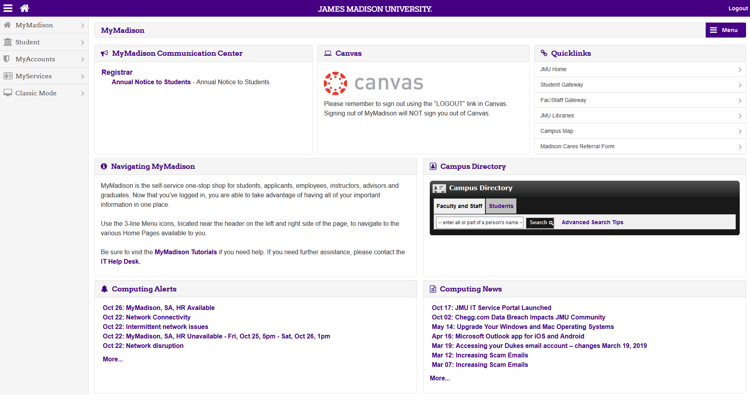 JMU's official typeface, Artegra, and colors make up the design language of the new site to ensure consistency across the university's websites and printed materials. Also, the tabs at the top for navigation are gone, replaced by a "hamburger menu" — a widely used icon consisting of three parallel bars that expand to show navigation options.
Changes will be rolled out carefully in multiple phases for applicants, students and employees, in that order. Students applying to JMU saw changes go live over Homecoming weekend, which was Oct. 25-27. JMU Information Systems sought the input of administrators, academic affairs and student groups like Madison Advising Peers and Student Ambassadors to make the site's features quicker to find and easier to use. The team hopes that students who struggle with MyMadison's interface will enjoy the new look, feel and functionality of the site when changes go live.
"So, I know when I tried to enroll in classes as a freshman, I was very confused," Jack Eggeman, a sophomore economics major, said. "It took me a long time to really figure things out. And, I remember missing my enrollment date … I think it's kinda cluttered, so I think if they tried to streamline it a bit more and made it a little more user-friendly, I think that could be better."
Rabie said that an across-the-board change of this magnitude to MyMadison hasn't been done since 2015, though there were some minor changes to clean up the site made in late 2018. 
Through research, the team found that students don't use MyMadison nearly as much on mobile phones as on desktop, with Bryan referencing a "90-10" split between use of MyMadison on desktop versus mobile, respectively.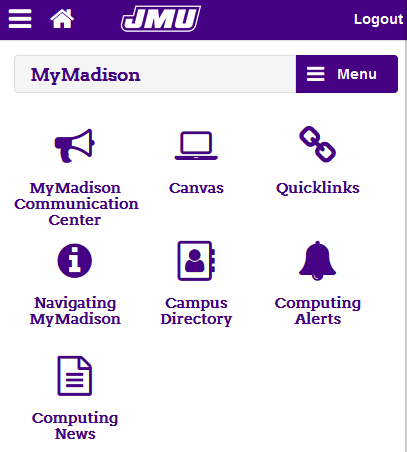 "Students told us loud and clear in those conversations that they don't use mobile for enrollment and other things," Bryan said. "We've had some faculty say to us that, during preregistration, students get up and run out of the classroom when their appointment hits, and we wanted to try to make mobile more aligned with desktop to make it easier for students."
When the changes are rolled out, MyMadison's load time will be "the same or better," and the team is "expecting it to … be better," Rabie said. There will be a "classic mode" of the old MyMadison site that'll eventually be phased out once the new site is in place, and the team plans to make continuous additions to MyMadison.
The days of MyMadison's old layout are numbered, which is one more thing students may look forward to as the semester draws to a close.
Contact James Faris at breezecopy@gmail.com. For more coverage of JMU and Harrisonburg news, follow the news desk on Twitter @BreezeNewsJMU.