"Status quo is not an option." 
This is what Jeffrey Newton, the superintendent of Middle River Regional Jail (MRRJ) since 2019, said regarding ongoing issues at MRRJ with overcrowding — a problem he said cannot continue for much longer due to the pressure it puts on smaller facilities.
Overcrowding isn't a new phenomenon for MRRJ. Newton said the jail has struggled with the timely movement of inmates sentenced to the Virginia Department of Corrections (VADOC) since before 2015. 
According to documents obtained by The Breeze through a Freedom of Information Act request, MRRJ processed 3,377 offenders in 2021, a number that's consistent with recent years. 
This number, however, is one MRRJ isn't equipped to handle. 
An ongoing problem
MRRJ's designed capacity is 396 inmates. As of March 15, 2022, MRRJ had an average daily population of 842 individuals — 196% rated capacity. 
Since 2012, MRRJ's average daily population (ADP) has doubled, skyrocketing from 481 inmates in 2012, not including inmates on home/electric release (HEI) and inmates being housed at other facilities, to 731.33 inmates in 2021.
No matter how overcrowded the facility is, though, Newton doesn't have a choice on how many inmates are committed to MRRJ.
In a city council meeting on Sep. 28, 2021, Frank Sottaceti, a criminal justice planner for the City of Harrisonburg and Rockingham County, stated, in compliance with Virginia Code 53.1-72, that "coding on conviction documents from the courts determine the jurisdiction an incarceration is counted under."
This means the courts determine which jurisdiction convicted people are sent to — not the superintendent or staff of each individual jail. 
"Nobody at the jail decides who comes to jail," Newton said. "If a law enforcement officer shows up and they have a document from the court that says they're supposed to take an individual into custody, it doesn't matter if I have 200 people or 1,000 people in this building, I'm taking that person."
Established in 2006 as a replacement for the Augusta County Jail, MRRJ serves as a housing facility for low-level offenders sentenced by the court in each jurisdiction that feeds into MRRJ: Harrisonburg, Rockingham, Staunton, Waynesboro and Augusta, as well as higher-level — or state-responsible — offenders awaiting trial and transfer to VADOC state prisons. 
"Everybody that goes to prison starts in a jail," Newton said. "You may have somebody in our custody for a minor offense and you may also have someone in custody for a violent crime."
Harrisonburg and Rockingham County were added prior to Newton's appointment as superintendent in 2019, he said. 
The week of March 25, 2022, 166 state-responsible inmates were transferred from MRRJ to VADOC facilities, according to an article by WHSV. 
The recent transfer dropped the MRRJ in-house inmate count to 619, according to the same article, with 23 additional inmates on HEI — basically, house arrest — and 62 inmates housed at separate regional jails as overflow. 
Jails and prisons are differentiated by the offender's sentence time: Individuals who serve 12 months or less remain in jail, and individuals sentenced to a year or more are moved to a prison, Newton said, a policy that differs across the U.S. that he said he can't speak on for other states. 
According to the PEW Charitable Trust, jails are funded by the city in which they're located, while state prisons are funded by state governments, making the two facilities completely separate. 
For MRRJ, funding is determined by how many inmates are housed on a particular day, Newton said. 
"A formula is used to look at the average daily population in the last three years for each jurisdiction, and then we calculate what percentage of the population it was and that's the percentage of the budget that they provide," Newton said. 
Harrisonburg and Rockingham County are added together as one jurisdiction, Newton said, and the cost is split 50-50 between the two.  
MRRJ is a feeder into the VADOC, which operates approximately 50 facilities housing offenders committed for higher-level misdemeanors in Virginia. Inmates sentenced to more than two years of prison time are supposed to be transferred within 60 days of their trial according to Virginia Code (53.1-20), which states:
"Every person convicted of a felony … and sentenced to the Department for a total period of more than two years shall be committed by the court to the custody of the Director of the Department. The Director shall receive all such persons into the state corrections system within sixty days of the date on which the final sentencing order is mailed." [sic]
However, language is added to the budget by the governor and the legislature each year that leaves this decision up to the director of VADOC, who can extend the holding period for inmates in regional jails to relieve state prisons of economic pressures. 
In a city council meeting on July 27, 2021, however, Newton said legislation is being developed with the aid of a lobbyist to attempt to resolve this language, according to the meeting minutes. In the meantime, this policy only adds pressure onto local jails, which aren't meant to house as many inmates as they're being forced to by the courts, Newton said.
"It's a historically challenging problem," Newton said. "We've always had north of 100 folks that really belonged in prison."
As of February 2022, VADOC's average daily population is 21,087 inmates, a number that changes daily based on the transfer and release rates of inmates. In 2012, 122 inmates were transferred from MRRJ to VADOC, according to information obtained by The Breeze through a FOIA request. The transfer rate has fluctuated annually, decreasing to 110 transfers in 2013 and spiking to 404 transfers in 2018. In 2021, 361 inmates were transferred to VADOC.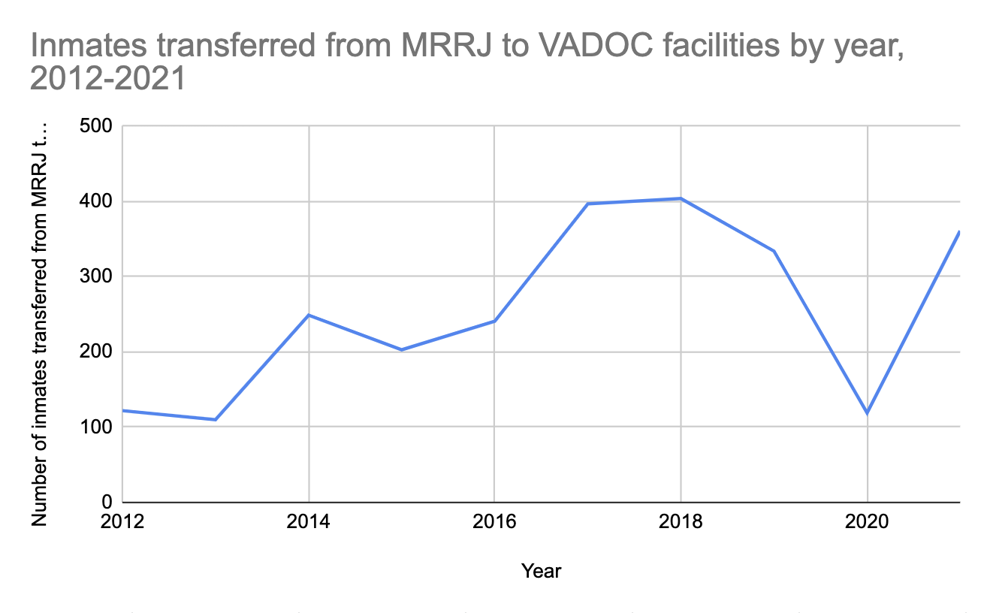 Benjamin Jarvela, the director of communications for VADOC, said there's no "one-size-fits-all answer" to the reasoning behind VADOC's back-up in transferring inmates. 
"There are a number of factors that go into the transfer of inmates from regional jails to [VADOC] facilities," Jarvela said. "We have recently completed a large-scale transfer of inmates and if the facility wants to address the timeliness and the methodology of those transfers then we are more than happy to have a conversation with the facilities managers."
One of the driving motivators for inmate transfer to state prisons, Newton said, is to allow offenders an opportunity to engage in programs designed to help them address the causes that resulted in their incarceration. 
"We're missing a pretty valuable opportunity to engage that individual in them having an opportunity to examine why they're there," Newton said. "That's not a sustainable process moving forward."
VADOC has programs designed to accommodate inmates struggling with various mental health and health conditions, something that's not available at MRRJ or other regional and local facilities due to the lack of space.  
"[VADOC] has an extensive catalog of programming available to inmates," Jarvela said. "These range from educational programming like obtaining their GED or post-secondary educational degree, vocational training in a laundry list of skill trades … mental health, substance abuse … parenting programs where we allow inmates to re-acclimate to be parents as they're nearing their release dates."
Inmate participation in some programs at VADOC can count toward a reduced sentence time on a case-by-case basis for inmates, Jarvela said. 
In a 2020 legislative session, Newton said, Virginia Legislature enacted Good Time Reform, a law that will take effect July 1. 
Good Time Reform offers inmates an increased number of sentence credits, which count toward a decreased sentence, for every 30 days served for cooperativeness and participation in programs offered at state departments. 
The problem is, Newtown said, that only VADOC inmates can access the program. This leaves inmate release and transfers up to the discretion of VADOC, not relieving any overcrowding issues.
Despite VADOC's back-up with transferring inmates in a timely manner, Newton said all the time inmates serve, relative to a specific criminal charge, counts. 
"If somebody comes into my custody today and they remain in my custody for 18 months awaiting trial and they're ultimately sentenced to five years, all 18 months count towards that five-year sentence," Newton said. 
According to Virginia Code (53.1-202), "Upon receipt by the Department, persons who have been confined while awaiting transfer to a state correctional facility shall be credited with such time as is certified to the Department."
Clara Sonifrank, an inmate admitted to MRRJ in February 2020, was sentenced to one year of prison time. 
Sonifrank, who was just recently transferred to Fluvanna Women's Correctional Center, a VADOC facility, spoke to The Breeze on March 2 when she was still housed at MRRJ. At the jail, she said, she lived in an open-style dormitory with 33 other women, all of whom shared two bathrooms and two showers. 
"We're kind of packed in like sardines," Sonifrank said. "There's not a lot of space for personal things and belongings."
Cedric Brown, another MRRJ inmate admitted in September 2020 who was recently transferred to Lawrenceville Correctional Center — another VADOC facility — described the intensity of inmate life due to overcrowding at MRRJ in a March 2 interview with The Breeze. 
"It stresses you out," Brown said. "You can't move around, you can't exercise, you can't get outside to get fresh air."
Brown said he lived in an open dormitory with 20 other men, sharing bunks, with about three feet of space to move about between the beds.
"You have guys getting frustrated because they don't have too much privacy," Brown said. "They want to go down the road to prison, not that they're happy to go to prison, but they have more freedom and more stuff to do."
Newton said the same thing — MRRJ has had to adapt to different operational methods to accommodate a constant excess, he said. 
"Management of the population becomes very difficult," Newton said. "We're housing two offenders in a space designed for one, and you end up with problems in the behavior of the population because you have too many people." 
Brown said VADOC has struggled with the timely movement of inmates. Jarvela said VADOC will continue to transfer inmates "where it's feasible."
"Our goal is to reduce the overall number significantly," Jarvela said. "If there are specific facilities where administration at those facilities wants to discuss ways to expedite or handle that differently we are more than happy to engage with those facilities."
Still, Newton said, many individuals sentenced to a year or more will never go to prison.
"Even though they should go," Newton said, "they probably won't."
As of March 30, according to information obtained by The Breeze through the FOIA request to VADOC, 39 state-responsible inmates — a number that changes every day, Newton said — at MRRJ are out of compliance, meaning they're overdue to be in state prison. 
Relief efforts aren't enough
Newton said another contributing factor to overcrowding is the addition of Harrisonburg and Rockingham as members of the jail authority on July 1, 2015, which has also increased the number of inmates being housed at MRRJ. Originally, MRRJ was designed to serve only Staunton, Waynesboro and Augusta.
"More people get arrested than the facility was designed to house," Newton said. "We were already over the designed capacity when we opened the door."
Even so, neither Newton nor Jarvela attribute the increase in population to an increase in crime rates. 
"I think you'll find over the last 10 years that crime has not increased at the rate that we're housing folks," Newton said. "I think the circumstances and the utilization of MRRJ have changed. It was designed for three jurisdictions; now we're servicing five."
In 2013, a total of 5,084 inmates were committed into MRRJ. The same year, 4,894 inmates were released. Commitments have remained at relatively the same level as releases ever since. In 2021, a total of 3,377 inmates were committed into MRRJ and 3,443 inmates were released.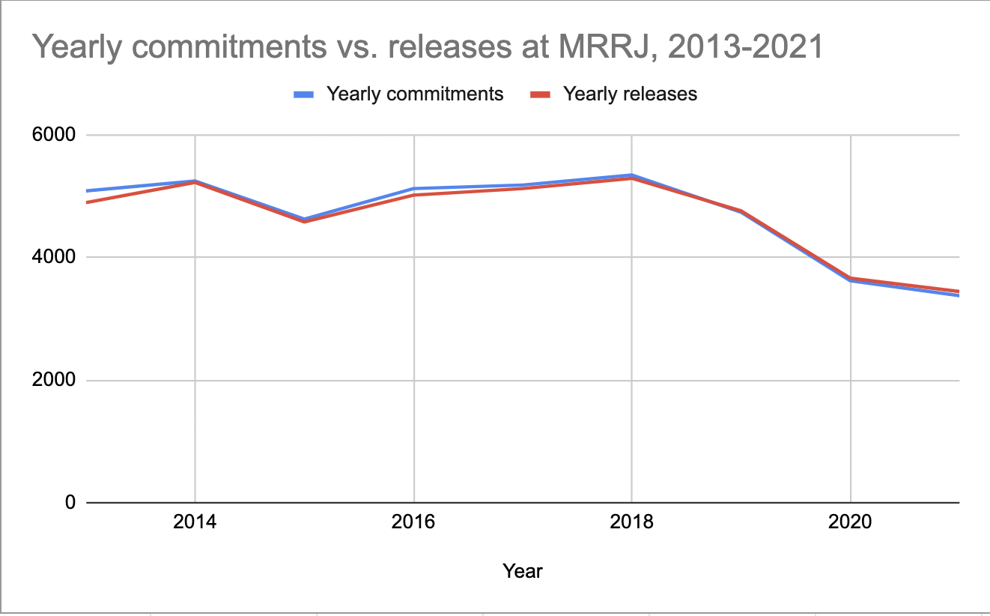 Newton said MRRJ operates under objective jail classification, meaning inmates are housed based on an unbiased process rather than the severity of the misdemeanor. In this methodology, every offender who comes into custody is interviewed by MRRJ staff on their criminal, employment and educational history to determine where they should be housed — in an open dormitory or an individual cell. Newton said this process has been more difficult because of the overcrowding.
"It's really about their behavior and their history," Newton said. "If you've got somebody who's not conducting themselves appropriately then you separate them, but it becomes very difficult to manage that properly when you don't have the flexibility of space."
Despite this, Newton said the facility hasn't seen an increase in violence among inmates because it's an ongoing problem — "this is the norm," he said.
Sonifrank and Brown disagreed.
"Being overcrowded and having to put so many people in one area with different personalities and living styles, it causes disruptions," Sonifrank said. 
Newton said MRRJ is authorized one correctional officer for every three inmates — something the jail currently doesn't have. 
MRRJ is authorized 201 employee positions, 159 of which are jail officers. MRRJ has a ratio of one jail officer for every 5.6 inmates, Newton said, a ratio not compliant with the original staffing plan developed for the designed capacity of 396 inmates. 
The increased ratio makes jail officers' jobs much more challenging, Newton said, because they're supervising a number of inmates that far exceeds the facility's capacity. However, Newton said the officers and supervisors who manage the facility on a daily basis have adapted to accommodate the facility's overcrowding. 
"We've dynamically changed our training program in the last two and a half years," Newton said. "We used to provide employees 24 hours of training every two years and now we provide 40 hours every year."
MRRJ staff training consists of a four- to six-week orientation, followed by training sessions that equip them with a variety of tasks and skills — interacting with inmates, relieving high-intensity situations and handling individuals with mental health conditions — to be a jail officer. Even though MRRJ has doubled its training hours, Newton said, none of the training equips staff on how to handle a jail that's overcrowded. 
"It's all about, 'How do you interact with inmates, how do you de-escalate situations and how do you deal with an individual who has an underlying mental health issue?'" Newton said. "None of it has been specifically about, 'How do you run a jail that's crowded?'"
Following training sessions, employees go to the Central Shenandoah Criminal Justice Training Academy in the first year of their employment to take an approximately 10-week-long jail officer course, Newton said. 
Newton said one thing people often forget is that incarcerated individuals in regional and local jails are members of the surrounding community. 
"They're our neighbors and the people we work with, and the vast majority of them are going to return to that same community," Newton said. "How do we want them returned? Do we want them to return angry at everybody because of the conditions we housed them in?"
Something Newton and Sonifrank said they believe could decrease the number of incarcerated individuals would be more resources and programs within the community designed to aid people struggling with underlying mental health issues.  
"There needs to be more programs instead of just locking us up," Sonifrank said. "More programs to rehabilitate us — things of that nature that are alternative ways."
In addition to Good Time Reform, Harrisonburg is known nationally for having an abundance of relief programs has an alternate option to incarceration, Sottaceti said in a city council meeting on Sep. 28, 2021. 
In a city council meeting on Feb. 9, 2021, Sottaceti said Harrisonburg has 21 alternative programs, according to the meeting minutes, as well as a "nationally recognized" Crisis Intervention Team (CIT). It was stated that CIT helped resolve 155 critical incidents — defined as a situation "involving a person whose level of distress or mental health symptoms have exceeded the person's internal ability to manage his/her behavior or emotions," by the Harrisonburg police department — since October 2020, helping individuals involved find appropriate care and avoid incarceration. 
Harrisonburg is also equipped with a Mental Illness Crisis Team (MICT) consisting of Harrisonburg police officers who receive additional training to assist individuals involved in a mental health crisis.  
"These officers take the lead on calls for service that involve a possible mental health situation," according to the City of Harrisonburg website. "They have had additional mental health and de-escalation training along with a strong passion for helping individuals who may be in a crisis."
While VADOC is meant to receive inmates with longer and more severe sentences, it's also supposed to prioritize individuals needing to be transferred for mental health and medical reasons, according to administrative code 6VAC15-45-1440: "Written policy, procedure, and practice shall provide that all inmates have access to mental health services. These services shall include … a system of referral to the services of qualified mental health professionals, a system for transfer or commitment of inmates in need of mental health services beyond the facility resources, and a system for continuity of care and follow-up procedures."
Newton said 40%-50% of the MRRJ population is prescribed mental health medication even though only 20% of the jail's total population is diagnosed with a mental illness. That 40%-50% are a mix of diagnosed and undiagnosed individuals, Newton said, and inmates don't have to have a serious diagnosis to get mental health medication.
With only these few resources, he said, it's difficult.
"That's a real challenge for us," Newton said. "We are not a mental health treatment facility."
'Let's wait and see'
On Jan. 26, Newton presented a proposal to expand MRRJ to Harrisonburg City Council. According to Section 1-A: Synopsis of the Required Number of Beds in MRRJ's Community Based Corrections Plan update on Nov. 10, 2021, the expansion would consist of "a new medical infirmary, expanded administration area, expanded laundry facilities and expansion of kitchen storage; expansion of the existing maintenance building for maintenance."
New amenities, according to Section 1-A, such as a water heater, lighting upgrades, mental health administration, the security desk in the existing lobby, visitation renovation and food services storage will also be added. 
But no beds. 
After its initial approval by MRRJ authority board chairman Stephen King on June 1, 2021, the board of directors for MRRJ decided to pause the expansion, but move forward with the renovation plans.
Prior to the expansion being placed on hold, community members and council members voiced their concerns about putting funds toward incarceration and not toward programs that could decrease overcrowding at MRRJ. 
"The reform needs to go more upstream in the criminal justice system so that we are not incarcerating people to MRRJ but solving the problem upstream," city council member Laura Dent said in a Jan. 26, 2021 city council meeting, according to the meeting minutes. "If we are going to put money into something it should be putting into our community so that we can invest our money into programs that do just that."
Newton said he believes the expansion's cancellation is due to the timing of recent advancements in criminal justice reform within MRRJ's jurisdictions and the desire to see if these advancements resolve current issues. 
"The assumption I'm making is because the number of inmates that are housed at Middle River that belong in a state prison is so high, and with the pending Good Time Reform, the authority wanted to let those issues mature a little bit," Newton said. 
Newton said a number of bills have been enacted in recent legislative sessions that place a priority on criminal justice reform. 
"The board's said, 'Well, let's wait and see if we can get the Department of Corrections to be more timely in moving offenders and lets see what happens with Good Time Reform, lets see what happens with criminal justice reform,'" Newton said. "Then, do another assessment of whether we still need to add that space."
In July 2021, ahead of Nelson Mandela International Day, the United Nations collected the first global research data on prisons. 
The study found that one in three prisoners around the world were being held without a trial and approximately half of all countries with available data had prison systems operating at more than 100% of their intended capacity — meaning this problem isn't happening only at MRRJ.
Overcrowding is a common and ongoing issue, Newton said, and it's something he doesn't think will be resolved any time soon. 
"We've been operating at 200-plus capacity for more than six years," Newton said. "Doing that for another six years is an unreasonable expectation."
This story was edited by editor-in-chief Charlotte Matherly, along with culture editors Michael Russo and Avery Goodstine.
Contact Emma Johnson at breezecopy@gmail.com. For more coverage of JMU and Harrisonburg news, follow the news desk on Twitter @BreezeNewsJMU.