During his Jan. 20 lunch break, Bob Norris, a Harrisonburg resident and executive at a local company headquartered outside of Harrisonburg, went to the McDonald's located at 1091 Port Republic Rd. to purchase Chicken McNuggets. To his surprise and dismay, he found more than the typical bundle of boneless, deep-fried nuggets when he revealed the box from the bag.
Norris said he first saw a substance on top of the box  — that he still has — that looked like grease, but upon further inspection, he said it was "obvious" that it was rodent excrement. He said he knew what rodent droppings looked like from seeing pictures of them and that there was "no confusing it with anything else."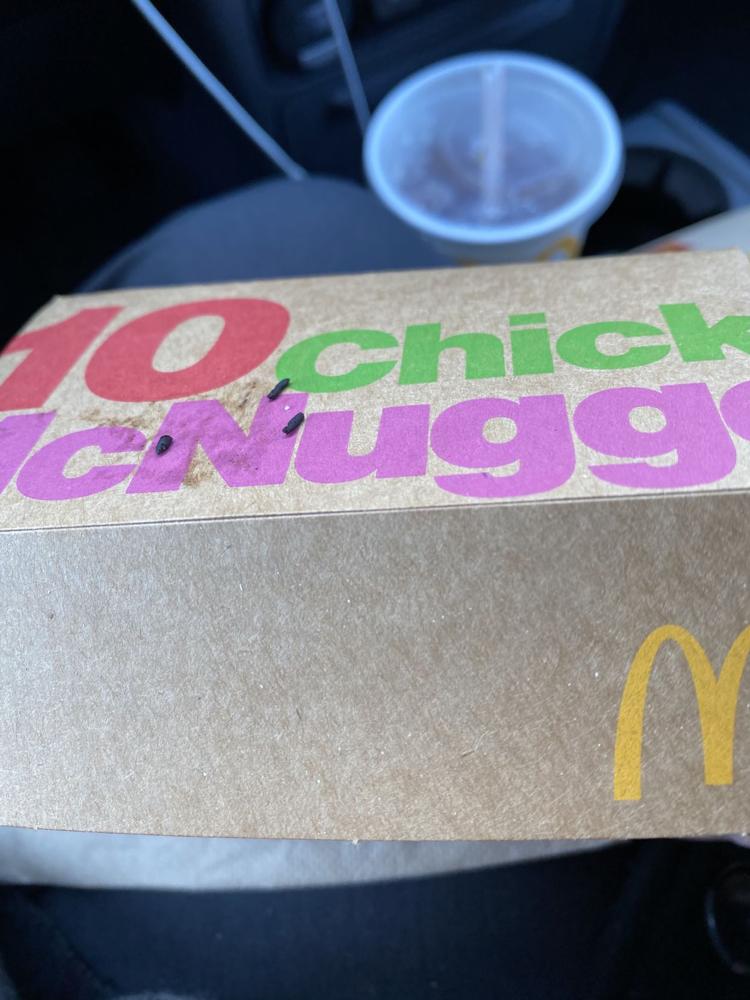 "When I looked at it closer, you could see little pellets or whatever you want to call it, and then kind of a discoloration at the top of the box," Norris said. "Then, I knew that it was rodent urine and feces."
Immediately after Norris found his unpleasant surprise, he said he took a picture of it with his iPhone so there would be a time stamp on the photo in case someone were to question his findings.
Norris said he then called the McDonald's complaint line where a woman told him they'd tell the franchise owner about the incident, it would be marked as "urgent" and someone from McDonald's would be in touch with him. 
"They were very indifferent about the whole thing," Norris said. "I thought they would be kind of freaked out like I was."
After not hearing back from McDonald's a little over 24 hours later, Norris decided to go online and fill out a complaint form through McDonald's. Within about 45 minutes to an hour-and-a-half, he said, a supervisor named Yeni Rodriguez called him to say McDonald's was sorry and they would reimburse him for his meal.  
"I said, 'I don't want my money back,'" Norris said. "I want you guys to clean the restaurant because obviously, there's an issue here. I've got tons of friends that go there and co-workers that go there. There's so many JMU students that go there, and they're putting this kind of stuff out there."
Following this conversation, Rodriguez emailed Norris and copied Director of Operations at APB Management, Inc. — a McDonald's regional management office — Stacy Strawderman asking for the pictures he took. Norris sent the pictures to Rodriguez and Strawderman but didn't get a response for a few days. 
After two days with no response, Norris said he emailed them again asking if they got the pictures. Norris said the women responded that they did receive the pictures and gave him a "spiel about how cleanliness is important to them" and how they could either give him a gift certificate or send him a check for the amount his meal was. 
"I was just so annoyed with the whole thing because they're just blowing it off still," Norris said. "That's when I finally said, 'To hell with this — I'm gonna post it online.'"
He posted his story, along with the pictures, he took on Facebook on Jan. 27. The post, as of Thursday, has over 850 shares and over 450 comments. McDonald's still hasn't followed up with Norris. 
The Breeze attempted to contact the establishment where this incident occurred and was told that any information on the situation must be obtained through the APB Management office. The Breeze then spoke to Strawderman, who said no one at APB could speak about the incident, telling the Breeze that to "protect the business and brand, we are told to direct people to [the corporate media] line." 
After contacting corporate, The Breeze was told to send an email to the press sector at McDonald's and that someone would be in touch. After repeated attempts, McDonald's hasn't responded.
Not wanting to impact McDonalds' business, Norris said he initially didn't want to post about the incident on social media. However, he said if they had just taken care of it initially, he wouldn't have had to post about it. 
"I don't care about free food or, you know, getting some money from McDonald's, but what I do care about is people not getting poisoned or diseased by, you know, going to the McDonald's and grabbing a bite to eat at lunchtime," Norris said. 
Jason Weakley, environmental health manager of the Shenandoah Health Department said that with any potential exposure to rat feces, bacteria or virus is a concern. He said that specifically with rodent excrement, there's a risk of salmonella contamination.
After Norris called the health department to notify them of the incident, an inspector under Weakley's management went to the McDonald's in question to perform an inspection on Jan. 28. Weakley said the inspection was done to see if there was any evidence of a pest infestation and signs of rodents. During that inspection, Weakley said they didn't see any signs of that, but there was one inspection violation. 
This violation was under a category called "Food-contact surfaces: cleaned & sanitized." Weakley said this means there wasn't a high enough concentration of disinfectant in a solution that is used to wipe down tables and counters. Weakley said this violation wasn't concerned with any findings of rodent excrement. 
"If [people] do have concerns about a local food establishment, please call us," Weakley said. "If any folks suspect that they might have a foodborne illness from eating out that they can report that to the Virginia Department of Health."
Contact Carley Welch at welchcw@dukes.jmu.edu. For more coverage of JMU and Harrisonburg news, follow the news desk on Twitter @BreezeNewsJMU.