Students taking part in the "Occupy JMU" March met this morning at 11 a.m. by the Spirit Rock on East Campus to voice their concerns with the treatment of the Black community at JMU.
"This is what happens when a population goes ignored," Norman Jones, student representative to the board of visitors, said. "We thank the university for what they have done for Black students and the Black community. Over the summer we've recognized there's a lot of work to do. We're here today, continuing the protest, and continuing to use the powers that we have…"
The Spirit Rock was vandalized twice last week after it was painted with the words "Black Lives Matter."
JMU's "Black Lives Matter" Spirit Rock was defaced in at least one confirmed incident. Representatives from the JMU NAACP and SCAR both claim they "were not surprised."
"They will hear our VOICE by any means necessary," the flyer for the march, shared by the JMU NAACP chapter's Twitter, said.
At approximately 12:45 p.m., when the students arrived at the Quad, some shared their personal testimonies regarding racial injustices they've faced at JMU. 
Kyel Towler, one of the students who participated in the march and a senior communication studies major, said the changes they're pushing JMU officials to make aren't "necessarily demands" but "expectations."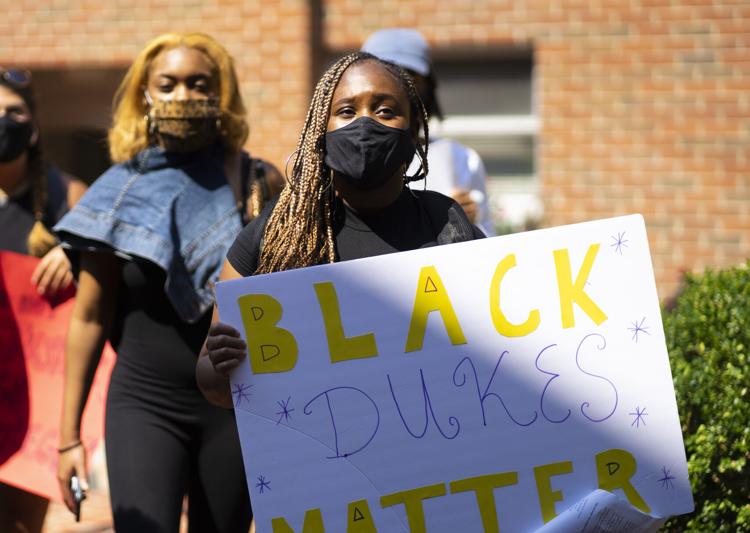 Specifically, Towler said the "heart of the conversation" was addressing the dynamic between teacher and students as well as addressing how the management of JMU's administration is "lacking" attention to the campus' Black community.
"That social contract between teacher and student has been violated at this point," Towler said. "The first thing being that there is not a zero-tolerance policy against racism."
Jones also said the zero-tolerance policy against acts of racism on campus is a key principle they're calling on the university for.
"We want to have a stronger response from university administration when it comes to these instances," Jones said. "It's all about compassion, the same way this is a pandemic where we have to care about each other, the legacy of higher education means that we have to care for our students and make sure we address their needs." 
As students gathered on the Quad and conveyed the need for change, several student demonstrators said they wouldn't leave until President Jonathan Alger came to listen to their concerns and speak with them at approximately 1:25 p.m. At 2 p.m., Alger stepped outside Alumnae Hall to listen to students and began addressing their concerns around 2:15 p.m. 
"I am very committed to this work," Alger said. "We love you guys. You are our students. This is our community, but we're stronger when we work together."
Alger also emphasized the stress the coronavirus has caused on campus and said this is "the most unprecedented start to a new school year we've ever had and absolutely, simultaneously we are dealing with issues of systemic racism and that is important. That is a society issue, it's an issue here at JMU…"
While gathered on the Quad, many students voiced how the university's current racial discrimination policy has failed them, and they urged the university to be "more transparent" with them.
At around 3 p.m., Vice President for Student Affairs Tim Miller organized a group of administrators and students to reform JMU's discrimination policies. Several administrators made an appearance at the demonstration outside Alumnae Hall, including President Alger, Vice President for Access and Enrollment Management Donna Harper and Executive Director of Campus and Community Access and Inclusion Art Dean. Alger appeared later than the other administrators because he was at an off-campus meeting.
Additionally, Tim Miller offered to meet with students Wednesday evening and Thursday to discuss potential policy changes.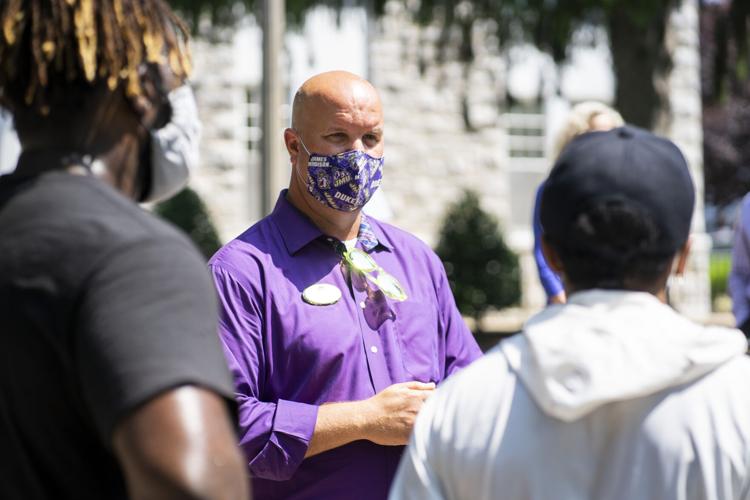 "When it comes to oppression and racism, it's not up to Black people to deal with those issues," Towler said. "It's up to the people who systematically benefit from it. Most of the admin is white, almost all the admin is white. So they need to be looking at us saying, 'Oh, did we do this right?' Rather than us having to hold them accountable."
Contact the news desk at breezenews@gmail.com. For more coverage of JMU and Harrisonburg news, follow the news desk on Twitter @BreezeNewsJMU.