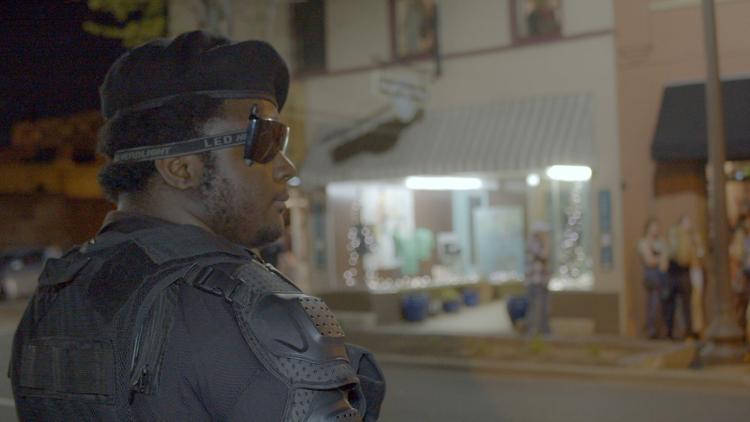 A black Ford truck rolls to the top of a downtown Harrisonburg parking deck just before 11 p.m. and is met by men in costume. One wears a radio, glasses and a camouflage Confederate flag hat; another sports black paramilitary gear and black, gray and white camouflage pants. A third is hugged by a neon-green vest with the words "Justice Alliance Initiative" written in black Sharpie on the back.
Meet Harrisonburg's Real-Life Superheroes.
The group gives up its weekend nights to keep the city safe and has responded at the scenes of shootings and domestic disputes. They normally patrol at night but have an occasional mid-day "surprise patrol."
They're led by a man known as the Dark Defender. HPD — as well as The Breeze — knows of Dark Defender's real identity and holds it in confidentiality.
His uniform includes a tactical vest with a Justice Alliance Initiative badge, Motocross armor, black boots with a matching beret, sunglasses — which he takes off in dark alleys — and, when in danger, "stun gun knuckles" that discharge up to 90,000 volts.
"Even though Harrisonburg is the 'Friendly City,' there are parts of the city that aren't necessarily friendly," Dark Defender said.
He draws inspiration for his uniform from Captain America and Batman, but his real hero is his father.
Dark Defender grew up in Birmingham, Alabama, which he said had high crime and homelessness rates. His father, who'd battled multiple myeloma for eight years, made Dark Defender promise that he'd take care of his mother as best as he could before Dark Defender's father died and left behind his 15-year-old son. Dark Defender experienced homelessness and lived in his vehicle for two to three years before finding a relatively stable place to live where he could make ends meet.
Taking care of his father in his last days inspired Dark Defender to get into medical care. He became a certified nursing assistant in six months after taking classes at Massanutten Tech during high school, saying he was "the youngest in the class to ever take it." Now, he dedicates his spare time to patrolling, taking the day off to do so when he doesn't have patients.
The JAI doesn't have funding for an office or headquarters, so it trains in local parks or gyms, depending on the weather. Dark Defender said the group has a detailed "Standard Operating Procedure" for different situations, like if a teammate is attacked. He said he has been trained in first aid and CPR and insists the group fights and stops crime "professionally." In addition to weekly patrols, the JAI helps the homeless and conducts anti-crime campaigns.
Dark Defender claimed he's made verbal and physical citizens' arrests and personally witnessed hundreds of crimes.
"Last year, all together, I'd say we've witnessed about 162," Dark Defender said. "Sometimes we lose track."
Additionally, Dark Defender alleged he was a direct witness to a shooting outside the Walmart on Burgess Road on March 7 at 6:30 p.m. He said he was doing what's called a "plain-clothes patrol" when six gunshots went off and chaos ensued. He said he tried to comb around the scene and provide HPD with any information he could.
"I was actually really close at the scene," Dark Defender said. "I was like about, two to three feet away from it. That's how close to the shooting I was. I could see windows already being shot in, glass being broken and stuff … It was a scary moment, I won't lie about that."
Dark Defender described the shooter as a 5-foot 4-inch man with black hair and a Hispanic or light-skinned black complexion, wearing a white T-shirt and jeans or khakis. Cpl. Scott Drugo of the Harrisonburg Police Department said his recollection was accurate.
When on patrol, the Real-Life Superheroes draw mixed reactions. Many heads turn as three middle-aged men dressed as if they're headed to ComicCon stroll down South Main Street downtown, but while some are startled or roll their eyes, most of the reactions are positive.
Two college-aged men recognized Dark Defender after leaving a downtown bar at a quarter past midnight one Friday morning and weren't shy about saying their feelings.
"That dude is so cool, I've met him so many times," one said. "He's the best. What he's doing is sick."
Dark Defender looks up to another Real-Life Superhero from San Diego, California, with the moniker Mr. Xtreme. The two have never met but have discussed "everything," including patrol, recruiting and how to deal with law enforcement.
"Our group has inspired numerous younger Real-Life Superhero groups," Xtreme said, adding that Dark Defender is "very dedicated" and "committed to the community."
But the JAI isn't without controversy. In August, the Daily News-Record reported tension between the Real-Life Superheroes and local businesses after Dark Defender and his associates overheard a police report that caused a stir. The group went into bars shouting that there was a man with a gun roaming the streets and warned citizens to not go out. It was a false alarm — the man was likely carrying something resembling an umbrella.
"It spun a little bit out of control," Drugo said. "He had stopped into businesses and said there was a guy with a rifle, but we didn't know that for a fact yet. In his mind, he was doing the right thing, but from our perspective, it caused a little bit of chaos."
Drugo said the JAI operates "completely independent" of the police, but the group's uniforms could suggest otherwise to those unfamiliar with the group. He's glad Dark Defender is an "extra set of eyes" out there helping but has advised him to watch from a distance and not get involved.
"Not everybody's real friends with police officers nowadays," Drugo said. "If you show up on a scene [and] somebody's in a fight … they don't have the kind of training to protect themselves."
After meeting Dark Defender at a flag-raising ceremony with the police last May, Drugo made friends with the leader of the JAI. The two talk "at least once a month," and Drugo said the group has sent information to the police and is "very helpful [to] the citizens." Drugo encourages anyone wary of Dark Defender to approach him and ask him why he does what he does.
"I can tell you that the Dark Defender is dedicated to this cause," Drugo said. "He's got enough knowledge that he knows what's right and wrong. His heart is in the right place. I just don't want him to take it too far."
The mysterious man in black knows there will always be crime but longs for a day when people in the community treat each other with more respect. Until then, he plans on continuing to patrol the city. Dark Defender is currently 26 and doesn't plan on giving up his alter ego anytime soon. He said the oldest active Real-Life Superhero is in his 50s.
"If he can do it for that long, why can't I?" he wondered.
Many don't understand the JAI, including a man standing outside Jack Brown's restaurant downtown who called it "the stupidest shit I've ever seen."
In the Dark Knight, a critically-acclaimed movie about Batman — one the heroes Dark Defender aspires to be like — the Caped Crusader is referred to by Gotham Police Commissioner James Gordon as "not the hero we deserved, but the hero we needed."
Some will view Dark Defender as neither, or not a hero at all. Either way, that won't stop him from risking ridicule, injury and potentially his life as he patrols Harrisonburg, looking to stop danger and keep his city safe.
Contact James Faris at breezecopy@gmail.com. For more coverage of JMU and Harrisonburg news, follow the news desk on Twitter @BreezeNewsJMU.