On Monday night, hundreds of students gathered in Lakeview Hall for the first JMU X-Labs Fab Lab. The event was aimed at increasing female participation in X-Labs and finding new ways to improve the experience of women who already take advantage of the lab.
Many of the women who work for X-Labs work in either communications or administration for the lab and don't have a STEM background, so they don't spend much time in the labs. When these women noticed the same trend within the student population, they decided it would be a good idea to hold an event to attract female students to X-Labs and promote the lab's benefits.
"We started to put this event together, and we thought, 'Maybe 30 people will sign up,' " Kim Fisher, director of communications for JMU X-Labs, said. "Within a few days 250 people had signed up, and that was our max. So clearly there's an interest. We're so excited to have all these women here and show them what's available to them as far as resources."
JMU X-Labs offers students from any department tools such as 3-D printers, virtual reality technology and drones. X-Labs holds classes, events and has an open lab each day of the week.
While much of the X-Labs' focus revolves around STEM material, they have a large focus on collaboration between disciplines. These various disciplines, from writing to business, come together in the lab to work on a common project. Businesses not only require a product or service, but ways to advertise it, a website, logos, accounting and many other aspects that require expertise in different fields.
"When you graduate, you don't just work with people who have had your same major," Fisher said. "When I graduated … I didn't know how to work across different fields with people, so there was a huge learning curve, and at JMU X-Labs they get the opportunity to experience that early on."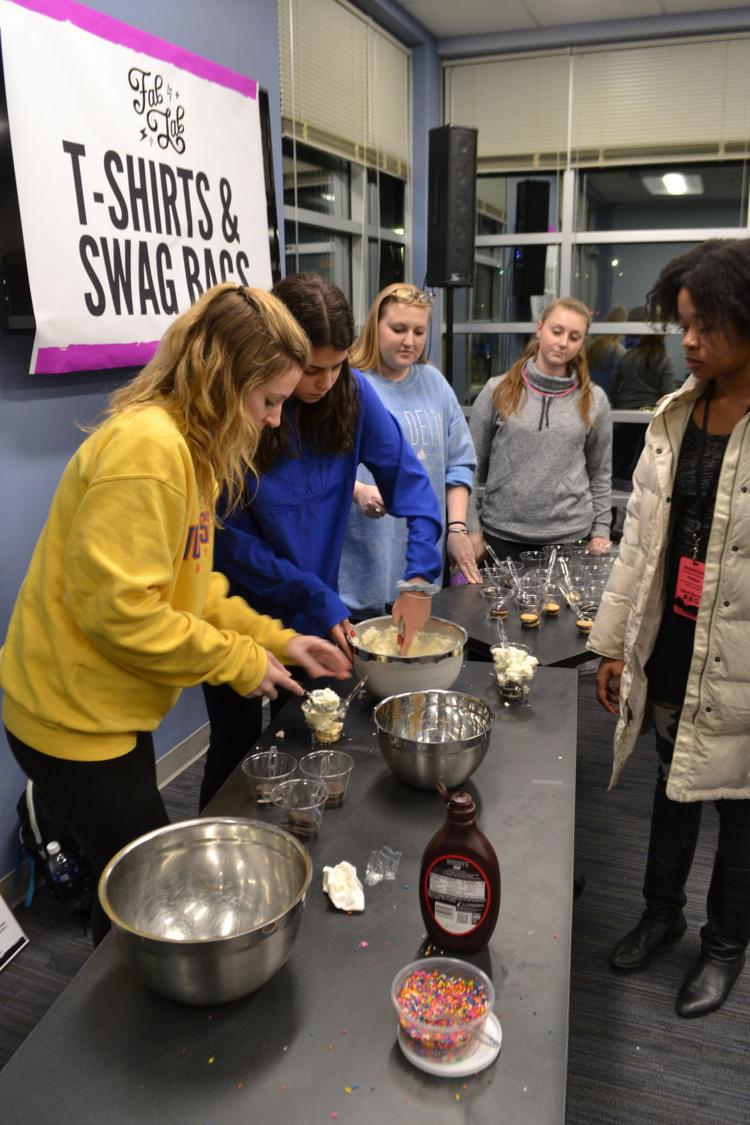 JMU students who've come through the X-Labs program are taking full advantage of these skills. One graduate involved with the X-Labs program went on to start his own drone company. Amanda Presgraves, founder of the Fueled Food Truck on campus and JMU alumna ('15), also utilized X-Labs during her time at JMU. Presgraves spoke at Monday's event to share her experience with the lab and illustrate what X-Labs can do for women on campus.
"The space is really conducive for collaboration," Presgraves said. "It's really important to find a common ground that everyone feels welcome to come to, and that's what the X-Labs is."
For many of the students who attended the Fab Lab, it was their first experience with JMU X-Labs. Many attendees hadn't even heard of the lab before.
"You come to college for an education but there's so many more aspects of college that you get just besides, you know, sitting in class," Sarah McGrath, a sophomore marketing major who attended the event, said. "I think that just taking the time out, maybe just do a study break to come and do stuff like this will just kind of broaden your horizons and maybe open a door to something you never even expected."  
For Fisher, using the X-Labs to open doors for students is what the lab is all about. She hopes that this event will not only bring in more students, but bring students together to create new ideas.
"This will hopefully give them, kind of that inspirational motivation to connect with people," Fisher said. "We can connect them with people, and that's a big resource that people don't realize we have."
Contact Thomas Robertson at rober3tl@dukes.jmu.edu. For more coverage of JMU and Harrisonburg news, follow the news desk on Twitter @BreezeNewsJMU.