Their workspace is cluttered with half-printed projects, each representing different technical issues one JMU student and an alumnus faced while creating their own business from the ground up.
Hydra Systems Corporation is almost ready to put its first manufacturing machine on the market after an arduous building process that began in January of 2017. The giant 3-D printer was built by senior engineering major Richard Xu and JMU alumnus Chris Ashley ('17) with the help of JMU X-Labs.
"All of this that we've been able to do since January was really made possible by the support we got from JMU but specifically JMU X-Labs." Ashley said. "They gave us this space to build these huge machines, just the community and the connections that have come out of X-Labs and the group of people here; not to mention the actual support they've given to get this business off the ground."
Their machine combines various forms of what Ashley and Xu call "additive and subtractive technology" manufacturing which either adds material — such as 3-D printing — or removes material, like a drill. The machine is a mini-factory that performs 3-D printing along with fiber laser and CNC milling which both cut away material. It can do the different manufacturing functions by swapping out a toolhead like the attachments on a mixer.
"Seeing it work and knowing that it was done completely by a couple of undergraduate students and it really works well is impressive," Swayne said. "It wasn't easy — like most inventions it didn't work the first time but they spent a lot of sleepless nights, persisted and figured it out."
One of the projects, a small, sideways-slanted print of a Pikachu from Pokémon, arose from a problem with how their machine read electrical pulses. They call it "tweak-a-chu." They ran into other issues with the temperature of the acrylic filament they use for 3-D printing, and leaks from their liquid-cooling system.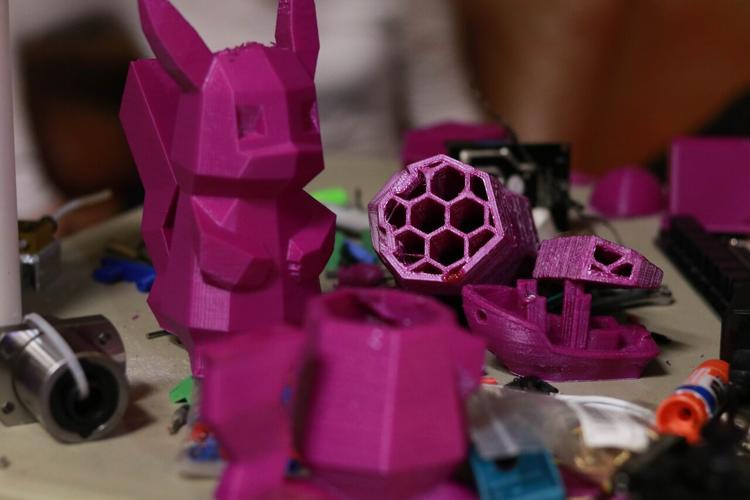 "It will be pretty rare for a customer to run into an issue that we have not worked with because honestly anything that could go wrong has gone wrong with this machine," Xu said.
Ashley and Xu discovered this market of small-batch manufacturers in the medical and aerospace industries who want to make custom parts. They're developing the first midrange 3-D printer that'll adequately fit those manufacturers' needs. According to Ashley, if businesses don't have a 3-D printer, they may face the dilemma of choosing between expensive and time-consuming custom manufacturing and imprecise desktop 3-D printers.
"That's really that hybrid, middle-ground market that we're trying to penetrate because there's really no solution for the customers in that segment," Ashley said.
Ashley and Xu believe the machine's other possible uses will include creating custom prosthetics for patients and scaling models of sculptures for artists.
"With something like this at this scale, even for someone Richard's size — this is a big man right here — for example if he needs a prosthetic lower section of his right leg, you can scan that with a 3-D scanner — there are a ton of those on the market these days — we get a really high quality scan of that, invert that, and then we get something like this on this scale in one piece that mimics the structure of his leg and it's really truly custom fit," Ashley said.
A top priority for Xu, a former JMU football player, is how to make 3-D printing safe, because he found that desktop 3-D printers didn't have any safety features.
"We found out they have literally zero safety features … so we made sure ours is chock full of safety features," Xu said.
Xu chose to incorporate thermal fuses on the heating elements so if the machine gets too hot it will shut off and then continue once it's cooled down. He also designed the machine to detect if something gets stuck or jammed, and shut off before the machine gets damaged.
Hydra is moving into beta testing during the first two quarters of 2018. Ashley and Xu seek to understand the user interaction with the machine. Their objective is to get customer feedback and build relationships with possible clients.
"We're still looking for beta testers up and down the east coast and work with them throughout the first two quarters of next year to really understand the user interaction with the machine, to take feedback, to find issues with the machine," Ashley said. "Issues will arise a lot quicker if we're testing 10 machines instead of just one."
Ashley and Xu plan to have the machine go to market between July and September of 2018. They say that the machine will cost less than $100,000.
"The competitors on the market for this machine cost well above $100,000, most of them above $200,000 which kind of prices it out of the range of these small to midscale manufacturers." Ashley said.
One question that Xu and Ashley face as they move from building the machine, toward scaling the business, is how to produce from an efficiency standpoint.
"It's really just talking to these potential customers and understanding what their pain points are," Ashley said. "And really taking that and figuring out how can we continue to craft this and continue to develop the company further into building the best solutions for them."
The machine is currently on its third generation. In future generations of the machine, Ashley and Xu plan to incorporate a laser-sintering toolhead, which creates a 3-D structure by welding powdered metal with a high-powered laser.
"They've changed a ton each time as we've learned more about the customer and what works on this machine, what works on a scaled up size like this." Ashley said. "But Richard's done a really good job of that and being able to design for efficiency."
Xu says he really benefits from the creative environment in X-Labs. He says he's seen lots of students flourish in X-Labs and find out they have talents that they don't get to use in the classroom.
"Their test scores may not show that they're smart but at the end of the day these kids come in and they build these crazy, crazy projects," Xu said. "They're just hands on learners and our modern educational system does not do them just. I'm actually one of the examples."
Swayne says Xu first got involved with X-Labs through their "open-lab" hours. According to Swayne, Ashley and Xu can often be found in the lab, and they are quick to help other students with tech problems or their prototypes. Swayne says Ashley and Xu help X-Labs' mission to catalyze a culture of innovation at JMU through their project.
"When students or visitors see the size, quality and complexity of his machine and understand it was built by an engineering student as an independent project — well, it's a big wow factor," Swayne said. "A lot of people are simply amazed that an undergraduate student would be able to make something as big and complex as Hydra — and have it work."
According to Ashley, Hydra has found many of its clients from the publicity the machine has received from JMU. Swayne says the quality and size of the machine get people interested in Ashley and Xu's project.
"Pictures don't do it justice," Nick Swayne, director of X-Labs, said. "It dominates the space. The quality of the build, the unique design, and the sheer scale of the thing are truly impressive."
Contact Jillian Lynch at lynch8jm@dukes.jmu.edu. For more coverage of JMU and Harrisonburg news, follow the news desk on Twitter @BreezeNewsJMU.