Two schools, two nights apart, standing in silence. 
Members of the JMU and University of Virginia (U.Va.) communities stood together for two separate vigils Monday and Wednesday night, after three U.Va. football players — linebacker D'Sean Perry, wide receiver Lavel Davis Jr. and wide receiver Devin Chandler — were killed in a shooting late Sunday night. 
Two other U.Va. students — Mike Hollins, a U.Va. running back, and Marlee Morgan — were injured in the shooting.
The two vigils — one offering a space for U.Va. students to mourn and grieve the loss of beloved community members and the other standing in solidarity an hour away — were almost parallel. 
JMU saw a few hundred students attend Wednesday night after thousands went to U.Va.'s vigil Monday. Both were in the pitch dark, the bitter cold, completely silent. They each began with the somber echo of the university bells ringing out across the vigil and ended with the crowd ever so slowly dissipating after a long period of silence.
At Monday night's vigil, members of the U.Va. football team, according to The Cavalier Daily, stood on the steps of Old Cabell Hall, hugging each other and looking into the crowd. Several times throughout the informal vigil, members of the crowd began holding up tea lights and turning on phone flashlights, a golden wave illuminating the crowd of thousands.
At JMU, flickering tea lights lined the steps of Wilson Hall, spelling out "UVA."
Shawdee Bakhtiari, student body president; Xaiver Williams, student representative to the Board of Visitors; and Tim Miller, vice president for Student Affairs, welcomed the crowd and asked that people stand together to support each other and U.Va.
"What we hoped tonight would be was just a chance to come together as JMU, with and for U.Va.," Miller said. "We hope you'll just take time tonight to just stay here and be in this space … and be with those that need you. Everyone's experiencing this differently."
He added that many people have connections at U.Va. and that everyone is impacted by tragedy in a different way. JMU hasn't experienced a mass shooting on its campus, but Miller said the JMU community knows "what this means and what tragedy can be."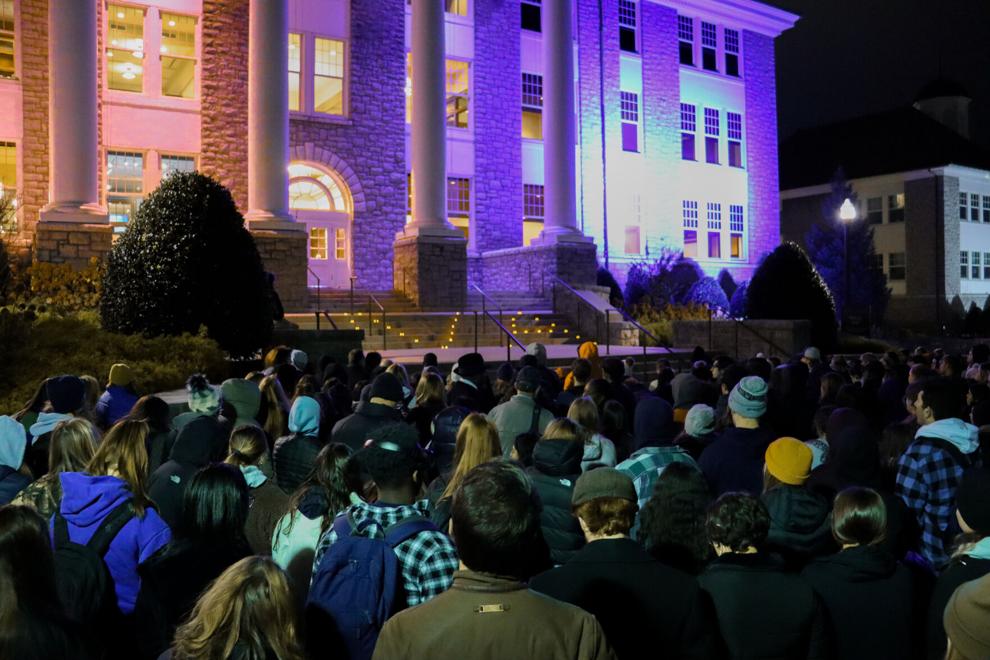 Several JMU students said they came to the vigil because they wanted to honor the lives of Perry, Davis Jr. and Chandler and to show their support for the U.Va. community. 
Kai Burton, a freshman finance major, said U.Va. has a close place in his heart after a hard choice between attending U.Va. or JMU. Dillon Rose, a freshman computer science major, said JMU is here for the U.Va. community, a point reiterated by other students at the vigil. 
"Hearing about what happened in Charlottesville, knowing that that's a place that I used to call home, it really hit hard," Burton said, "and I feel like tonight was the only way for me to come out here and show my respect."
Burton said it's important to celebrate the lives of Perry, Davis Jr. and Chandler and move forward to make sure "nothing like this happens again."
Morgan McKnight, a second-year chemical engineering major at U.Va., said college students may feel like there are limited options to make a difference. According to the Gun Violence Archive, as of Nov. 13, there have been 599 mass shootings in the U.S. in 2022. However, McKnight said students shouldn't give up fighting for change. 
"Don't get, like, apathetic just because it doesn't work at first, because long-term and sustained pressure for action is what's going to keep this from happening again," McKnight said.
At Scott Stadium, home to U.Va. football, dozens of flowers were laid out for the victims. Throughout the day, students left more flowers, notes and, at one point, lit candles. 
One student set out candles on the Beta Bridge on Rugby Road near U.Va.'s Greek Row. Three tiny tea lights lined the walls on each side, and the bridge was later painted as a memorial to the victims, according to a tweet from a Charlottesville Planning Commission member.
Beta Bridge at @UVA today pic.twitter.com/hy9QRsdABg

— Lyle Solla-Yates (@LyleSollaYates) November 16, 2022
Signs that read "C'VILLE STRONG" and "UVA STRONG" hung out of buildings throughout and around U.Va.'s campus, showing the three numbers of the football players who died: No. 1, Davis Jr.; No. 15, Chandler; and No. 41, Perry.
Friends of the victims and their families organized GoFundMe pages to support Perry's, Davis Jr.'s and Chandler's families.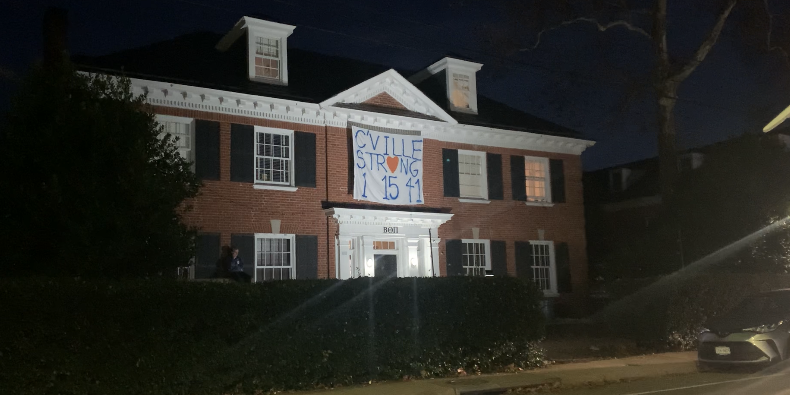 Remembering Lavel, Devin and D'Sean
In an interview with ABC News on Tuesday, U.Va. student Ryan Lynch remembered the three victims, who were her friends.
Perry, Davis Jr. and Chandler were "some of the kindest and most compassionate guys I have ever met," Lynch said. "They truly lit up the room."
According to The Daily Progress, U.Va. football head coach Tony Elliott said Chandler was "just a big kid" who he said "always brought a smile to my face."
Davis Jr. had a "big smile" and lit up the room, Elliott said. He also noted Davis Jr. had a "gentleness about him" but was passionate about his beliefs.
Perry's high school football coach at Gulliver Prep, Earl Sims Jr., described Perry in a press conference Wednesday. 
Sims said Perry, "to his core," was kind, thoughtful and caring and was a "gentle giant." Bakari Edwards, a former teammate of Perry at Gulliver Prep, said on Twitter that Perry was like his brother and he "always found a way to put a smile on [his] face and push [him] to be better."
Brenda Hollins, Mike Hollins' mother, has been giving updates on her son's condition on Twitter. She told CBS News that Mike is "so kind-hearted."
"When he loves you, he loves you," Brenda said. "He strives. He is a fighter."
Jack Hamilton, an American studies and media studies professor at U.Va. who taught Chandler and Davis, remembered the two with a thread on Twitter. Chandler, Hamilton said, was an "unbelievably nice person" and was "just impossible not to like," and he always had a smile on his face. 
Davis, who told Hamilton to call him "Vel," went out of his way to make friends with non-athletes, Hamilton said.
"Anyways I am just stunned and devastated and completely at a loss but wanted to say all this because they were great people with truly limitless futures and they should still be here," Hamilton tweeted. "It breaks my heart."
If you or someone you know is struggling with mental health, here are some resources:
JMU Counseling Center: 540-568-6552
National Suicide and Crisis Hotline: 988
National Suicide Prevention Lifeline: 1-800-273-8255
JMU Office of Public Safety – Emergency: 540-568-6911
Sentara RMH Emergency Department: 540-689-1414
24-Hour Crisis Text Line: Text "HOME" to 741741