JMU's campus is not a stranger to autonomous vehicles — Starship food delivery robots have become a normal sight for anyone walking or driving through campus. A group of students is working on its own self-driving vehicle — a golf cart — with the hope of future use in local retirement communities.
The development of the cart began in an autonomous vehicles class at JMU's X-Labs during the 2018 spring semester. Associate professor in the school of Integrated Science and Technology Samy El-Tawab and associate professor in the computer science department Nathan Sprague ran the course with the plan to have students modify a golf cart electrically and mechanically to make it autonomous.
"I'm continually impressed by how effective the students have been, how committed they are," Sprague said.
After the class's first semester, Sprague said local retirement communities began to show interest in the cart because of the possibility to provide increased mobility to residents on large campuses. He said the team received $120,000 from the Jeffress Trust Program to continue developing the cart in the fall 2019 semester, where students began to focus on making the vehicle helpful to elderly passengers.
Sprague said students have been working on the cart as volunteers, or they're earning credit by treating the project as an independent study course. He said new students are continuously contributing to the cart's development, which makes it unique and provides a model for "real world" projects.
Students majoring in computer science, ISAT and engineering worked on the cart, and Sprague said numbers have fluctuated between five to 20 students contributing to the project at once. Senior computer science major Josh Griffin said he began going to team meetings in the fall 2019 semester, but only started earning class credit this semester. He said he works on the system's software, which is called the Robot Operating System, or ROS.
"It's kind of like the brain of the cart," Griffin said. "It makes all the decisions and tells the different components what to do."
Griffin said passengers can interact with the cart using voice commands and its touch screen. The cart is able to navigate campus, Sprague said, and can be summoned by anyone who requests it through an app. He said the cart doesn't have a seat belt, like any other golf cart, and there is always a person present to turn off autonomous control if necessary. Although he said the cart only goes 10 miles per hour, Griffin said it's strange to be in a vehicle that operates itself.
"It's still very unnerving to ride in for the first time because you're not used to getting into a vehicle and having no control over it," Griffin said.
Even though the cart already has basic functionality, Sprague said the team is working to improve it. He said there's a bug in the system they need to work out that relates to collision avoidance — the cart stops when something moves in front of it, but it won't start up again without human interference.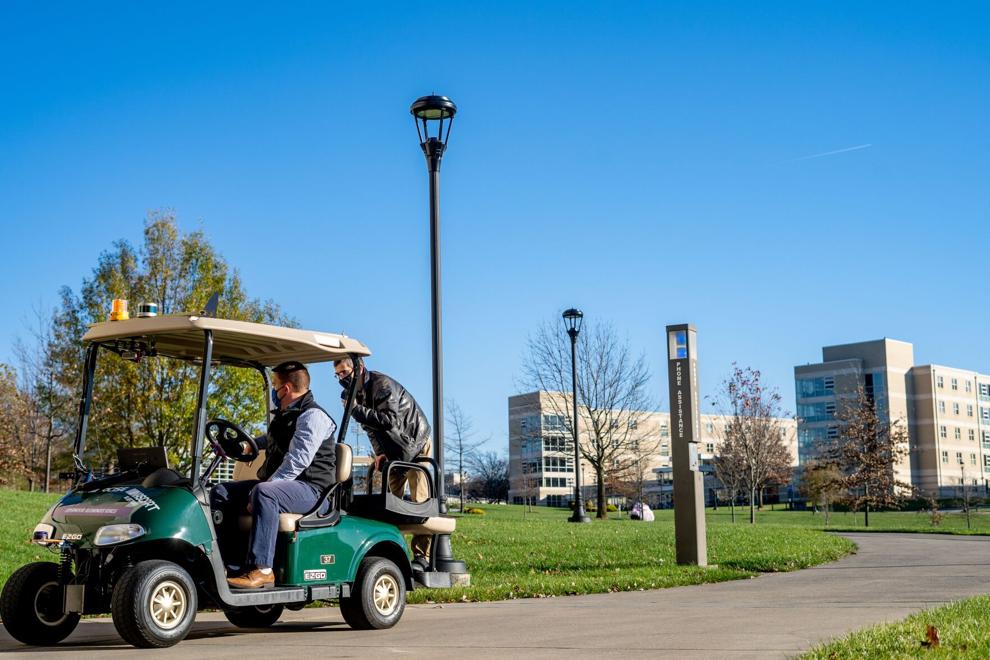 Jason Forsyth, an assistant professor in the engineering department, formally joined the project this semester, but first saw the cart a year ago. He said research needs to be done in terms of how to instrument people inside the vehicle so the cart can understand the emotions and physiological state of its passengers. For example, if someone becomes distressed in the vehicle, he said the cart should be able to sense this and possibly stop or ask the person a question.
"We're trying to understand higher level questions about how certain populations of people interact with autonomous vehicles," Forsyth said. "The key target we're looking at here is elderly people, so they have a loss of mobility, they have a loss in independence. If they had an autonomous vehicle, could they get around more?"
Because of COVID-19, Forsyth said it's been harder to connect with retirement communities for the project because they limit outside interaction. Work on the cart itself experienced a setback, Sprague said, because JMU's campus was closed during most of the spring semester and the summer. 
"We've lost progress in terms of being able to work with our system and we've lost progress in terms of being able to do the kind of work we wanted to do in collaboration with our community partners," Sprague said.
This semester, Sprague said the team meets outside on campus once a week for testing. Forsyth said he enjoys having a class where students are building rather than doing homework or taking exams. He also said many of the things students learn in his engineering classes are directly related to this project, so it provides a "real world application." Sprague said the project is more than just a way for students to learn about the fundamentals of technology.
"There's a whole different set of skills, sort of project management and working in teams and working in a real world system where there's no fixed set of answers," Sprague said. "There's also that creativity involved in solving these problems that don't have a predetermined answer. I think it's a really valuable experience for students."
The project doesn't have a definitive future, Sprague said, but more students are expected to join the team in the spring. Forsyth said the cart still has a couple more years before it'll be ready for testing in retirement communities because they still want to address broader research questions that require more time to answer.
"I have been highly impressed by the students and it makes me want to keep pushing [the project] further," Forsyth said. "It's been a joy to watch them learn and accomplish things that I didn't think we'd be able to do at an undergraduate level."
Contact Kamryn Koch at kochkr@dukes.jmu.edu. For more coverage of JMU and Harrisonburg news, follow the news desk on Twitter @BreezeNewsJMU.