According to research conducted by the Institute for Democracy & Higher Education, the average student vote rate in the U.S. doubled from 19% in 2014 to 40% in 2018. At JMU, it more than tripled from 8.8% to 32.8% in the same span — that's an increase of 5,062 students who voted in the election.
From 2014 to 2018, JMU's student registration rate experienced a rise of 14.6 percentage points. The voting rate of registered students rose 27.1 percentage points and the overall voting rate increased 24 percentage points. Ethan Gardner, a senior political science major, said he believes that's due in large part to the efforts of the JMU Center for Civic Engagement.
 "Students are very passionate about a lot of political issues," Gardner said. "We're at a time when it's a very difficult political climate, but it's really important that students actually make their voices heard. If we actually do turn out and vote, we can have a very large impact on elections and who sits in office and what policies get advanced."
Dukes Vote is a student-led initiative that helps individuals register to vote. It's supported and facilitated by the center but existed before the center's establishment. The organization is a non-partisan group.
"Being a voter is about more than just what you do on election day," Abe Goldberg, director of the center, said. "It's about staying informed on public issues. Voters are more likely to be engaged in other forms of civic activity."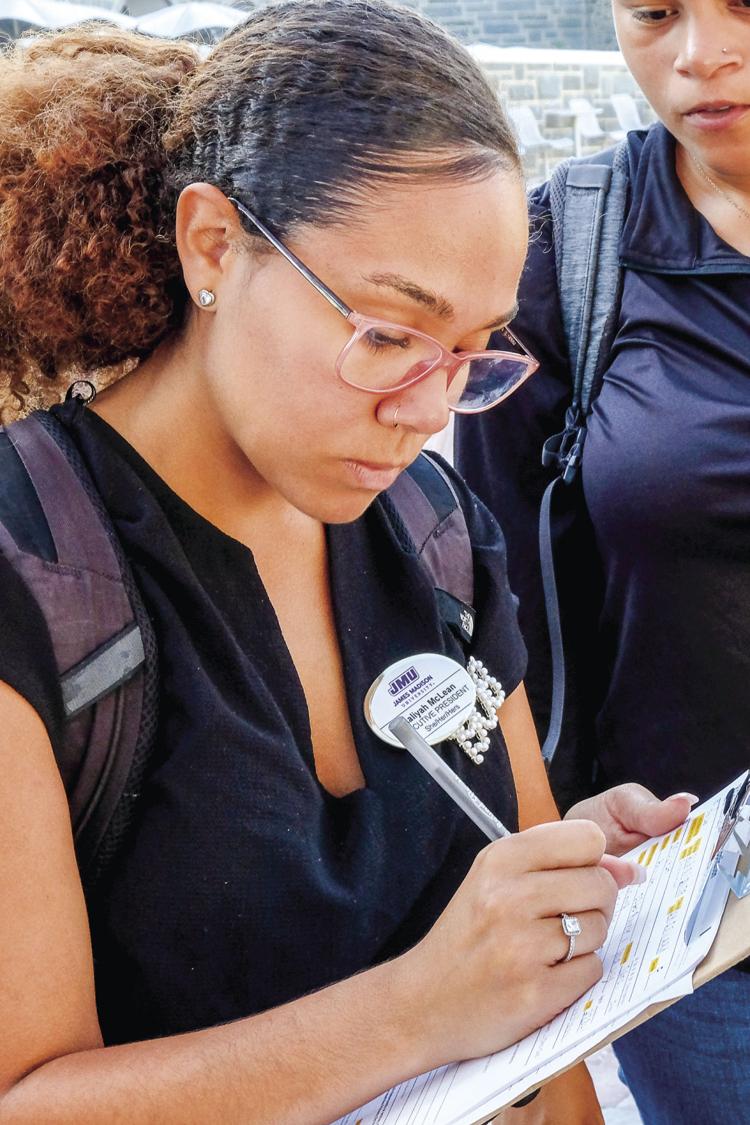 From the same research by the Institute for Democracy & Higher Education, JMU was prominently featured as a National Study of Learning, Voting and Engagement campus. Goldberg said he credits the Traveling Town Hall as an event that really creates an opportunity for learning and garnered national attention. Goldberg said he believes it's a model that other campuses are looking to start.
Dukes Vote is involved in voter registration tabling around campus, building partnerships with various organizations and performing classroom visits. Dukes Vote students visited over 75 classrooms last year to spread their message.
 "Really, what we want to do is think about preparing students to vote as being rooted in the academic infrastructure of campus," Goldberg said. "This is an opportunity for learning. Elections are teachable moments. We want voting to be part of someone's identity."
Bill Ney is the vice chairman of the Harrisonburg Electoral Board, which is responsible for hiring the director of elections and the election officers. It also staffs all eight precincts and is in charge of security and equipment. The electoral board works with various groups to help individuals complete their voter registration. 
"Every citizen's responsibility is to help elect their local officeholders, their state officeholders and the federal," Ney said. "It's your obligation and duty to perform these tasks. The more people who register to vote shows that we have the more people thinking and wanting to help and decide how our government works."
Angelina Clapp, a senior political science major, has been involved with Dukes Vote for about a year. Clapp said she believes that meeting students where they are is important and that access to information about voting is important.
"Students are the future of the country," Clapp said. "They are one of the most underrepresented populations. A lot of students don't vote because they just don't understand really how the process works, so they're not interested in the process."
 This is only the third academic year the center has been running, but Goldberg is excited about the progress of students who are registered to vote and are showing up the polls.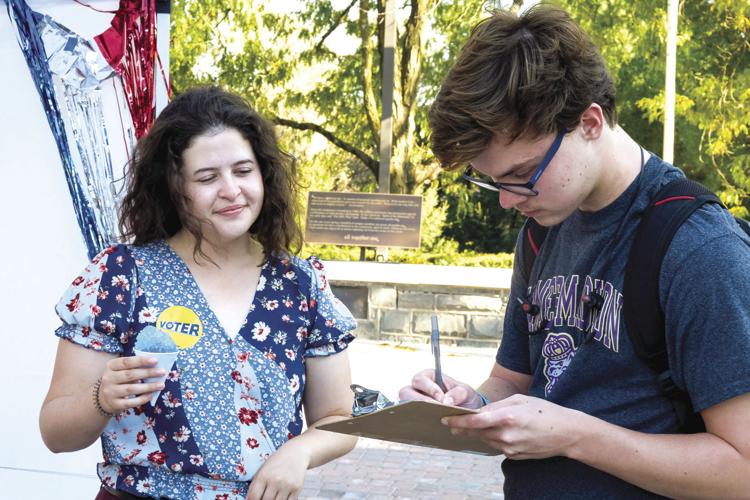 Goldberg said that when students are given the opportunity to be involved, they're excited about the role they can play in our democracy. Goldberg said he believes that the center still has ways to improve how it raises awareness about the importance of participating in civic life, as JMU still has about two-thirds of its student body who aren't showing up to vote.
"I think higher ed can have a very important role in strengthening democracy," Goldberg said. "I'm very excited and proud of what JMU is doing by creating this office as a way to be thoughtful and strategic in the work that we're doing. It not only serves students well but, ultimately, democracy is better when colleges and universities are helping students to prepare to be active and informed participants in civic life."
Contact Matthew Sasser at sasserma@dukes.jmu.edu. For more coverage of JMU and Harrisonburg news, follow the news desk on Twitter @BreezeNewsJMU.
CORRECTION (October 3, 5:11 p.m.):A previous version of this article stated that the increase in JMU's student registration rate, voting rate of registered students and overall voting rate increased in percentages when it was meant to be written in percentage points.