How fitting that an ambulance drove down South High Street as the JMU athletic community left the flower dropping memorial for JMU softball's Lauren Bernett.
She once laughed when the sirens flew by Veterans Memorial Park after practice.
"This is fun," Lauren said at JMU softball's media day Feb. 16, giggling as an ambulance interrupted an interview with The Breeze. 
Giggling, happy, smiling: It's how everyone describes Lauren, who died on Monday. She was a sophomore on the Dukes' softball team and served as catcher in the Women's College World Series (WCWS) just under a year ago.
Lauren grew up in McDonald, Pennsylvania, and graduated from South Fayette High School. She was a biology major with a pre-veterinary medicine minor and had four siblings.
She was the only freshman consistently in both the batting order and on the field for the WCWS. Lauren hit a home run against Liberty in the Knoxville Regional Final, arguably sealing the game for the Dukes and sending them to the Super Regional round of the tournament. Her last home run at home clinched the game against Hofstra on April 10. 
In all those moments, Lauren smiled. She opened her mouth wide as she ran to her team at home plate. This season, she put on a sparkly purple hat when she scored and ran around with it during postgame — the smile never leaving her face. 
Lauren was like this all through her life as a softball player, according to Richele Hall, her coach for many years for Team Pennsylvania Fastpitch, a travel softball team.
Just five days after JMU's run in the WCWS, Lauren was back in her hometown, helping Hall coach her team at a tournament. This is what Hall will remember Lauren for, she said, no matter how good she was on the field. 
As Hall put it, Lauren was "a one-of-a-kind type of kid."
"There was just so many kids that looked up to her," Hall said between sniffles and with a broken voice in a phone call with The Breeze on April 26. "She was just, like, a once-in-a-lifetime kid to be able to coach and know, and my heart, my heart is broken." 
Hall pointed to softball nationals during the summer of 2017 or 2018 when she said Lauren played catcher for five games over a weekend in 100-degree heat in Myrtle Beach, South Carolina. Hall's team lost in the finals by one run, but it was Lauren who Hall said still stood out.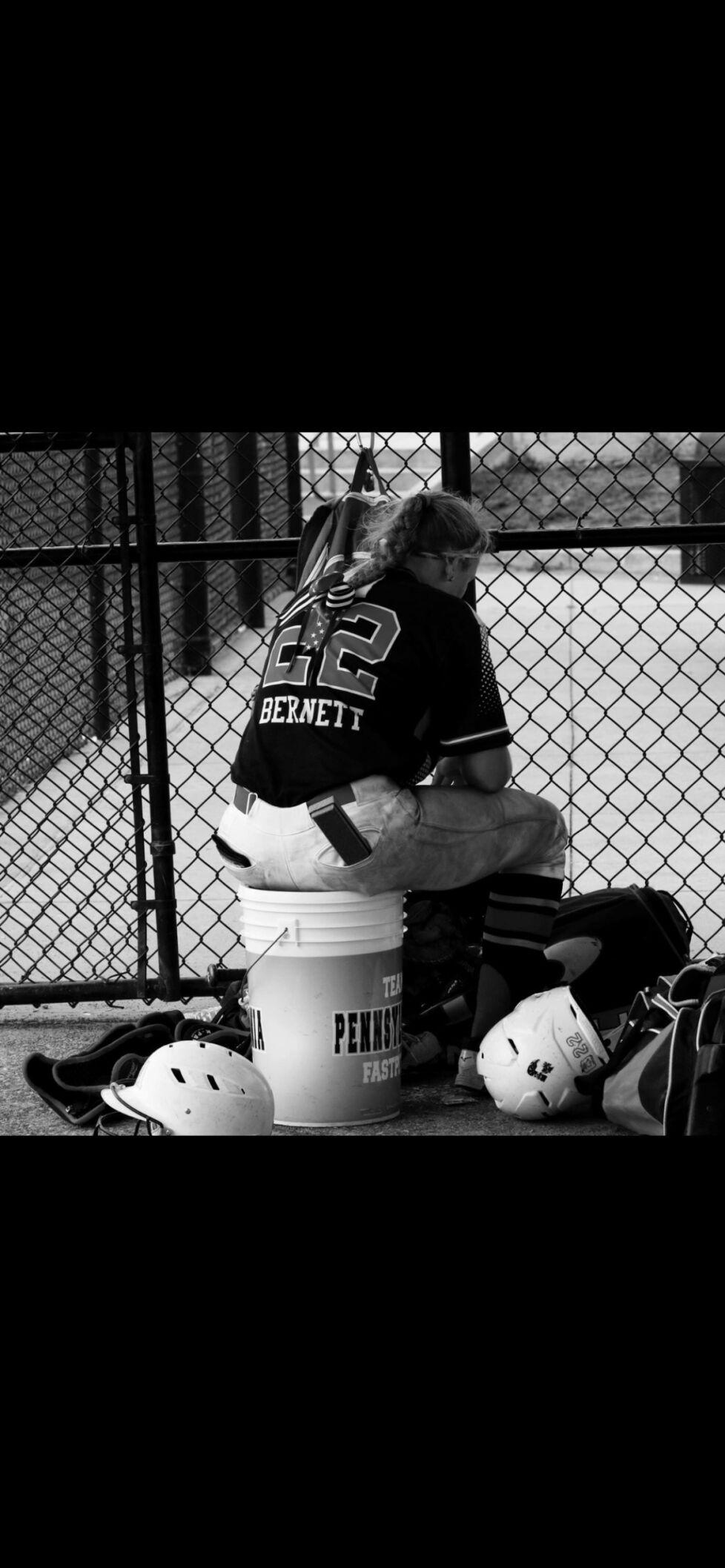 Hall said there was no complaining, no saying she was tired at any point — "there's just not a lot of kids like her," she said. 
"That's probably one of my best memories of her as a player," Hall said, "not like a hit, not like —  it's just, like, her will and her grit to just always want to give her teammates everything and be the best, and I think that that moment just kind of portrayed that for me." 
Lauren attended Hall's wedding. Hall's memories of Lauren, she said, were all happy — until April 26. 
"I just can't believe you have to talk about her in the past tense," Hall said. 
Later on April 26, the day after Lauren's death, Hall said about six of her former teammates from Pennsylvania were meeting "because they don't want to be alone." 
"I don't think that I will ever meet anybody like her ever again in my life," Hall said. She choked up as she said it, as she did the whole time she talked about Lauren. "I'm just thankful that, I mean, I had the time that I had with her. I just never thought when I saw her last month playing that would be the last time that I would get to hug her and see her in person again."
Lauren's high school teammates took to Twitter to talk about her as a friend and person. Towson softball's Emma Armstrong, who played with Lauren on Team Pennsylvania Fastpitch's 18 years old and under team, wrote, "Thanks for making me a better person on and off the field and for always being the life of the party … No one could make me laugh the way you did."
Lauren made people laugh. Her laughter was contagious, on her high school team and at JMU. Perhaps the one who laughed the most with her at college is sophomore pitcher Alissa Humphrey.
Humphrey put food in Lauren's locker when she was hungry and didn't eat. The two held hands at softball media day on Feb. 16, laughing.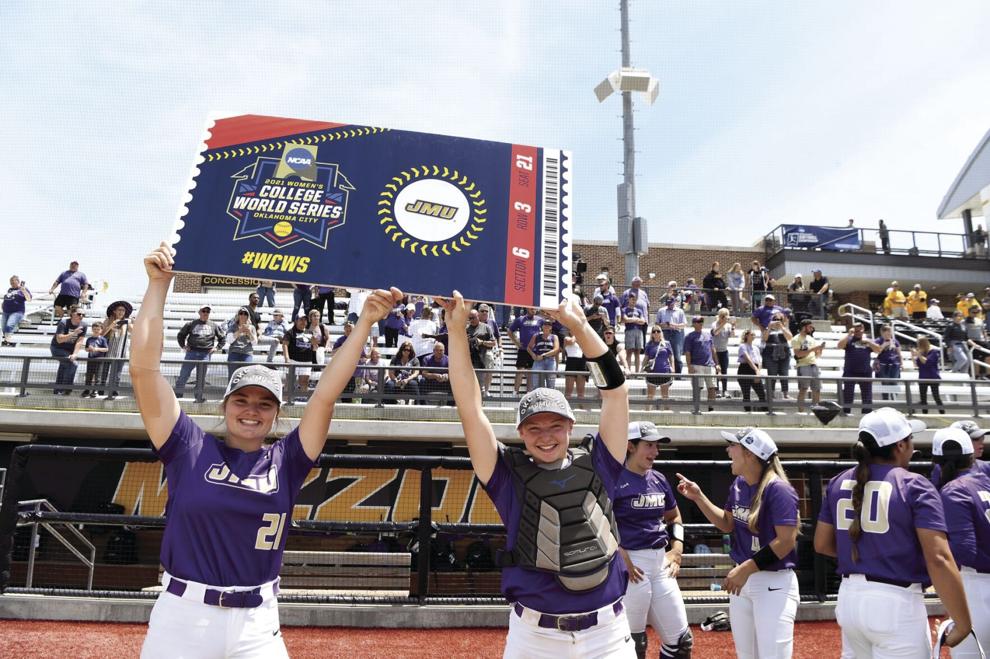 On Tuesday, Humphrey was the last softball player on the team to leave the flower drop; her cries could be heard across the otherwise hushed VMP. Later that night, the pitcher wrote about Lauren on Twitter.
"She's a light no matter where she is," Humphrey said on her Twitter account with a video of the sunset attached. "You looked so good today. Keep shining. I love you Lauren."
Former JMU pitcher Odicci Alexander (2017-21) spoke about her former catcher on Twitter, too. Lauren was Alexander's catcher during the entire postseason run. Alexander said on Twitter that she keeps checking her phone, looking to see if Lauren continues their Snapchat streak. 
It never comes.
"Love you LB," she wrote. Lauren jumped and screamed when Alexander made the infamous tag in the WCWS, a moment already widely recognized in the allure of JMU softball.
Most of the JMU community said on Twitter how much she made an impact on their lives and mentioned her smile. Redshirt junior Hannah Shifflett posted a video of her and Lauren laughing before a game on TikTok.
"Missing this smile so much," Shifflett said in her TikTok caption. She changed her TikTok bio to say "fly high 22."
"Until we meet again sis," former JMU outfielder Kate Short (2017-21) said on Twitter. Short stood at the flower drop ceremony with the team and said how broken her heart was over Lauren. Short put a broken heart emoji in her Tweet.
The broken heart emoji. Around JMU's community, it was used countless times. 
The Breeze reached out to all softball programs in the CAA and head coaches from nearly every school returned with condolences in honor of Lauren — most sharing how she impacted the game and how she'll be missed. 
The Sun Belt Conference (SBC) — JMU's home next season — did the same. Louisiana Monroe wore purple ribbons in their hair against McNeese. Other SBC teams tweeted about Lauren, who she was and her legacy. Coastal Carolina tweeted a purple heart and a white bird. 
Even outside softball, other JMU coaches showed their support. Student-athletes came to the flower dropping gathering, and the same word popped up on Twitter over and over again: "devastating." 
"Give your loved ones a hug any chance you get," JMU women's basketball head coach Sean O'Regan said on Twitter. 
The outpouring of support for Lauren spread beyond JMU's bubble. JMU baseball traveled to Virginia Tech on Wednesday. Both the Dukes and Hokies honored Lauren — JMU on its hats and Virginia Tech on its wrists. 
"We play for Lauren," Virginia Tech baseball's Twitter account said. 
Now, many softball programs from across the country have come together to share thoughts of her, with multiple teams tying purple ribbons in their hair. Liberty and Tennessee held a moment of silence prior to its game Wednesday afternoon. The Flames — along with Florida and Texas A&M — painted Lauren's No. 22 on the field. George Mason wore purple eye black underneath their eyes and sharpied "It's more than a game" across their visors with Lauren's initials.
Liberty softball head coach Dot Richardson sent a statement to The Breeze:
"We lift up Lauren, her family, friends and her JMU family in prayer. We pray that God provides peace and comfort that only He can give at this time of great loss. Know that we share in your extreme sadness and heavy hearts. We will honor Lauren and her memory tomorrow at our game and continue to lift up her coaches and teammates to the Lord. God be with you today and ALWAYS! Liberty Softball - Sisters in Christ."
Liberty and Tennessee both took on Lauren and the Dukes during JMU's run in the Women's College World Series last season, and JMU and Liberty played each other again on March 6. 
It wasn't just Regionals foes that showed their appreciation for Lauren. Oklahoma softball head coach Patty Gasso said that JMU "made our sport better," highlighting the Dukes' three-game showdown in Oklahoma City in the WCWS semifinals. 
The Sooners' head coach also said her team felt impacted by Lauren, even if it was only the first time the teams truly met. 
"It is hard to comprehend the pain the JMU softball family and Bernett family has to be feeling at this time," Gasso said in a statement to The Breeze. "As an outsider looking in, our softball program is extremely affected by the loss of a member of the college softball community. Playing some intense games in the World Series versus JMU makes this hit even closer to home for our team … It is important that we keep our fingers on the pulse of our teams. Our prayers go out to the JMU family." 
U.Va. head coach Joanna Hardin shared her thoughts on Lauren, sharing how despite the in-state rivalry the two teams may share, Lauren's smile and heart is a part of each player she came across.
"We are heartbroken hearing about Lauren's passing," Hardin said in an email statement to The Breeze. "Being in the same state and so close, our staffs and players are more connected than most programs. The softball world has lost a passionate and courageous young woman."
Over the weekend, JMU softball traveled to Drexel to face the Dragons — the only other team that saw Lauren before she passed. Her performance was capped off with a two-run home run, earning her Conference Player of the Week on Monday before her death. Drexel only spoke highly of Lauren, much like the rest of the conference.
"I, along with everyone at Drexel Softball, was heartbroken to hear the news about Lauren Bernett," Drexel head coach Katie Jansson said in an email statement to The Breeze. "She was truly the embodiment of a student-athlete and she will be deeply missed."
Sun Belt Conference Commissioner Keith Gill also sent a statement to The Breeze:
"The entire Sun Belt family is heartbroken about the passing of Lauren Barnett. It is so tragic to suddenly lose a young person who has had such a positive impact on the world. Lauren, her family and friends, and the entire JMU community are in our thoughts and prayers. I hope fond memories of Lauren ease the grief of all those who knew and loved her."
It rained April 26. Around 2 p.m., it poured. At 2:30 p.m., the rain slowed for JMU to come together to remember Lauren and lay flowers in her honor. 
Almost as if the sky knew to stay clear.
That night, Humphrey drove home on Neff Avenue, according to her Twitter. By the evening, the sky cleared and the sun's rays beamed through the clouds. A sunny end to a tragic day for the JMU and softball communities.
Humphrey, as she noted on her Instagram story, saw the clouds and thought of Lauren.
"So my grandmother told me when you see a gap in the clouds or like sun rays beaming through the clouds it means an angel made to heaven or they got their wings," the post read.
She'd added an arrow graphic to her photo to show a small gap in the clouds. 
Editor's Note: Every life matters. If you're struggling with your mental health, please check out these resources.
Contact Savannah Reger at thebreezeweb@gmail.com. Contact Madison Hricik & Grant Johnson at breezesports@gmail.com. For more coverage of JMU and Harrisonburg news, follow the news desk on Twitter @BreezeNewsJMU.
CORRECTION (4/28/2022 6 a.m.): The print version of the article said Richele Hall was Lauren's coach at South Fayette High School in addition to Team Pennsylvania Fastpitch, Lauren's travel softball team. This article has been updated to indicate Hall only coached Lauren for Team Pennsylvania Fastpitch.