For all public four-year institutions in Virginia, a segment of tuition goes toward a mandatory non-educational and general fee, or as JMU calls it — the comprehensive fee. JMU's comprehensive fee is one of the highest non-E&G fees in the state, but it allows the university to construct, renovate and provide high-quality and high-tech infrastructure. 
Other institutions about the size of JMU, like Virginia Tech and George Mason University, have significantly lower mandatory non-E&G fees. VT's is $2,096, and GMU's is $3,504, while JMU's sits at $4,956. JMU's fee has six categories where money is allocated. The fee goes toward non-academic auxiliaries, excluding room and board.
The largest component is athletics, which takes up $2,058 per student, and the second largest is for maintaining and operating non-academic facilities at $883 per person. JMU has the fifth highest comprehensive fee — or mandatory non-E&G fee — in Virginia, but Charlie King, senior vice president of administration and finance, argues that schools with fewer funds going toward this fee don't have the same quality facilities or services.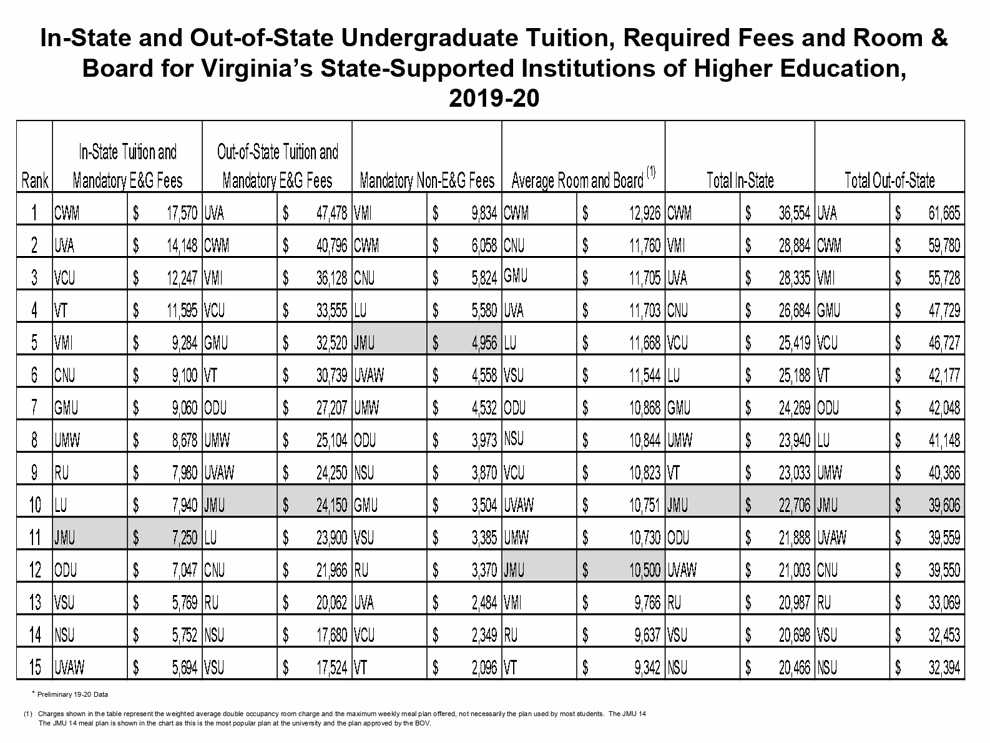 With JMU's $619 million budget, only one-third of the funds come from taxpayers.This 29.9% is allocated toward academic instruction, education and general programs — not including auxiliaries like student health services and athletics. In 2017-18, out of the 15 state-supported institutions in Virginia, JMU receives the least amount of funding from the state.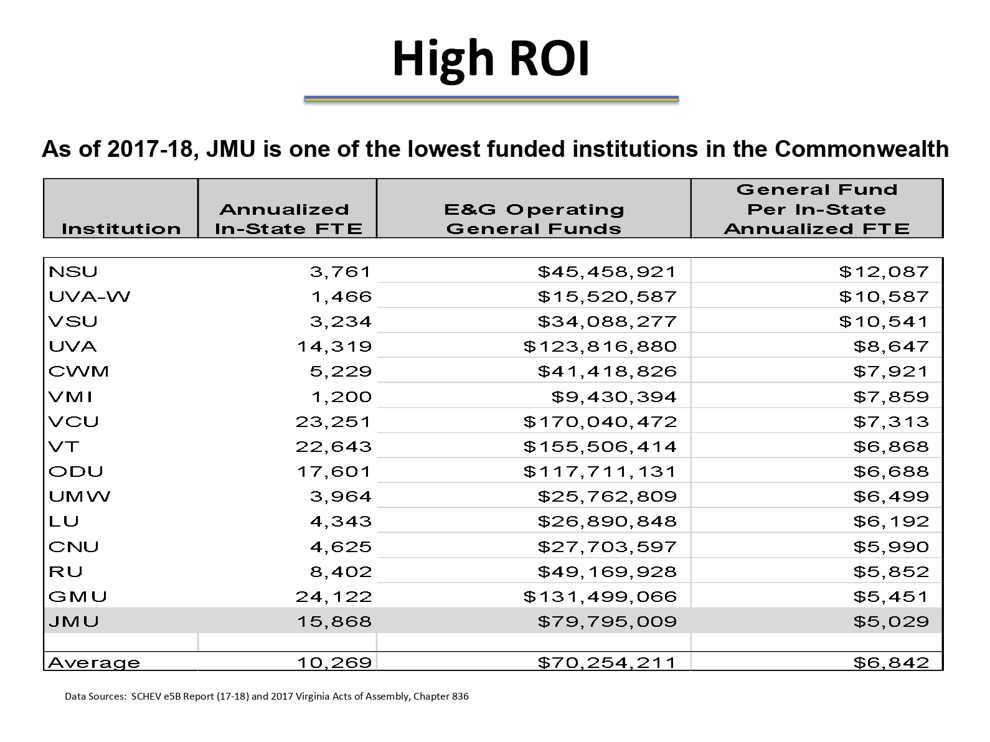 "The biggest problem we've had is over the past 20 years, we've grown tremendously, and we grew during a period of time the state wasn't able to fund us like their formulas said they were, and we just kept on growing and doing it ourselves," King said. 
While King acknowledges that not everyone benefits from certain activities like athletics, he said it's important for everyone to pay the same amount toward one fee rather than people picking what their money goes toward. 
"It's a comprehensive fee for a reason," King said. "It's not an athletic fee, or a bus fee or a parking fee. It's one fee, and it's because we can provide a better package that way when we combine it all together."
Diane Stamp, assistant vice president for the office of budget management, said the comprehensive fee is "self-supporting," meaning all funds allocated from the fee cover all expenses not related to academics, such as salaries. While the cost of JMU's tuition didn't increase for the 2019-20 academic year, the comprehensive fee was raised by $190 to account for the 3% raise given to all JMU employees in July. 
"The revenue that comes in has to pay for everything," Stamp said. "Not only debt service, but salaries for our staff," Stamp said. "If there's a state increase, everybody's a state employee. That goes to our salaries; the comprehensive fee has to support that."
JMU places high importance on the comprehensive fee because of the resources it provides to the community. Bill Wyatt, the university spokesman, said that having access to high-quality facilities like UREC and the University Health Center is crucial. 
"The quality of the student services we provide, that's a commitment from the university," Wyatt said. "You know, we believe as a university that those services are just as important for a student's success as, you know, being successful in the classroom."
Compared to other college campuses in Virginia, King and Wyatt agree that JMU takes pride in its "private" feel, meaning that even though the university has about 21,000 students, its campus still has an intimate atmosphere. 
"When we put an emphasis on student services, it always makes that difference," King said. "And this is a long-standing tradition at this institution."
Contact Katelyn Waltemyer at breezenews@gmail.com. For more coverage of JMU and Harrisonburg news, follow the news desk on Twitter @BreezeNewsJMU.