This past summer, JMU's Center for Entrepreneurship selected nine student-created businesses to participate in the center's first summer starter program. The businesses received eight weeks of business acumen training, a stipend and a workspace for their business.
The fellows from the inaugural round of the program pitched their ventures Nov. 10 to show the JMU community what they've been working on. The ventures weren't seeking money from investors during this presentation, but they each pitched their company, similar to businesses on the TV show "Shark Tank." JMU's First Lady Mary Ann Alger, the board of visitors, faculty members and students were in attendance.
JMU spent $64,000 on the nine businesses in the fellowship, and they collectively earned $545,000 in capital from investors. Each of the businesses are licensed in Virginia, and they all still operate six months later.
Some of the speakers gave advice for JMU students interested in entrepreneurship.
Barath Krishnamoorthy, a JMU alumnus ('12), is the CEO of Axle, a venture-backed tech startup. He left his job as a mergers and acquisitions lawyer in New York to pursue the business.
During college, Krishnamoorthy said he let his friends and family steer him toward the career they thought was best for him.
"Like most of my friends, I called shotgun and let inertia take the wheel," Krishnamoorthy said. "I took the LSAT, went to Columbia Law School and ended up as an M&A lawyer. Nothing could wash away the existential dread I faced every day that I went to work."
He said it dawned on him how meaningless his career was for him. He decided to quit his job and start a business with his best friend. After seven months, Krishnamoorthy is now the CEO of a burgeoning tech startup.
"Even if it all comes crashing down, this will have been the most fulfilling experience of my life," Krishnamoorthy said.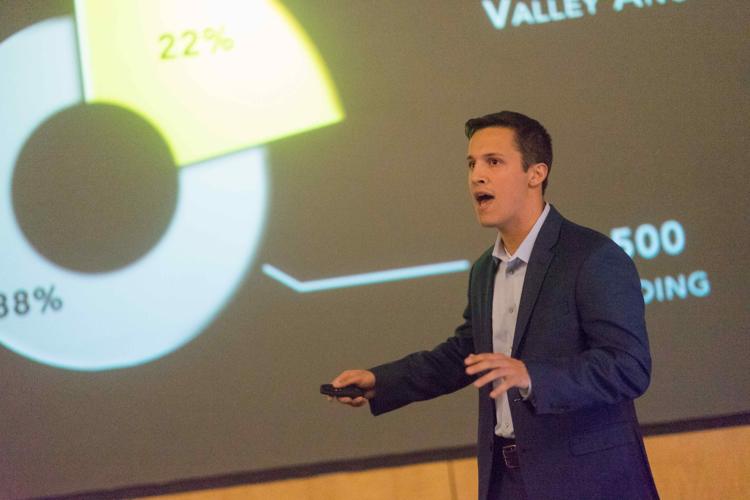 Krishnamoorthy advised students to take advantage of everything JMU has to offer for entrepreneurs. He also urged JMU students to find their own path in life. 
"Never step out of the driver's seat," Krishnamoorthy said. "Making decisions is hard. Deciding how you spend your life is really hard. But don't just follow the herd, don't just stay in your comfort zone and don't just worry about status. Explore new opportunities, build your skill set instead of your resume and don't be afraid to take risks. Because the biggest risks are the ones that you don't take."
Chris Ashley, a JMU alumnus ('17) and Richard Xu, a senior engineering major, developed a machine that combines 3-D printing, laser-cutting, and other manufacturing technologies into a single machine that uses a swappable head system.
"Small batch manufacturers … are forced to choose between a machine that they can afford, but doesn't really do what they need it to do, and on the other hand, a machine that does exactly what they want, but it's way out of their price range- it's hundreds of thousands of dollars." Ashley said.
Ashley's advice to students who want to start their own business is to surround themselves with entrepreneurial-minded people.
"Don't let not having an idea discourage you," Ashley said. "There's plenty of students around campus … and other people you know that have great ideas and don't have the skills or don't know how to execute on it, or maybe they just need that push. There's a plethora of ideas out there."
Patrick McQuown is the director of the Center for Entrepreneurship and mentor to the fellows. He started Proteus, the mobile voting service used by "American Idol." McQuown said that developing a great idea is all about empathy.
"You can really empathize with the process that somebody goes through with what whatever you're passionate about, you can potentially make a venture out of that," McQuown said.
McQuown emphasized that the venture fellowship is open to any student at JMU, not just business majors. The students in the current fellowship include those with majors in health sciences, engineering, economics, marketing, computer science and intelligence analysis.
"The biggest thing that makes you an entrepreneur is doing something," McQuown said. "If you're interested in that and you think you have the passion for that, we want to hear from you."
Contact Jillian Lynch at lynch8jm@dukes.jmu.edu. For more coverage of JMU and Harrisonburg news, follow the news desk on Twitter @BreezeNewsJMU