After discussion with The Breeze's legal counsel in December, JMU legal counsel announced that JMU has chosen to continue to withhold daily COVID-19 case data broken down by dormitory or off-campus designation following several informal and legal requests by The Breeze for the locational data, citing privacy concerns for JMU students. Instead, the university has provided The Breeze with long-term, aggregate data spanning the period of Sept. 17 through Dec. 4, broken down by on-campus residence building.
Mary-Hope Vass, JMU spokesperson and director of communications, provided a statement in an email to The Breeze, saying that while JMU values transparency, the university has to consider student privacy in any data releases. The university declined to have its legal counsel comment for The Breeze.
"While we are supportive of providing requested data and openly conversing about the impact of [COVID-19] at JMU, we also have a responsibility to support the protection and privacy of our students," Vass said in the email. "We are balancing releasing positive cases without singling out students, who test positive by their dorm during a specific time period."
JMU began publicly recording COVID-19 case counts within its community — both positives tested at the Health Center and self-reported cases — on its "Stop the Spread" dashboard on Aug. 17. However, the data displayed on the dashboard is only represented in aggregate totals with no locational breakdown of data. 
The university refused multiple informal requests and Freedom of Information Act (FOIA) requests from The Breeze for daily data broken down by residence building before releasing the aggregate set for the period of Sept. 17 to Dec. 4., citing several legal privacy statutes — such as the Health Insurance Portability and Accountability Act (HIPAA) and the Family Educational Rights and Privacy Act (FERPA) — and claiming that the release of locational data would identify individuals with COVID-19.
The Breeze made its first request for daily case counts broken down by location Aug. 20, and was provided with the following response via email by JMU's communications office: 
"Per federal patient privacy law (HIPAA) the university cannot release 'individually identifiable health information,' or information that is a subset of health information, including demographic information. Therefore, the portions of your request related to the 'number of positive student tests, broken down by number per campus dormitory,' and 'number of positive student tests, broken down by self-reports from off-campus students' is denied."
However, after discussions between legal counsels for The Breeze and the university, JMU has chosen to release the cumulative locational totals from Sept. 17 to Dec. 4 instead of a daily breakdown going back to when JMU first started tracking cases in August. According to The Breeze's COVID-19 dashboard, the largest spike of cases JMU has seen occurred from Aug. 24 to Aug. 31, approximately two weeks before the dates within which aggregate locational data has now been provided to The Breeze. 504 cases — including both on- and off-campus residents — were recorded in that late August timeframe — nearly a third of the total 1,671 positive cases JMU has seen since it began publicly tracking cases Aug. 17, according to The Breeze's COVID-19 dashboard.
According to the data provided by the university, between Sept. 17 and Dec. 4, Chappelear Hall recorded the most COVID-19 positives with nine. White Hall saw eight cases, and Paul Jennings Hall and Chesapeake Hall both recorded seven, respectively. No other on-campus residence buildings, including those on Greek Row, recorded more than five cases within the dates in which aggregate locational data was provided to The Breeze.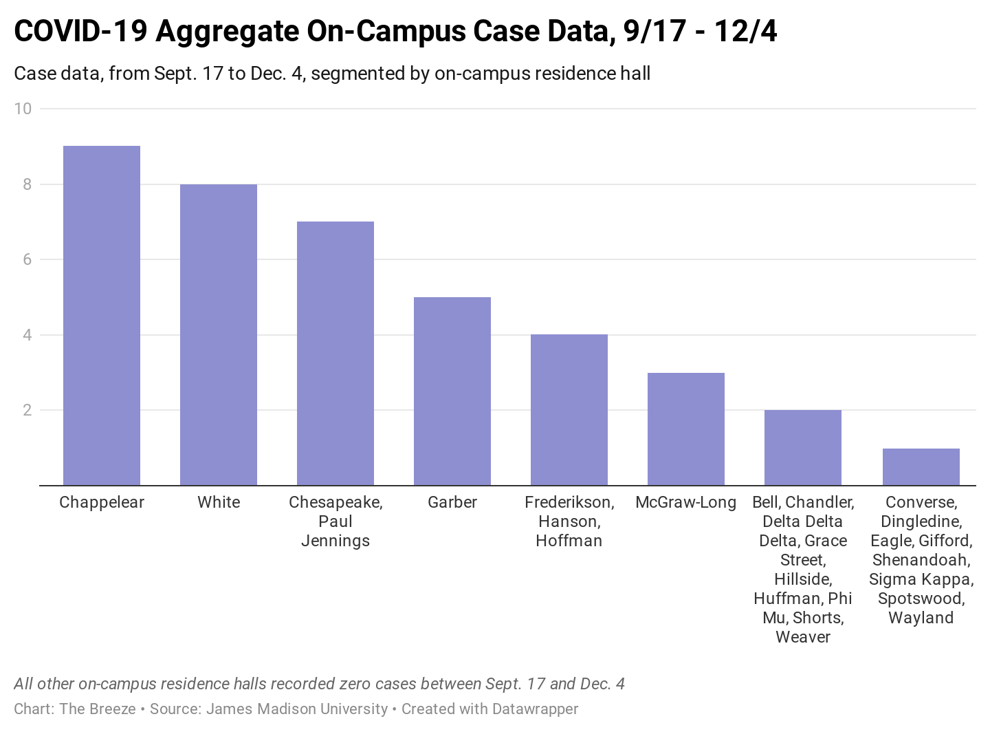 JMU has only provided The Breeze with locational COVID-19 case data spanning back to Sept. 17 because, "September 17 is when we started keeping track," JMU legal counsel said in an email to The Breeze's legal counsel. 
Tim Miller, JMU vice president for student affairs, explained that while the University Health Center's (UHC) pre-existing medical records system allowed for the input of COVID-19 test results for each student's records, the system wasn't able to pull out an aggregate table or visualization of data by dormitory. Because of that, Miller said, once JMU saw a growing need for the ability to quickly analyze trends in dorms, a new tool was developed to allow for a pull-out of data by location.
"There weren't [sic] the numbers, initially," Miller said. "When you had two [cases], you knew you had two — and that was easy to do — but when you have two in this hall and two in that hall and two in this other hall, then you're like, 'OK, now we need to be able to actually see this to be able to better track if there are any growth [sic] of those numbers in a way that would concern us.'"
Miller described the university's experience with COVID-19 as a learning process and an unknown, meaning that solutions and public health policies have had to be adjusted or created as the situation evolved.
"The whole thing about this all year has been a learning experience for everybody," Miller said. "I meet with the [vice presidents] of other schools every week … and every time we talk, there's, like, 'Oh yeah, what's the newest thing that we've all learned that we need to create or do or do different?'"
Ryan Ritter, JMU student body vice president, said he believes the university is doing an "alright job" with transparency relating to COVID-19 case numbers and its "Stop the Spread" dashboard. However, he said, any information that the university can legally release, it should be publishing. Last week, JMU received a grade of "F" in a watchdog report on institutional transparency in Virginia higher education conducted by the Partners for College Affordability and Public Trust.
"I don't think [JMU] should be hiding anything that [it] can legally broadcast to the student body and to the JMU community," Ritter said. "Public image, I don't think should take precedent over the safety of our community."
Despite the introduction of the updated locational data visualization tool created for the UHC in mid-September, The Breeze is still pursuing a daily record of COVID-19 cases broken down by location going back to when JMU first started recording cases in August, as well as an identical record broken down by location for each day going forward. The university, however, maintains that student privacy concerns guide its decision-making surrounding the release of location case data.
"Due to the seriousness of [COVID-19], we must ... foster an environment where students aren't afraid to self-report and get tested out of fear that their positive cases, date of positive case and residence hall location will potentially be released," Vass said in the email to The Breeze.
Contact Jake Conley, investigations editor, at breezeinvestigations@gmail.com. For more coverage of JMU and Harrisonburg news, follow the news desk on Twitter @BreezeNewsJMU.