The legacy of the Confederacy no longer exists in the buildings at JMU, as the Board of Visitors (BOV) approved new names for three buildings on the Quad after prominent Black members of the JMU community. 
"They were strongly recommended from our own community," President Alger said. "From hundreds of people, those were names that emerged from that process."
Joanne and Alexander Gabbin, Sheary Darcus Johnson ('70, '74M), Doris Harper Allen ('19H) and Robert Walker Lee were chosen after recommendations were made by senior leadership in collaboration with the Campus History Committee, Alger said. The Gabbins have been professors at JMU for more than 35 years, Johnson was JMU's first Black student and graduate, Allen cooked for Madison College President G. Tyler Miller, and Lee worked in maintenance and was the first Black employee of the school.
"Collectively, they represent not just individuals, but these different constituencies that make up the university," Alger said. "So, we really are honoring not just individuals, but all of those different groups that make up the university community."
After the Board voted to remove the Confederate names in July 2020, the halls were temporarily renamed. Mountain Hall is now Gabbin Hall, Justice Studies Hall is Darcus Johnson Hall and Valley Hall is Harper Allen-Lee Hall.
"People walk by buildings and into buildings all the time without thinking about, 'Where did this name come from?' 'What does it mean?'" Alger said. "We are trying to be intentional about telling that history in more and better ways."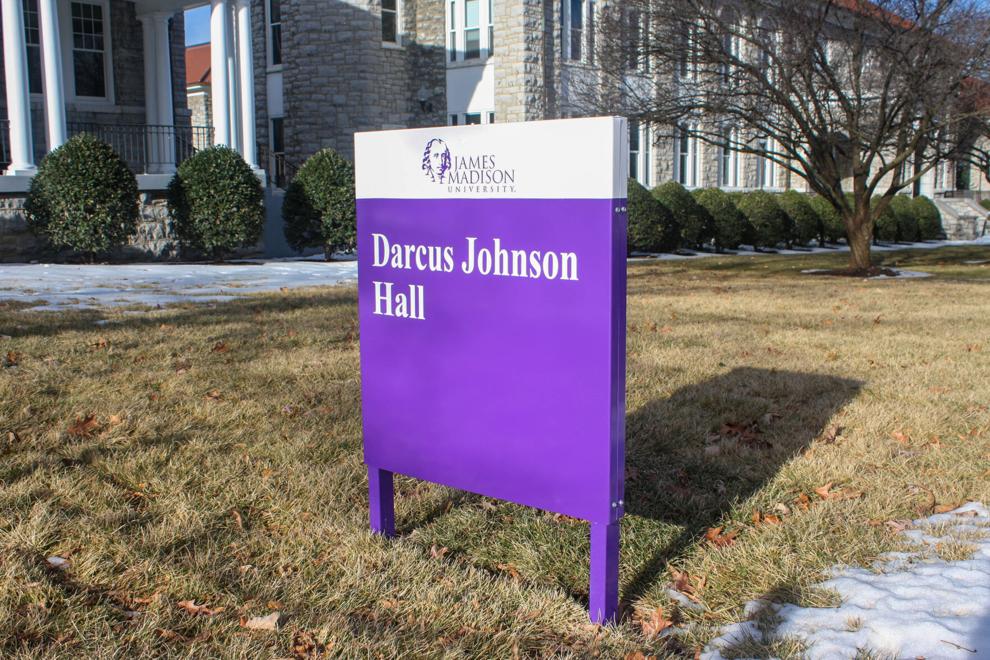 Sophomore international affairs major and president of College Democrats Billy McKeon said he's glad JMU no longer celebrates "racists" on campus and that minorities might feel more welcome at JMU now.
"While people who were part of the Confederacy were once part of our country, there's history textbooks and museums for those people," McKeon said. "I think this is a small step in the right direction for helping minorities feel more welcome on our campus."
College Republicans couldn't be reached for comment.
Brent Lewis, associate vice president for diversity, equity and inclusion, wasn't at JMU until after the decision to rename was made, but he said he thinks the process was "well done." He said for the process to have begun over the summer and already have new names by February was something he was very happy about.
"It shows our commitment to our value to diversity, equity and inclusion," Lewis said. "To be in February and have new names and have engaged with our campus constituents in a way that has been inviting and transparent, I think, is effective."
Alger said he thought it was important that the renaming happened during Black History Month since "symbols matter." He said the Task Force on Racial Equity will continue to work on what the university can do to keep making positive change. 
"[The task force is] looking systematically at every aspect of what we do at the university, so it's not just about building names," Alger said. "It's about how we recruit students and faculty and staff, it's about campus climate, it's about tenure and promotion and hiring policies."
Alger said that sometime in the fall, there'll be a celebration, hopefully in-person, with the families present. He said there are no plans to change any more names at this time but that the university will continue to make progress with every generation.
"It does send a powerful message that the university is evolving," Alger said. "We should be a better and stronger and more inclusive and more welcoming university as time goes on."
Contact Eda Tercan at tercanea@dukes.jmu.edu. For more coverage of JMU and Harrisonburg news, follow the news desk on Twitter @BreezeNewsJMU.