On June 12, an estimated 350 individuals marched from Warner Commons to the Spirit Rock — signs in hand and masks worn — for JMU's "March for Our Lives," a student-led protest organized by JMU's NAACP chapter to shine a light on systemic racism and police brutality. The march concluded with protesters painting the phrases "Black Lives Matter," "No Justice, No Peace" and "Abolish ICE" on Spirit Rock.
Since then, the rock has been defaced on at least one occasion. The word "Black" in the phrase "Black Lives Matter" was chipped away, leaving only remnants of the phrase "Lives Matter" behind. It was also alleged Thursday that the rock may have been defaced again in a second incident. Since the alleged second defacing, the rock has been painted entirely black.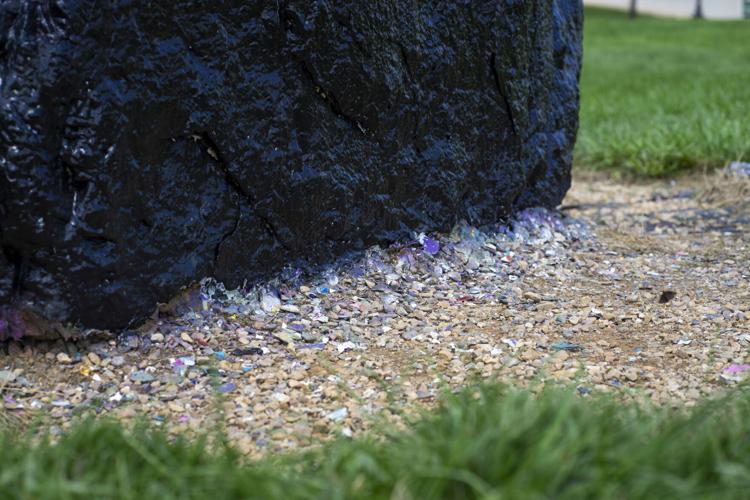 The initial incident eventually prompted JMU's official Twitter account to respond. A statement signed by President Alger, Vice President for Student Affairs Tim Miller, Executive Director of Campus and Community Access and Inclusion Art Dean and Provost and Senior Vice President of Academic Affairs Heather Coltman was released Wednesday. It informed the community that JMU has yet to find a group or individual responsible for the defacing. Additionally, it revealed that JMU will install cameras to focus on the Spirit Rock in an attempt to prevent future vandalism. JMU also condemned the actions and acknowledged that it supports its Black students, faculty and staff.
"This defacement and vandalism does not constitute free speech and is not acceptable," the statement said.
Noa Banks Greene, a junior health sciences major and president of JMU's NAACP chapter, said most members of JMU's NAACP chapter were not surprised at the defacing of the rock.
"We were kind of waiting for it because it had been there all summer," Banks Greene said. "We were a little disappointed that JMU really didn't say anything until like a week later, basically just to kind of cover themselves."
The Breeze's interview with Caitlyn Read, director of communications and university spokesperson, was conducted prior to the alleged second defacing of the rock. Additionally, the statement made by JMU administration on JMU's official Twitter was released prior to the alleged second incident. As of Friday, JMU's official Twitter account hadn't commented.
JMU was denounced on social media by various accounts for not immediately responding to the initial incident. However, Read said Miller was in contact with JMU's NAACP chapter directly after finding out about the defacement.
"Immediately upon finding out about this, our vice president of student affairs was in touch with the NAACP chapter here at JMU asking them if they need support, how they want to proceed, so there has been close cooperation between the student groups and administration," Read said.
Banks Greene said Miller reached out to her and the vice president of JMU's NAACP chapter over email and asked them how they wanted to handle the situation.
"We basically told him that JMU needs to have a zero-tolerance policy for racism on campus," Banks Greene said. "That's the only way to move forward. I know that right now they're trying to get through a list of demands that the Black community has of what needs to change … Before we move forward, you really just need to tell the community that this is unacceptable, that it will not be tolerated and that there will be consequences if it does happen, which they have yet to quite do."
Despite JMU's efforts, in a tweet posted by the JMU NAACP chapter's account, the group criticized JMU for its response to the incident, which the chapter referred to as a "hate crime." 
The tweet also expressed discontent with JMU for its choice to begin the fall semester in the midst of the pandemic, saying "A week from today: Thousands of students start class in fear of not just a pandemic, but also blatant racism. But Go Dukes, right?"
Quick Timeline:
1 week ago: People return to campus and the rock is vandalized

Today: Still no public address from @JMU condemning this hate crime

A week from today: Thousands of students start class in fear of not just a pandemic, but also blatant racism.

But Go Dukes right? pic.twitter.com/tbAUmuBSBI

— NAACP JMU Chapter (@JMUNAACP) August 19, 2020
The Instagram post from the JMU NAACP chapter, which highlighted the events that led to the rock's painting along with the emotional response from the organization following the vandalism, generated nearly 30 comments and over 1,100 likes, many of which tagged Miller — along with JMU's official Instagram account — and encouraged them to take action. Commenters described the situation as "deplorable" and "unbelievable" and urged JMU to "tighten up."
"So welcome to JMU, Fall Semester 2020," the JMU NAACP chapter said in its Instagram post. "COVID 19, Racist Edition."
Read said she hopes that those who see what happened to the Spirit Rock on social media platforms "dig a little deeper" before forming unfavorable opinions of JMU.
"We hope people will take the time to fact check what they see on social media," Read said. "What happened to the rock is not a representation of work that's been done. It is a representation of work that needs to be done — there's still work to do."
An additional on-campus organization, Student Coalition Against Racial Injustice (SCAR), which was formed by JMU football players Semaj Sorhaindo and Mike Johnson in mid-June in response to the nationwide Black Lives Matter movement, is working to end racial injustices that exist in the JMU community. 
Zenobia Lee-Nelson, secretary of SCAR, also said the organization "was not surprised" when the Spirit Rock was first defaced earlier this week. She also said JMU practices "gradualism," as she said she believes JMU is moving at too slow of a pace to get "such a simple thing done." She also said she believes there shouldn't have to be a task force to protect minorities on campus, and that should "just be an automatic thing."
"There should be plenty of resources, all the resources that are here," Lee-Nelson said. "All of the money that JMU brings in, there should be resources to support these minority students."
With SCAR's vision statement being, "To create a University and Community where S.C.A.R. does not need to exist," Lee-Nelson said the organization's top priority is to make sure JMU minority students feel safe.
"When you have things like this that happen on campus, how are you supposed to feel safe?" Lee-Nelson said. "How are you supposed to feel like you're in an environment that actually cares about you?"
Banks Greene said she didn't think JMU's statement following the initial defacing of the rock was enough to protect students from similar acts in the future.
"In that statement, it almost felt like JMU was like, 'we tried, but you know, there's nothing we can really do about it,'" Banks Greene said. "'There's nothing [JMU] really wants to do about it.'"
Read said it hasn't been determined when the cameras will go up, but she said she doesn't believe their implementation will deter anyone from painting or repainting the rock. Although the rock is used for student expression, Read said this incident fell outside of appropriate guidelines.
JMU's Student Handbook outlines the university's policy regarding damage, attempted damage or vandalism of property, saying, "No student shall intentionally or unintentionally damage, attempt to damage, or otherwise vandalize or attempt to vandalize property belonging to the University or another person or entity."
"When somebody's expression is chiseled off the rock, that's not what we consider an act of self-expression, that's vandalism and defacement," Read said. "So, those who want to participate with the rock in good faith to go paint and repaint like we have done for years and years, they should not be deterred by the fact there's cameras there."
It was also alleged Thursday that the rock may have been defaced in a second incident. Timothy LaPira, a political science professor at JMU, tweeted that additional defacing "must have happened [Thursday] after 8:45 a.m." LaPira said on Twitter that he rode his bike by the Spirit Rock and saw the restored message prior to the alleged second defacing. LaPira also tagged JMU's Twitter account in his tweet, saying that he has his "ride tracked if @JMU public safety needs evidence. That is, if they're investigating."
This MUST have happened today after 8:45am. I rode my bike by, and the freshly painted BLM message was there. I have my ride tracked if @JMU public safety needs evidence. That is, if they're investigating. https://t.co/B2gmdZtRBe

— Tim LaPira (@timlapira) August 20, 2020
In addition to cameras, Read said she believes the university would benefit from having further rules in place regarding the use of the Spirit Rock. While painting and repainting the Spirit Rock has been a tradition since its placement on East Campus in 2011, she acknowledged the space has few guidelines to assist in creating an atmosphere where students can safely express themselves.
"I think it will be incredibly helpful for the administration to work with the student body to, sort of, come up with some sort of rules of engagement," Read said. "For a number of years, it has just been a relationship where students trust each other to paint and repaint. But, I think it will be helpful going forward to, sort of, better understand, 'what are the rules of this space?' And, 'what are the ways in which we would encourage people to engage with the rock?' So, there's some things in the works."
Contact Connor Murphy & Carley Welch at breezenews@gmail.com. For more coverage of JMU and Harrisonburg news, follow the news desk on Twitter @BreezeNewsJMU.