At this year's March and Speak Out event at JMU, the words from a letter Martin Luther King Jr. sent from a Birmingham Jail were the forefront.
"Whatever affects one directly affects all indirectly." 
The JMU community was invited to participate in the event, which has been organized by the Center for Multicultural Student Services at JMU for the past several years.
This year, March and Speak Out began with students and staff gathering at Varner House, where various student organizations handed out picket signs and posters for participants to hold as they marched through campus. Once everyone was ready, Ginger Barbour, a sophomore theatre and health science double major, gave a short speech highlighting the message and King's influence.
"This week, we really wanted to focus on how we can connect everyone and bring everyone back together because a lot of people have been really divided on campus," Barbour said. 
Once Barbour finished, everyone lined up, and the march to Madison Union began. As the crowd started to move toward its endpoint, several stops were made along the way where marchers were met with students of different backgrounds discussing King's impact and the importance of his message of inclusivity and integration.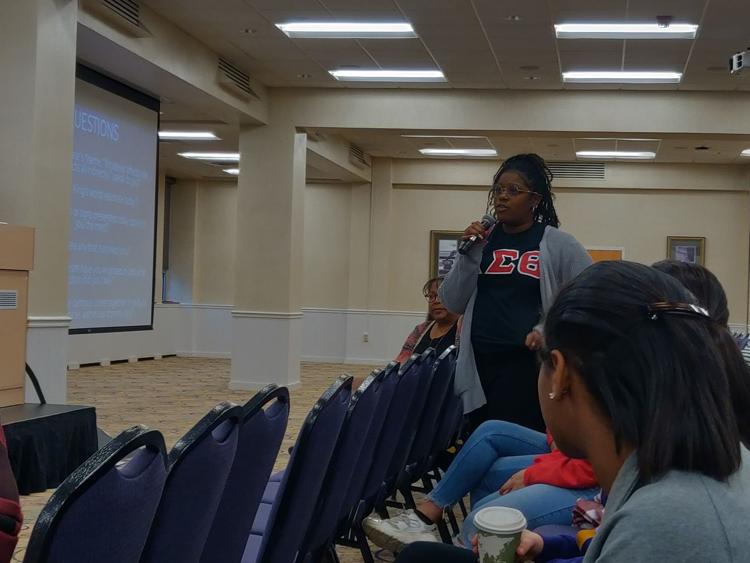 These student speakers stressed the message that all JMU students have to make a difference on campus, emphasizing that it's young people's job to make their own futures bright. 
As students and staff approached Madison Union, marchers handed in their picket signs and went upstairs to the ballroom where the "Speak Out" portion of the event began. Once everyone was settled, students and staff were invited to respond to questions dealing with King's influence and social activism in general.
Micah Wood, a senior cultural communications major, was one of many students who spoke out about King's legacy. 
"For me, he's not just one person; it's everybody," Wood said. "All the people who were behind him, all the people who marched with him—all of them were a part of him becoming Dr. King." 
Cierra Ballinger, a graduate student pursuing a master's degree in education in college student personnel administration, is a student who played a role in organizing and running March and Speak Out as a part of CMSS. She said she's passionate about social activism and becoming involved with different groups and people in the community. 
"I really encourage people to step outside of your comfort zone and learn about people who are not like you," Ballinger said.
Ballinger noted that it's important to learn about groups and people whom one may not be familiar with so that they can understand others better and the issues that they face. Tying some of her personal values back to King, Ballinger went on to discuss how as a mixed-race black person, she might not be here today if it weren't for King and the civil rights movement's impact. 
"The efforts and contributions of Dr. King are ones that will never be forgotten ever and never should."
Contact Justin Hennessey at [hennesjt@dukes.jmu.edu] For more coverage of JMU and Harrisonburg news, follow the news desk on Twitter @BreezeNewsJMU.