When Laura Keane ('20) gets back at 7 a.m. from her 12-hour shift, she takes off her jeans and long-sleeved shirt at the front door and immediately jumps into the shower. After showering, she eats chicken and rice and is in bed by 8:15 a.m.
For Keane, this has become her new normal. She's been working at Sentara RMH Medical Center in Harrisonburg since August 2019 as an emergency department technician. Now, she's working the front lines during this pandemic. 
"It's been a little bit stressful [since there's] constant changes," Laura said. "But it's also a little bit exciting because I've seen a new developing virus, which is something that not a lot of people experience firsthand." 
Keane has been an EMT since she was 16, working on an ambulance and fire engine. Once she came to JMU, she worked at the Student Health Center. She said she eventually realized she wanted to work at a hospital and got a job at Sentara. 
In her role, she's what the hospital calls "big trucks." She helps triage patients, which is determining the priority of the patients, starts IVs, draws blood and assists the nurses in any way she can — she also works in the emergency room. 
Keane said she started to see a change in how the hospital functioned toward the end of March. Before, she and other staff members didn't talk about COVID-19 as much — no one expected the virus to spread as much as it has. This changed once the first case of COVID-19 was diagnosed in Harrisonburg. 
"We had some general precautions [such as], 'Make sure you're screening,' 'make sure everyone isn't traveling' and 'be aware,'" Keane said. "Soon as we had our first case, everything went into, 'You need to be wearing your mask for everyone and making sure you're screening everyone.'" 
Keane said one of her biggest concerns is spreading the virus to others. Even when traveling was restricted, Keane still saw people partying while on her way to work. As a health care worker, this virus has caused her to be more aware of who she interacts with.
To prevent herself from getting the virus, she wears a circle mask and a face shield. If she's with someone they suspect or know is positive with coronavirus, she also has an N-95 mask, and she must wash her hands after interactions with each patient.   
Working on the front line has caused her to live alone in her Harrisonburg apartment and not be able to go home to Northern Virginia to see her family. Her dad, Sean Keane, said they haven't seen her since the beginning of March.
"It's a feeling of disconnect right now," Sean said. "School is closed, but she can't come home at the moment until she's off work long enough and then quarantining. Just a concern; she's fine but she's out there on her own."
Laura's roommates have also been impacted. They haven't gone back to the apartment since before spring break to reduce their chances of getting the virus.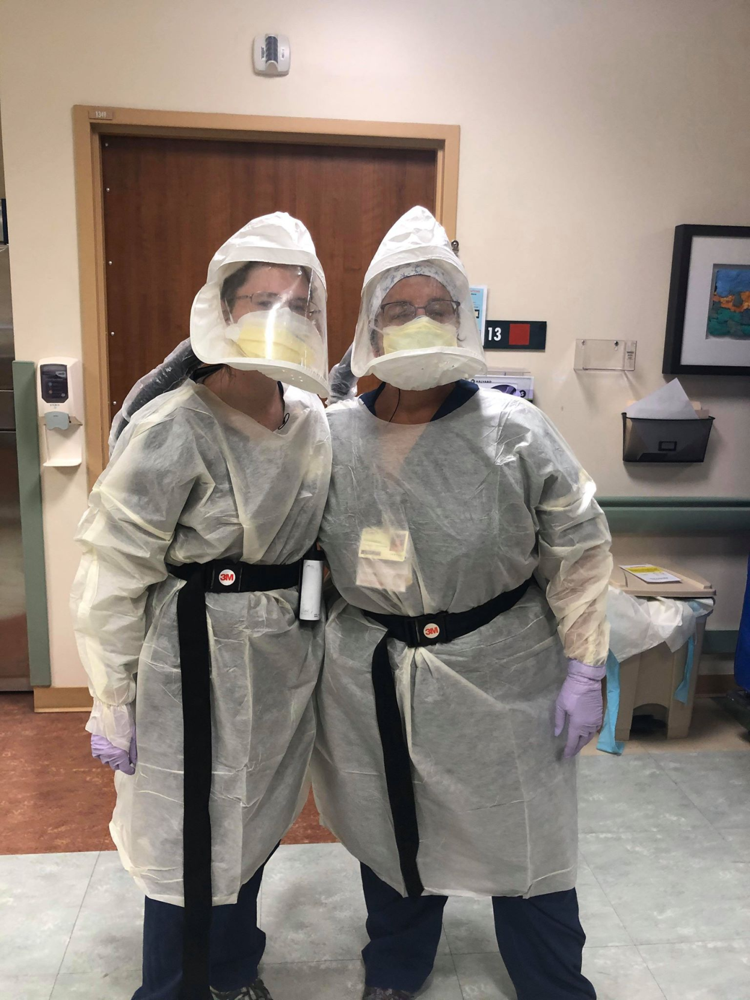 Her roommate Hannah Patterson, a junior media arts and design major, was offered a full-time position at Madison Union for the summer, but had to decline due to the potential of being exposed. Although she had to change her summer plans, she's still concerned about Laura.
"One day she just texted all of us and said a bunch of patients came in fully presenting for COVID-19," Patterson said. "I am so worried that she would get [the coronavirus] and that she would have to be all alone." 
But, Patterson said she's also proud of Laura for continuing to work. During this situation, Laura also had to make sure she completed online classes to graduate. She said it's been an easy switch for her, and the pandemic has also given her a chance to apply what she's learned at JMU to her job. She learned health literacy, which is the ability to understand basic health concepts, such as what certain tests indicate, why they should wear masks and where to go for medical care.
"I've been able to apply that with my patients and know how to explain concepts to patients that may have lower education," Laura said. "Health literacy is a huge challenge with every patient population, but especially in Harrisonburg given the amount of diversity in the area."
Although Laura has picked up extra shifts and has been unable to see her family, her dad says she was taught to have a great work ethic and stand up to her commitments. 
"She's determined," Sean said. "If she sets her mind to something, she'll do everything she can to make it happen."
In the fall, Laura will be continuing her education with JMU's physician assistant program. She said working during this time has given her memories and stories she can tell for years to come.
"In 20 years, I'll be able to tell my patients I was working in the ER during [the pandemic]; I think that's kind of exciting," Laura said. "But also for me, it's just another day. I got into healthcare to help people and when something like this happens, that's what you do — help." 
Contact Talia Davis at davisty@dukes.jmu.edu. For more coverage of JMU and Harrisonburg news, follow the news desk on Twitter @BreezeNewsJMU.