Over recent months, the hashtag #DoBetterYoungLife has grown increasingly popular on social media as past members of Young Life — a religious organization focused on evangelizing Christian messaging to middle school, high school and college students — have come forward to share stories of discrimination or harassment they said they experienced during their time in a Young Life chapter, and JMU's own Young Life chapter hasn't been left out.
Bradley Allan, a junior photography student at JMU and a past member of JMU's Young Life College — the college-focused branch of the Young Life organization — chapter, posted a statement on his Instagram account July 15 detailing alleged mistreatment he received within the Young Life community at JMU for being openly gay. As of Aug.14, JMU's Young Life chapter hasn't publicly responded to Allan's allegations.
"Young Life claims that … every kid, every person, 'You are welcome here; you are loved no matter who or what you are — we want you,'" Allan said. "But, if you don't fit Young Life's own … purity requirements, then you're almost, like shut out."
In its value statement, Young Life states that it [accepts] "All kids — reaching adolescents of every ability and all economic, cultural and ethnic backgrounds."
Though sexual orientation and gender identity aren't mentioned in the public-facing value statement, an internal Young Life document obtained by The Breeze detailing the organization's sexual misconduct policy states the following:
"With regard to the delicate matter of homosexual lifestyle and practice, in the light of biblical data regarding creation, Young Life believes such activities to be clearly not in accord with God's creation purposes … We do not in any way wish to exclude persons who engage in sexual misconduct or who practice a homosexual lifestyle from being recipients of God's grace and mercy as expressed in Jesus Christ. We do, however, believe that such persons are not to serve as staff or volunteers in the mission and work of Young Life."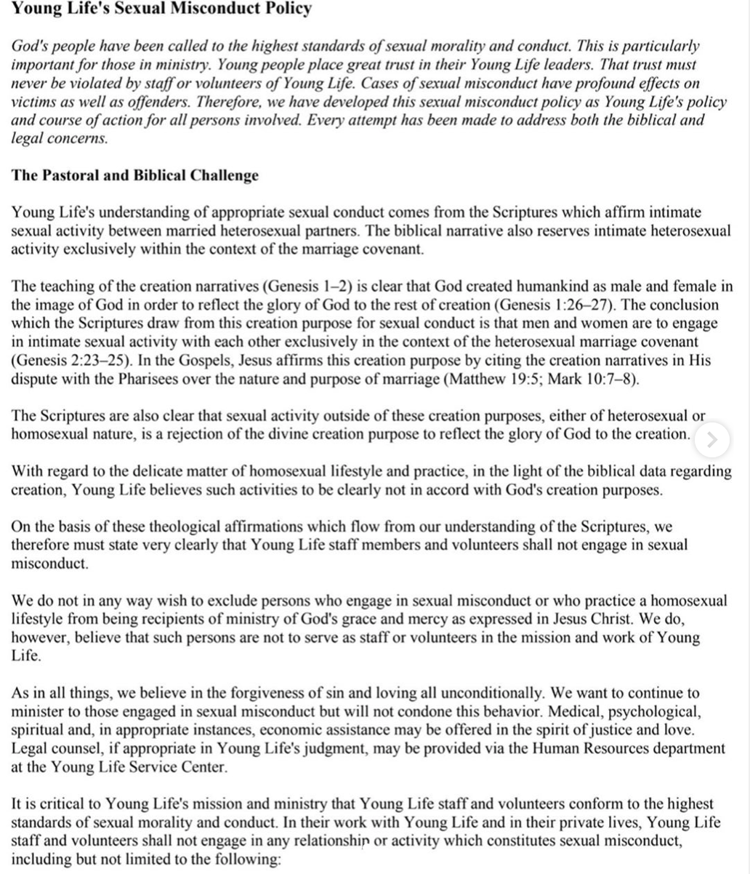 Publicly, however, there's no mention on Young Life's website that describes its stance against non-straight sexual identities. However, according to internal messaging, Young Life's upper leadership is aware of the growing conversation.
An internal document sent to staff members from Terry Swenson, Young Life vice president of communications, obtained by The Breeze discussing the #DoBetterYoungLife hashtag states the following: 
"Depending on your network or geography, this may feel like a viral phenomenon. While we're still trying to get a sense of the scope and trend of this 'conversation,' it may not be as big as it feels. Of course it's serious and we want to be diligent and prayerful."
It also lists several "talking points" staff members and volunteers are encouraged to use when discussing the hashtag. These include to "Stress that we seek to be faithful to our sincerely held beliefs regarding sexuality while showing grace and humility toward those who do not share those beliefs," and "Point to the common interest we all have in creating a safe space for LGBTQ youth and for giving them a chance to experience and respond to the gospel."
The document also states that, "We're generally not engaging or doing anything to add momentum to this." Swenson didn't respond to multiple emails and phone calls from The Breeze.
Bradley
Allan said he joined Young Life with the intent of ministering to LGBTQ youth, hoping to be able to connect to kids who could relate to what he'd gone through as a gay Christian.
"It's so much harder to reach those kids when they can't see themselves in you or they can't relate to you," Allan said. "Like, if you're trying to minister the gospel to a young, gay black kid and you're a straight white dude … it's not gonna register as far as it could if gay people were allowed to lead, or anything of that nature."
In his statement, Allan detailed multiple instances of alleged discrimination pertaining to his sexuality he said he experienced while involved in JMU's Young Life chapter. When he was looking to move into a house typically used by male Young Life members, he said in his statement, his future roommate requested a meeting in which he questioned Allan about his "intentions." Allan said that while he had initially believed the meeting was going to be about his goals for his Young Life involvement, the future roommate instead questioned him about his ability to "control his desires" in situations such as if other house members were partially dressed.
Describing the implication behind the conversation — which, he said, was conducted by his roommate at the direction of Dave Sloop, the Young Life area director who oversees JMU's chapter — Allan said, "If my answers were anything other than, like, 'I'd be fine,' then there would have been an issue, right?"
Allan also said in his statement that when he applied for a leadership position, he was told by Sloop that his sexuality could likely disqualify him from getting one. Recounting the conversation, Allan said Sloop called his sexuality a liability. He said Sloop would say things like, "Say you are a high school or [middle school] leader, and you're hanging out with, you know, a group of boys, but then some mother or father who is stuck in the '60s gets wind that you're also gay. They could sue us, and we would be liable, so that's not … a risk we can take."
After that conversation, Allan said, he met with Sloop and the Young Life College director, Sarah Cummings, about his desire for a leadership position and decided to tell them that he had chosen to suppress any and all romantic and sexual desires and to devote his time at JMU entirely to God. In return, he alleged, both Young Life leaders said they applauded his maturity and that because of his decision for internal suppression, he was now a top candidate for leadership placement.
However, when the phone calls came to inform new leaders of their selection, Allan's phone never rang — a decision he alleged is a direct result of his sexual identity.
"It says in the Bible that you're meant to minister and spread the gospel to every person that we meet, and so why should it matter at all who that is to?" Allan said. "[Young Life] actively [does] great work ministering to all these kids, no matter who they are. It's just a shame that, you know, it claims to be for every kid, but it won't be for every leader."
Allan emphasized that although there are people involved in Young Life's college program that want the organization to move toward greater inclusivity of the LGBTQ community, the structural push against LGBTQ affirmation makes it difficult for change to actually happen.
"I would stand by the belief that, like, the actual, like … college leaders — the people that are, like, our age in college — like, they want it to change," Allan said. "So many people my age hate that this is the way things are and this is what, like, that organization stands by."
Sloop and Cummings both didn't respond to multiple requests by The Breeze for a comment.
Maddie
Allan's post received a large amount of attention on social media, garnering almost 200 comments — some of which expressed that the author of the comment had dealt with similar situations. One of those commenters was JMU alumnus Maddie New ('14), who said he's known he was gay since he was a child. 
New said that like Allan, he got involved with JMU's Young Life chapter with the goal of having an impact on younger people like older Young Life members did for him when he was in high school. However, he said that even though it was never explicitly told to him, he knew that if he wanted to be in Young Life, he'd have to deny his sexuality to fit in.
"Before I got to college, I was like, 'Do I want to be a part of Young Life when I get to college?'' New said. "And I said, 'Yes, and I think that means, even though nobody's telling me … I can't lean into this part of my life or be open about that. I can't even say that that's a part of my life.'"
Describing the atmosphere in JMU's Young Life chapter, New said that while most members of Young Life are incredibly accepting of most things, differing sexualities cross a line.
"These people are, like, super accepting in a lot of ways — like, you could be addicted to a drug, and people would not treat you any different," New said. "But … even though nobody was saying it, I just feel like they won't be OK with [my sexuality]."
New said that during his time in JMU's Young Life community, he experienced a strong culture of heteronormativity — the belief that heterosexuality is the normal or correct sexual orientation — especially in regard to the organization's sexual misconduct policy. He described occasions where straight members would admit to engaging in premarital sex — which is against the sexual misconduct policy — and leaders would only give them a "slap on the wrist" as punishment. However, if New had mentioned his attraction to men, he said, the staff would've said something along the lines of, "OK, we're having a meeting about this, and you don't get to participate in anything, and like, any positive impact you want to have on, like, the youth in this area just goes out the window."
Though he said he consistently experienced instances of heteronormativity, New called himself luckier than others because he's "straight-passing," meaning that his peers most likely wouldn't automatically characterize him as being gay based off his appearance. However, he said, maintaining a "straight-passing" appearance meant giving off no indication at all of his sexuality. New described experiences of having deep conversations with friends about their lives while feeling like he was unable to be honest about what was happening in his.
"It just really sucked to be sitting there at, like, late-night conversations with friends and sitting there thinking, like … 'I'm hearing the hardest things about their lives, and it doesn't change our friendship at all, but if they knew this about me, everything would change," New said. "They would not consider me the same person, they would not consider me a good person, they would not consider me a good friend."
New said that although he doesn't believe it'll happen because of the possible community backlash, he wants to see a statement from Young Life publicly confirming its choice to not affirm LGBTQ individuals.
"Young Life does not want to come out and say directly that this is their view because they know that will push people away," New said. "To me, all I want from [Young Life] in life is to make a statement and stand by it. Like, I get if you read the Bible and you see, like, it doesn't affirm gay people, but just, like, own it."
Jane
Another member of the JMU community, a rising junior who will be referred to as Jane Doe to protect her identity, also shared her experience in being rejected from a leadership position, allegedly because she's openly bisexual. In her Instagram post, Doe described heteronormative behavior in the Young Life community at JMU similar to what Allan described in his post. 
Though Doe said she heard other members make "homophobic" comments around her in her Young Life group in high school — not knowing she's bisexual because, she said, she could "pass" as heterosexual —  she said she didn't think this behavior would continue on in college. 
"Coming into college, I thought that, 'OK, that was just my high school or that was just Young Life in my county, it can't be, like, an organization-wide issue,'" Doe said. "So when I started doing [Young Life] in college, I had no idea that it was truly, like, part of the culture that they just don't support the LGBT community historically." 
During her first semester as a member of Young Life at JMU, Doe said she had an overall "positive experience" that she said primarily consisted of integrating into the organization and getting to know others. Having only one conversation about sexuality and religion her first semester, where an older group member expressed her views saying that "homosexuality is a sin," Doe said she didn't think anything else would come up about the subject. That changed a few months later when she began to take classes and continued to shadow leadership members in preparation to apply for a leadership position. 
Doe said that as a leader, her goal was to go into schools and minister to children, specifically children with disabilities as she had done in high school. 
As she went through classes and shadowing as the time for her interview neared, Doe said the leader she was shadowing even gave her "very positive feedback" and asked her if she had any concerns moving forward in being a leader, and that's when she disclosed to that leader that she was concerned about being placed on a team of people that were homophobic and how she would mitigate that challenge. The leader responded that Doe should take these concerns to the other Young Life leaders. 
After Doe shared her Instagram post about her Young Life experience, she said the leader who gave her feedback reached out to her saying that the feedback she gave was "genuine." 
Doe said she didn't take her concerns to other leaders because she felt they'd judge her and tell her that her sexual orientation was "wrong." As a response to this feeling, she said she decided not to share or express her sexual orientation so she would have a better chance of being placed as a leader. 
"I already had a sense that they wouldn't have liked [my sexual orientation]," Doe said. "The organization makes you feel special, and you want to keep feeling special, I guess, and you don't want to be judged by these people that you theoretically look up to." 
Doe said her interview process was "overall positive" and during the interview, she wasn't asked about her sexual orientation, so she didn't disclose it. 
"I'd already made that decision by the time I interviewed that I just won't date girls, and so I wouldn't have to deal with it, which is so messed up looking back on it," Doe said. "I was kind of manipulated to thinking that was so wrong."
Before she was interviewed, Doe said she was given a list of behaviors that weren't acceptable as a leader and behavior that was expected of leaders, but being part of the LGBTQ community wasn't on the list, so she ultimately didn't think it would be a determining factor in receiving a leadership position. There was one behavior listed that said "sexual immorality" wasn't acceptable, but Doe said it wasn't made clear by Young Life what "sexual immorality" meant. The organization provides no public definition of the term.
After she discovered she wasn't placed as a leader, Doe said she asked the organization why, to which she received an "extremely vague" answer saying that the team she shadowed "expressed concerns," even though Doe said she received positive feedback from those she shadowed, and they even told her they'd report on her to those who select the leaders. Young Life leadership also told her they didn't want to just "place her to place her" — which left Doe confused, she said. 
"From what I have observed, it seems to be an unwritten rule [that LGBTQ individuals can't be leaders], which is why I went through the training because it was never told to me clearly,  'Oh, yeah, we don't place people that are in the LGBTQ community,'" Doe said. "It's more like, they'll just blame it on something else." 
After not being placed as a leader, Doe went on to join a different Christian faith-based organization where she said she's accepted for her sexual orientation, and many other members are also members of the LGBTQ community. 
"It has been like night and day compared to a Young Life," Doe said of her new organization. "I never feel judged. I never feel ostracized. I got to, kind of, experience that sense of community — that, kind of, sense of unconditional love from friends through that community —  which is something that you know, I was constantly trying to be worthy of in Young Life, but I just never was going to be."
Becca
JMU alumna Becca Hyman ('15) said that during her time in JMU's Young Life chapter, she had a similar experience to New and Doe. Even though she publicly affirmed LGBTQ identity, she was put in a position of having to deny her own sexuality to find acceptance.
"I didn't believe that being gay was wrong, but for me, personally, that's, like, not right," Hyman said. "If I thought I was gay, I must be mentally unstable, I must be going through something, I must be faking it because, like, that's not me."
Hyman admitted that she herself was guilty of playing into what she called Young Life's culture of homophobia, openly encouraging values she said were commonplace despite the pain they may cause LGBTQ individuals.
"Honestly, I perpetuated a lot of homophobia in my time there," Hyman said. "So much of the homophobia is in this compulsory heteronormative culture … So much of the violence that happens is rhetoric and these ideas that they're spewing over and over again that queer people internalize that prevent them from examining themselves."
Hyman described that while she initially found a great deal of acceptance in JMU's Young Life chapter, the treatment she received by others quickly changed when she stopped bringing other LGBTQ individuals to events where the intention was for Young Life to help the individuals overcome their "struggles" with queerness.
Ultimately, she said, Hyman doesn't believe the unhealthy culture she said exists within Young Life can change because its alleged culture of heteronormativity is so heavily ingrained in its structure, both in a top-down and person-to-person manner.
"With their faith, with their theology, it's just not possible to do better," Hyman said. "We don't want Young Life to be a space where queer kids feel safe because queer kids are not safe there, and no kids are safe there, and no college students are safe there."
Jessica
This culture of heteronormativity within Young Life is nothing new, Jessica, a former member of Young Life at the University of South Carolina who would like to keep her last name private, said. Jessica also spoke out about her experience with Young Life via a comment on Allan's original Instagram post. 
Having graduated from college almost 20 years ago, Jessica said she experienced discrimination and harassment in Young Life because of her sexuality during her freshman and sophomore years at USC, where she then transferred to a school in New Orleans after her sophomore year. 
Jessica said the mistreatment began when she wasn't invited on retreats with the rest of the group, but she didn't think too much of it because she thought it may have been because she was a freshman. However, she said, she later noticed that the other freshmen were allowed on the retreats. 
Though Jessica said she doesn't want to "defame or slander the group" because there are a lot of "really great people who were just kind of brainwashed," she said not being invited to retreats was just the beginning. A few months after she joined Young Life, a group leader held a meeting with her and another male group member who was also gay. She said the leader tried to instigate a relationship between the two students in hopes that this would change their sexual orientation. 
"He pulled me and my friend in to counsel us on a sexual relationship and said, 'You know, we recognize that sex before marriage is a sin, but we feel like you should engage in a sexual relationship because we feel like you will be forgiven for that premarital sex; we also feel like you would be a wonderful married couple,'" Jessica said. "It was inspiration for me to pursue higher learning in theology because there's no way that the God that I knew was the same God that he was speaking for."
After the Young Life leader counseled Jessica and her friend, Jessica decided to leave the Young Life organization. However, she said she still experienced harassment in her residence hall where she was "cornered" and "bullied" by Young Life members. 
Jessica, who said her experience with Young Life allowed her to learn more about theology, went on to become a Unitarian Universalist ordained by the First Nations church. She said her "heart broke" when she read about Allan's experience. 
As of Aug.14, the #DoBetterYoungLife hashtag counts over 360 posts on Instagram and continues to accrue more daily. In the wake of the organization's broad silence, individuals continue to come forward with stories of discriminatory culture ranging from the uplifting of heteronormative ideals to directly homophobic comments and actions by both Young Life members and leaders. 
And along with the wider movement, JMU's Young Life chapter is facing its own reckoning, though its leadership continues to remain silent on the matter. JMU's Young Life student leaders repeatedly pointed The Breeze to Swenson, Cummings and Sloop. However, over the course of two weeks, The Breeze never received a response for comment.
Despite the silence from Young Life's staff, the conversation continues — even if only on social media for now — and among many voices, specifically from Allan's post, a consistent appeal shows up repeatedly: a desire for change rooted in acceptance and affirmation for individuals allegedly marginalized by an organization that says it supports "all kids."
"Every religion is called to love first so it made me sad that after all these years, a group of Christian young people can't love first," Jessica said. "it's so much easier than condemning and picking apart, and making, you know, making all these rules. It's so much easier to love first."
CORRECTION (Aug.18, 4:18 p.m.): The previous version of this article said Jessica was ordained by the Native American Church, however, she is ordained by First Nations Church. 
Contact Jake Conley at breezeinvestigations@gmail.com. Contact Carley Welch at breezenews@gmail.com. For more coverage of JMU and Harrisonburg news, follow the news desk on Twitter @BreezeNewsJMU.