College of Arts and Letters: $1,284. College of Health and Behavioral Studies: $1,310. College of Education: $1,037.
According to documents obtained in the fall semester of 2019 by The Breeze, the average payment per credit-hour taught by members of JMU's adjunct faculty was $1,301. If an adjunct professor taught four three-credit classes each semester at that rate, they'd earn an average of $15,612 per semester — or $31,224 for an academic year's worth.
The Breeze has published a visualization of each department's average payment per credit hour for the 2019 fall semester. The Breeze has also requested the same data for the 2020 spring and fall semesters as well.
JMU admin say pay split down sciences/humanities line is "market-driven"
JMU's policy book defines adjunct faculty members as "qualified individuals hired for limited or special teaching assignments, such as teaching particular courses or sections." As laid out in the policy book, "in their adjunct role, [adjunct faculty members] have no duties other than teaching." At JMU — and in match-step with the wider U.S. higher education community — those faculty members are paid by the credit-hours they teach in their contracted semester, and the pay that goes with each credit-hour is determined by the class being taught.
Among JMU's departments, the sciences take the top spots for adjunct faculty compensation, with the physics department averaging a compensation rate of $2,325 per credit-hour and the computer science department averaging $2,125 per credit-hour.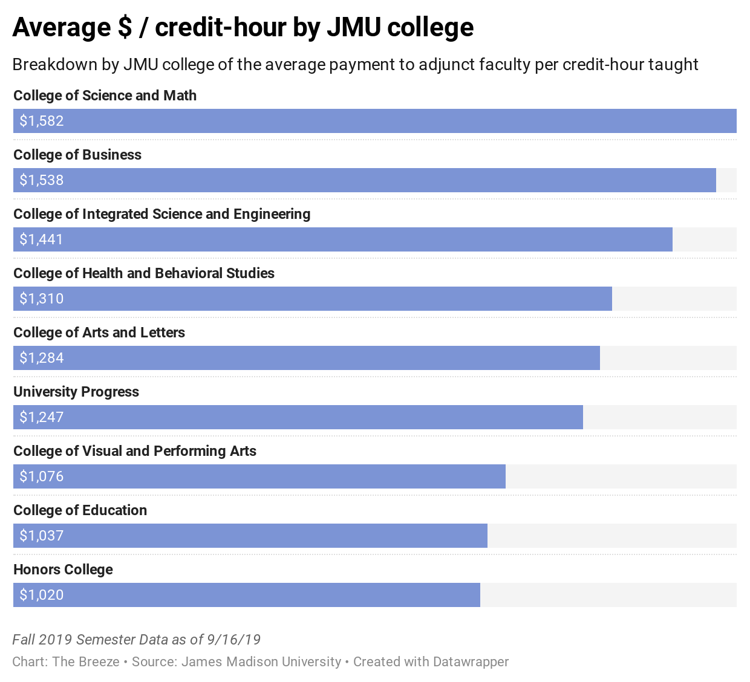 At the college level, the split once again draws a line between the sciences and the humanities. At the top is the College of Science and Math with an average rate across its departments of $1,582 per credit-hour, followed by the College of Business with an average of $1,538. The Honors College sits at the bottom, hosting an average rate of $1,020 per credit-hour, and the College of Education sitting at an average of $1,037.
Heather Coltman, JMU provost and senior vice president for academic affairs, explained the wide range in pay scales for adjunct faculty members between departments by referring to the "market-driven" nature of the industry. Compensation rates, she explained, are driven by what a particular subject matter is worth on the market and within the geographic region of the university. Jason McClain, associate vice president for academic resources, referred to it as "basic economics, supply and demand."
"Just as full-time faculty salaries are different across the colleges and across the departments and the disciplines, so are adjunct payments, and this is market-driven," Coltman said. "College of Business faculty simply earn more, right; computer science faculty simply earn more. We can't hire an adjunct to teach at one of those fields without paying a competitive rate."
Coltman and McClain also expressed that the geographic and subject area markets aren't the only factors that play into pay rate variances. Also to be taken into account, they said, are the degree levels of the faculty members and what nearby schools such as the University of Virginia and Eastern Mennonite University are offering adjunct faculty members in a given field.
"You got someone with a fresh master's degree, they're 24 years old, this is their first year teaching," Coltman said. "They are no way gonna be eligible for or qualified to get the same rate of pay as, you know, a 30-year veteran."
Adjunct hiring driven by student needs and federally mandated hours cap
Before each semester, Coltman said, academic unit heads are tasked with identifying the courses their department needs to offer to ensure student progression through their programs within proper timelines, as well as any elective courses for that semester. Because of this, adjunct faculty members are hired on a per-semester basis with no guarantee of re-employment in following semesters. Coltman said that though many departments are loyal to their adjunct faculty, often finding ways to continue to rehire the same adjunct members, re-employment is never guaranteed.
"[If] we don't offer a course that's absolutely needed by 30 students, that's not right, and vice versa: If we're offering a bunch of electives, and there are five or six people in the class and there's a budget crunch, no, we can't offer that," Coltman said. "That may be disappointing for the students, and definitely disappointing for the faculty who thought they could earn that money. But, you know, they're called contingent faculty because it's contingent."
JMU's coronavirus bill totals around $33 million, and The Breeze has looked into why that is.
And though a department may choose to hire adjunct faculty members back semester after semester, all adjuncts at JMU are capped at teaching 12 credits per semester. That can take several forms, Coltman said, such as four three-credit classes or three four-credit classes, but the credit limit is locked at 12.
McClain said the Affordable Care Act (ACA) is responsible for that cap. Under a provision of the ACA, JMU is allowed 1,500 working hours per academic year for each adjunct faculty member, including both instructional time and any other jobs an adjunct may work at JMU, such as a position with JMU Libraries. To keep all adjuncts under that working hour threshold, McClain said, the university must cap them at 12 credit-hours per semester.
Bryant Beverly, an adjunct professor in the Writing, Rhetoric and Technical Communication department, said that the 12-credit cap works for him because his household has other income. However, for others, he said, he could see a pay of just over $1,000 in some departments being difficult for those who may be teaching less classes while in situations with less economic insulation.
"With the four full classes I have coming up [and] as somebody who, I mean, has a wife — she works in [Madison Union], she's full time and makes great pay — combined with that, then yeah, I'm fine," Beverly said. "But if I only had three classes, and I were single, just on my own, I'd probably be a decent bit more anxious about things than I am now."
JMU adjunct professors faced economic uncertainty around the spring semester due to the impact of COVID-19 on the university's fiscal standing.
JMU admin call pay average "reasonable," wish to provide more
Coltman said that when she arrived, JMU had a number of adjuncts earning less than $1,000 per credit-hour. To offer those professors more pay, the university raised the minimum pay per credit-hour to $1,000 — what Coltman said represents the national average for adjunct pay. Though some adjuncts have voiced concern over JMU's current payment practices with its adjunct, Coltman said that in looking at that history, she finds the $1,301 average in the 2019 fall semester "reasonable." However, both Coltman and McClain expressed a desire to offer JMU's adjunct faculty more.
"I wish we could do more, sure, but you know, that has implications, you know — tuition costs go up and other things any time expenses are increased — but certainly it was a step in the right direction," McClain said. "Hopefully, as time goes on, we'll be able to fold in, you know, future cost of living adjustments and other things, should the budget allow us to do so."
Coltman and McClain also recognized the impact COVID-19 has had on JMU's faculty members — especially those with contracts that offer no guarantee of a teaching position in coming semesters who also aren't paid extra for their  supplemental work required by the complications in the education system caused by the virus.
"From March to now, five different times we've had to pivot, and when you're an adjunct faculty [member], that's a lot of extra work, and you're not getting paid any extra for that, and we get that," Coltman said. "We don't have a solution for that. We're certainly hoping down the road with some of the things coming out of the governor's office that there's going to be some recognition of the folks that really did that work."
Contact Jake Conley, investigations editor, at breezeinvestigations@gmail.com. For more coverage of JMU and Harrisonburg news, follow the news desk on Twitter @BreezeNewsJMU.