March got a little madder this year — $755,000 madder.
The pandemic brought the shutdown of spring and winter sports, with headliner events included — such as the March Madness basketball championship, the loss of which cost JMU $650,000 alone due to a lack of TV revenue payouts from the NCAA, Kevin Warner, assistant athletics director for communications, said.
In total, out of the estimated $33 million in direct costs and missed-out-on revenue the pandemic has cost the university, JMU Athletics accounted for $755,000 of it, Senior Vice President for Administration and Finance Charles King said. Jeff Bourne, director of JMU Athletics, confirmed that number.
JMU's coronavirus bill totals around $33 million, and The Breeze has looked into why that is.
When asked by The Breeze about both the financial impact of the pandemic on JMU Athletics and any decisions being made by the department for the upcoming year in response, the department's answer was consistent: No decisions have been made, and none will be made until the department has time to fully evaluate the end-of-year reports from the fiscal year that ended June 30 — a process which Bourne said usually happens early in the fall.
"We haven't made any budget decisions just yet until we have a better idea of the full impact," Warner said. "There's more 'what-ifs' right now than actual policy that we can talk about."
However, Bourne said that the budget is being moved to a model of "subsistence." As he said, "The things that we absolutely have to do, we'll do; anything that we don't, we will not be spending those resources."
Warner said that in March, JMU Athletics instituted a department-wide spending freeze with rare exceptions for "specific essential needs" — such as uniforms for incoming players, which must be ordered in advance of the season — to combat the financial impact of the pandemic. Any money saved by that measure, Warner said, is on top of effects of the pandemic that actually saved the program money, such as reductions in team travel for games and travel by coaches to visit program recruits. 
After multiple inquiries, JMU Athletics was unable to tell The Breeze how much money was saved with the spending freeze, citing the fact that the figure won't be determined until end-of-year reports are reviewed in August and September.
Team travel, game scheduling
Looking ahead for cost-saving measures in the upcoming semester — and in conjunction with NCAA and CAA rulings — Warner said JMU Athletics is planning for its teams to travel less, instead playing against local schools to save money that would be spent on travel expenses for games at faraway schools. Team travel across all sports cost the athletics department $2,961,393 for the fiscal year that ended June 30, 2019, according to JMU's annual Report of Intercollegiate Athletics.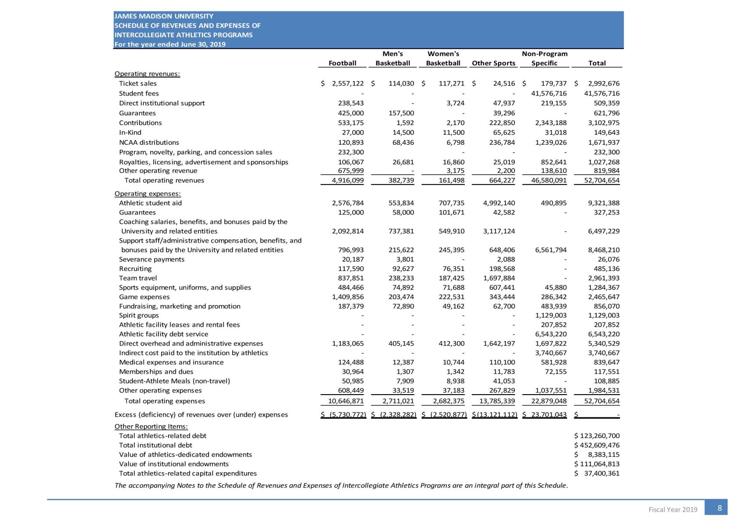 The CAA's "Extreme Flexibility Model," announced June 3, removed the requirement for conference teams in all sports except football and men's and women's basketball to play against other conference teams. However, if they choose to do so, teams will be allowed to play against the same conference opponents multiple times, allowing schools to play against other conference institutions located in the same region repeatedly, as opposed to having to travel further distances to other schools in the conference but outside of a school's region. Additionally, Warner said, the football and basketball teams will also make an effort to travel less and play against schools where games can be completed in day trips. 
Scheduling is further complicated by the CAA's decision to suspend football conference competition for the fall season because of "continuing concerns associated with the COVID-19 pandemic," according to a press release from the CAA. However, the conference has elected to allow member teams to pursue independent game scheduling. A statement from JMU Athletics confirmed that though most CAA teams have elected to not play football this fall, JMU is "looking at how to rebuild a schedule for the Fall season while following health and safety protocols and guidance."
When asked about the financial implications of the decision to pursue an independent season, JMU Athletics was unable to provide The Breeze with any specific figures. As Bourne said, "It's a little difficult at this point to draw an exact dollar figure or even nail down a range of what that might look like." However, Bourne stressed that the department's decisions are driven by a commitment to its student-athletes.
"We make all of our decisions based on the fact that, 'Can we maintain an environment where the young people in our program can remain safe and healthy from the student-athlete well-being standpoint?' And so far, our results have been very good on that end," Bourne said. "Our goal is to give the young people in our program an opportunity to do what they hoped they would do when they came here."
Health and safety costs
Going into those decisions, Bourne said, is a consideration of public health policy passed down from the conference and state levels, along with a focus on athlete and staff health from an individual perspective. JMU's football and basketball players are being brought back in waves in preparation for the start of the season, and all players and staff are regularly tested for the coronavirus. 
Bourne said the tests vary in cost from around $50 to amounts closer to $100, making it difficult to pinpoint an exact cost factor of the increased safety protocols for the department's student-athletes and staff. According to the Daily News-Record, as of July 23, 146 student-athletes and staffers have been tested for coronavirus. Only one test has returned positive, the Daily News-Record reported, and the case was asymptomatic.
Bourne also said that there were additional "incremental costs" associated with bringing players back earlier than usual, but there hasn't yet been a calculation of what those costs add up to.
Back on campus, a major consideration of the pandemic's impact on the athletics department is what football game day will look like this fall if JMU football does hold a season. JMU's game-day expenses totaled $2,734,601 for the fiscal year that ended June 30, 2019, according to the U.S. Department of Education's Office of Postsecondary Education. 
When asked if efforts would be taken to reduce that figure in response to the loss of revenue in the spring and winter seasons, JMU Athletics was unable to provide The Breeze with any specific plans, citing the fact that budgetary decisions won't be made until later in the summer and fall.
JMU Athletics also hasn't released plans for how social distancing and other necessary precautions will be implemented at on-campus sporting events, football and otherwise — which could have an impact on ticket sale revenue if less seats are available. Warner said there are still "a lot of what-ifs," but the athletics department has "several different iterations of groups that are meeting about game day procedures" that could include possibilities such as spacing requirements for game attendees. 
Additionally, Warner said, JMU Athletics is unsure of what guidance Governor Ralph Northam (D) will release on large stadium attendance before the start of the fall season, making any decision-making in that area presumptive. Until such final guidance is released, he said, "Our plan is to have as many fans as we can safely accommodate in the stadium as possible."
"We're working through a number of different scenarios, but I don't think anybody knows exactly what the status of the pandemic is gonna be come September," Warner said. "We just prepare for as many different possible scenarios as we can."
Ticket sales decrease
With that insecurity has come a large drop in season ticket sales, Warner said, calling the amount brought in "significantly lower" when compared to this time last year. Warner said the drop is because of people waiting longer into the year to buy their season tickets so they can see what the season will look like before they make a monetary decision, and he said it was expected with the uncertainty surrounding fall game schedules. And now that JMU Football has chosen to pursue an independent schedule, the department has decided to defer all 2020 season ticket orders to the 2021 season.
While the shift to a single-game ticket purchase model has been set to replace the usual season ticketing model for the 2020 fall season, Warner said a pricing system for tickets hasn't yet been decided upon. When asked by The Breeze about possible effects of the updated ticketing model on student ticket availability, Warner said "it'll have to follow similar modeling [to the updated single-game ticketing system]."
In the fiscal year that ended June 30, 2019, ticket sales of both season tickets and single-game tickets brought in $2,992,676, according to the JMU's annual Report of Intercollegiate Athletics. Warner referred to ticketing for the 2020 fall season as a "moving target."
Fundraising and personnel, facilities effects
The drop in season ticket sales directly affects fundraising efforts by the Duke Club, the fundraising arm of JMU Athletics, as season ticket sales drive the money collected by the Duke Club Seat Contribution fund, a per-seat contribution tacked onto football and men's basketball season ticket purchases, which goes to fund both scholarships and general operations.
Warner said that while fundraising efforts have continued throughout the past months, they're not being done in an "aggressive way." He said the athletics department is sympathetic to the widespread economic struggle driven by the coronavirus' effects on the national economy.
"Our fundraisers have been doing a lot of hard work to try to still do what they can in this environment, but we're also sensitive to know that people are making some hard decisions with their money right now, and that may not be college athletics when they're making hard decisions for their families, and we understand that," Warner said.
However, Warner said, JMU Athletics is "committed to the scholarships that we have allocated to our programs" and that he doesn't see the scholarship bill being affected. So far, Bourne and Warner said, there's been no economic impact to any student-athlete scholarships. A piece of that, Bourne said, is because some of the department's "more material donors" have offered to assist JMU Athletics in making up for the costs associated with maintaining scholarships.
JMU Athletics declined to make any Duke Club staffers available to comment after several requests by The Breeze.
Beyond scholarships, Warner said the athletics department has been able to avoid any hits to "our people." So far, he said, "no one's lost a job, no one's been put on furlough, no one has had salary reductions." Bourne cited the "significant amount of expense" not incurred by the department as a result of the shutdown of the spring and winter seasons as a major factor in allowing JMU Athletics to avoid any financial hits to its players or staff.
But, though personnel haven't been affected as of yet, the department's plans for its facilities have been adjusted. Because construction of the new Atlantic Union Bank Center was already underway before the pandemic began to have an economic effect, Warner said, construction will continue as planned, and the Center is still scheduled to open for the 2020 basketball season. The balance of the Center, according to JMU's annual Report of Intercollegiate Athletics, totaled $72,730,000 at the close of the fiscal year that ended June 30, 2019.
However, other projects that were in the planning phase have been put on a tentative two-year hold in a move to push off large-scale spending. These include renovations on the convocation center, renovations on the field hockey complex, an expansion of Sentara Park and projects at Veteran's Memorial Park and Memorial Hall. As Warner said, "Any other athletics projects or facilities besides the Atlantic Union Bank Center are on hold right now."
As the fall semester approaches and JMU's fiscal year has come to an end, the athletics department will have to make additional decisions about how it wants to handle the financial toll the coronavirus has caused. However, Bourne emphasized that while JMU Athletics has taken a hit from the pandemic, the program's commitment to its student-athletes remains unscathed, even if fall sports are pushed off until the spring semester.
"Our students will be here in the fall," Bourne said. "All of our support arms: academic, sports medicine, strength and conditioning, nutrition — all those areas will be working hard with our student-athletes. The fact that we're not competing doesn't mean that things will stop on the student-athlete side for support."
This is the third article in a series by The Breeze's investigations desk examining the financial impact of COVID-19 on JMU. The next article in this series, covering the money JMU received from the federal CARES Act, will be published Monday.
Amy Needham contributed reporting to this story.
Contact Jake Conley, investigations editor, at breezeinvestigations@gmail.com. For more coverage of JMU and Harrisonburg news, follow the news desk on Twitter @BreezeNewsJMU.