The coronavirus has drained an estimated $33 million from JMU, but Congress deposited $12,080,658 back into the university's hands.
JMU's coronavirus bill totals around $33 million, and The Breeze has looked into why that is.
The Coronavirus Aid, Relief and Economic Security (CARES) Act, passed by Congress in late March, included more than $12 billion in relief for higher education institutions.
JMU issues federal emergency student aid
Half of the funding went directly to students.
JMU has distributed over $6 million in emergency financial aid grants to 6,099 students in the wake of COVID-19. One-thousand dollar aid packages were given to thousands of students whose families are expected to contribute less than $15,000 to their university bill. The expected family contribution threshold was later increased to $21,500 because so many students declined their CARES Act offer.
Brad Barnett, JMU's director of financial aid, said his department developed several proposals for allocating the $6,040,329 in student emergency aid. Then, midway through the process, the Department of Education eliminated 40% of JMU's student body from consideration for funds by requiring that students meet the eligibility criteria in Section 484 of the Title IV Higher Education Act. 
With over 20,000 students enrolled at JMU, 11,658 students met the Title IV Section 484 requirements. These standards include maintaining satisfactory academic progress, being a U.S. citizen or an eligible noncitizen and not having a federal or state conviction for drug possession or sale.
On May 7, students were formally notified about the opportunity for emergency funding. JMU originally offered 5,148 students emergency aid, and 4,358 — or 85% of — students accepted.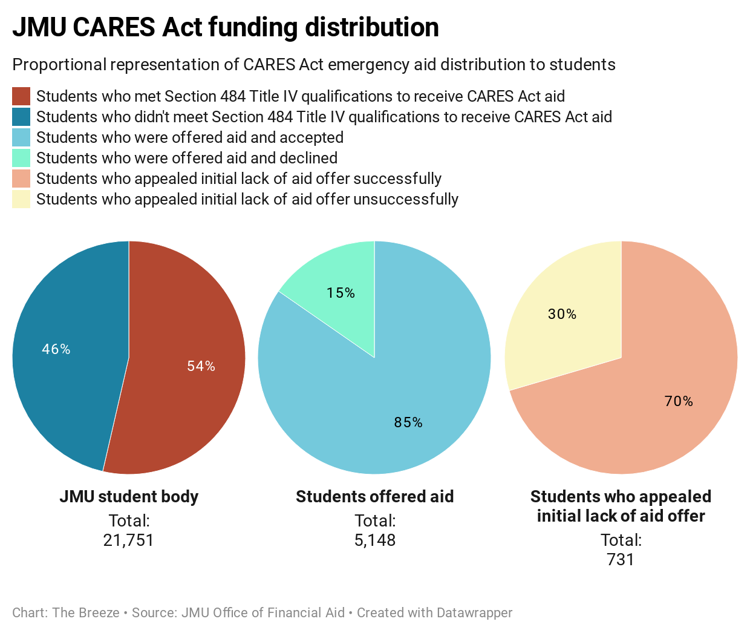 Aid forfeited by students will be used to help others in need who have filed appeals to be considered for aid, as students could appeal for any amount up to $1,000 for expenses related to the campus disruption because of COVID-19. Barnett said he believes students are declining the aid because they recognize that someone else may need it more.
"It's a true testament to how students are looking out for each other and a pleasure to see," Barnett said. "I have been immensely impressed with what I have seen from our JMU community, and it makes me proud to be a part of it."
As of June 3, all CARES Act aid had been awarded, and JMU stopped accepting additional appeals. Of the 731 students who appealed, 515 were granted aid.
"The ones appealing are laying their hearts out," Barnett said. "Getting to help them is the most rewarding part of this process."
When one out-of-state senior at JMU, who requested anonymity, read that the university was offering emergency aid, she rushed to her computer to see if she qualified. The senior was working two on-campus jobs and relied on the on-campus food pantry for groceries before the unexpected closure of the school. Her parents also lost their jobs in the wake of the pandemic. The senior picked up side jobs  — like working for Instacart, a grocery delivery company  — to pay rent on an empty apartment in Harrisonburg she was forced to abandon.
Then, the senior discovered she made the cut for emergency aid. She said she put her aid package toward tuition and paying for her vacant apartment.
"It's been so tough watching my family go through this," the senior said. "I'm just so grateful for this little bit of help. It's made all the difference."
Federal support boosts the university
The other half of the CARES Act funding was exhausted on institutional support.
After JMU closed its physical doors and transitioned to remote learning in the spring, the university yielded $12,885,530 in refunds — $6,051,709 in housing refunds, $6,445,928 in dining refunds and $387,893 in parking refunds. The remaining $6,040,329 of CARES Act funding was used to partially reimburse the university for those refunds.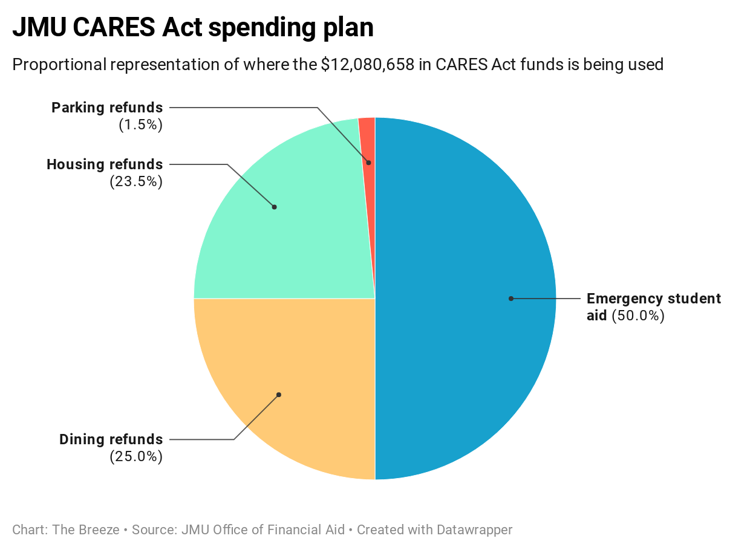 Though, the federal funding didn't propel the university out of the red. Assistant Vice President of Finance Mark Angel said JMU reduced spending in its housing, dining and parking departments to mitigate the effects of the refunds.
The result is less money in JMU's reserves. Senior Vice President of Administration and Finance Charles King said the auxiliary reserve was reduced by approximately $6.5 million because of room and board refunds.
Donors sponsor student aid
In an attempt to further assist students financially burdened by the pandemic, JMU has revitalized the Madison for Keeps scholarship, which allowed 108 students to remain at the university after the 2009 Great Recession. Now, Barnett said, JMU hopes to help at least 150 students affected by COVID-19. The scholarship's goal is to "help Dukes stay Dukes."
The scholarship's original goal of $500,000 was met and raised to $750,000 after excessive support on Giving Tuesday, a global donation initiative on May 5 in response to the financial need caused by COVID-19. A group of patrons — which, among others, includes every Board of Visitors member — agreed to match contributions to Madison for Keeps up to $250,000. Donors hit the target within a day.
The Madison for Keeps Scholarship has raised $759,012 with 1,304 donors, putting the average donation at $582. This surpasses the 2009 total of $400,000 that was raised by over 3,800 donors.
Barnett said the financial aid department will commence the process of selecting award recipients on July 1.
"Many of us at JMU are working more hours than we ever have to support our students and families," Barnett said. "No one has ever been through anything like this, and people are hurting and scared, but we're stronger when we work together."
This is the fourth article in a series by The Breeze's investigations desk examining the financial impact of COVID-19 on JMU. The next article in this series, covering what it looks like to be a JMU adjunct professor right now, will be published Wednesday.
Contact Brice Estes at estes2ba@dukes.jmu.edu.
Contact Jake Conley, investigations editor, at breezeinvestigations@gmail.com. For more coverage of JMU and Harrisonburg news, follow the news desk on Twitter @BreezeNewsJMU.